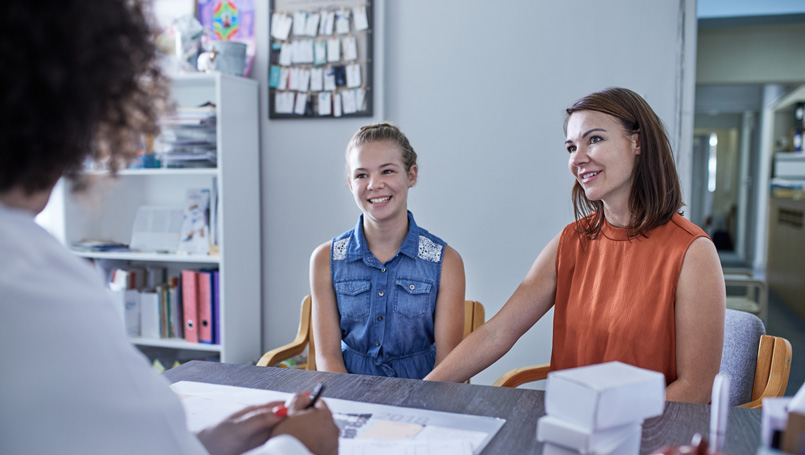 Parents know the bittersweet feeling of watching their grown children finally fly the coop. Turns out doctors who specialize in treating young children have their own version.
"As a pediatrician, it gives me a great joy to see my patients as newborns and care for them all the way into adolescence, and that makes it hard sometimes to see them leave the practice," said Dr. Hirut Dagnew, a pediatrician at Beaumont Pediatrics, Southgate. "However, it is part of caring for them as I prepare them to leave the pediatric office nest."
When should you make the transition from a pediatrician to a primary care physician? Let's first clear up any confusion over the different medical specialties.
Pediatricians and primary care providers
As it turns out, pediatricians are simply primary care providers who receive training in internal medicine but do their residencies focused on caring for children. They are experts in all aspects of a child's development, and they have to pass a pediatric board exam before they can legally practice.
"So when adolescents and young adults transition their health care from us pediatricians, they see either a family practice or internal medicine doctor," Dr. Dagnew said.
When to make the transition
Depending on their circumstances, adolescents and young adults typically transition from a pediatrician to a primary care doctor between the ages of 18 and 21, Dr. Dagnew said.
"Most children who do not have major medical problems can transition at 18 years, while those with multiple health concerns usually take longer to coordinate their follow up care and may still stay under the care of their pediatrician until age 20 to 21," she said. "Pediatricians usually do not see young adults who are older than 21 years of age."
Of course, some adolescents, in particular, aren't content to sit in a waiting room with infants and toddlers and the toys and books that cater to them, and are ready to make the transition well before they turn 18. In this case, Dr. Dagnew said she recommends they go to a family medicine doctor.
"Mostly, these children are healthy, with no chronic medical problems, and overall are doing very well in all areas of their life," she said.
Tips for making the switch
Start the discussion early. Dr. Dagnew said she typically initiates the discussion about transitioning away from the pediatric office when the child is in middle school or beginning high school, and generally during annual wellness visits, as part of discussions about developmental changes.

"I explain that, just like how they advance from middle school in to high school and then post-high school training, there will come a time that they will transition to an adult health care provider," she said. "I invite them to ask questions and then answer the questions raised by patient and parents."
Encourage the child to self-manage their health care needs. Dr. Dagnew offers as an example asthmatic children, saying she lets patients with asthma carry their rescue inhalers after they turn 12. She also asks them whether they take their daily controller medication without a parent reminding them. Parents could also follow this model.
Work closely with the pediatrician when your child has special needs. If your child needs things like occupational or physical therapy, mental health counseling or respite care, talk with your child's pediatrician well ahead of time to find available services before you make the switch.

Dr. Dagnew said she advises parents and caregivers to get guardianship or power of attorney before the child turns 18, depending on how much support their child will need from them.
Ask about your child's health records. Your child's new physician will need them. The good news is that electronic health records have made this transfer between doctors much easier.

"For a few of my patients who have multiple and complicated medical problems, I prefer to make a summary of both past and current problems and hand it to the parent or caregiver, so they have something comprehensive at hand for a quick review," Dr. Dagnew said.