Monday, December 12, 2016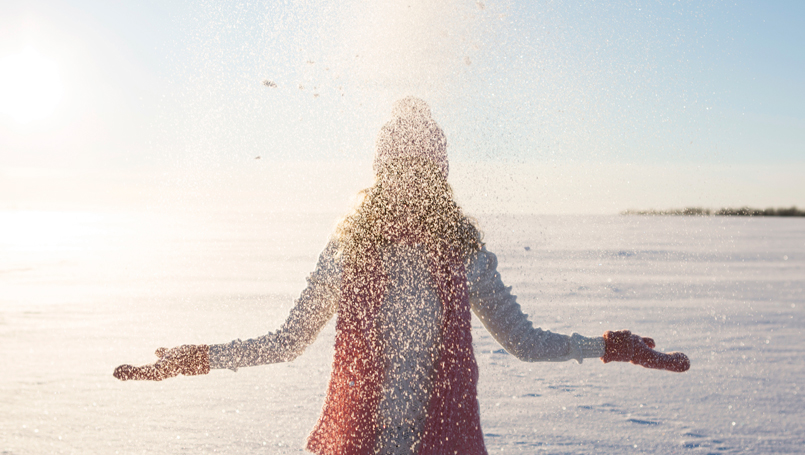 Winter is upon us, and the first glistening snow fills the air with excitement.
While some of us are ready to catch snowflakes on our tongues or build snowmen, some people are most excited about one of the hottest new winter health trends called snowga. But what the heck is snowga?
WHAT IS SNOWGA?
Since various fitness classes are often enjoyed outside of the studio or classroom, those who are passionate about practicing yoga also want to get in on the outdoor action - even in the snow!
Snowga is the practice of combining breathing techniques and yoga poses in a winter wonderland background. It slowly began making a name for itself a few years ago on the slopes of ski resorts and winter hiking trails. Some people even consider snowga a grown-up version of making snow angels.
"Yoga can bring a greater awareness of how we can help decrease our responses to stress," explains Veronica Zador, at Yoga Therapist at Beaumont. "Through snowga, we have a chance to explore our relationship to the patterns and the beauty in nature. It can help us appreciate the patience needed for our own recovery, adaptation, healing and health."
It can help us appreciate the patience needed for our own recovery, adaptation, healing and health.

Veronica Zador, Beaumont Yoga Therapist
WHAT ARE THE HEALTH BENEFITS?
Many people use snowga as a way to warm up their muscles and joints before starting other winter sports like snowshoeing and skiing. Snowga is also a great way to simply get your body moving outside during the winter. You also receive an extra dose of vitamin D, which is necessary for bone, skin and mental health.
From novice to self-declared yogis, people of all abilities will feel less self conscious about the idea of falling in a soft bed of snow during a pose, rather than on a floor in a room full of people. Some skiing instructors also use snowga to reduce skier's jitters before hitting the slopes.
WHO CAN DO IT?
As long as the temperatures and conditions permit, snowga is great for anyone who wants to tone their muscles and increase their balance, focus and concentration. It's important however to dress properly with a warm coat, hat, snow pants and boots that you can move around in.
Remember, you don't need to be on a mountain to practice snowga! You can simply head out to your backyard in the snow to appreciate the fresh air while relaxing your mind and toning your muscles.
---
QUICK TIPS FOR YOUR FIRST SNOWGA SESSION
Ask your health care team if you're able to participate in outdoor physical activity.
Ask about the professional background and experience of the yoga instructor.
Be encouraged to ask questions and seek guidance whenever necessary.
Warm and protective outerwear is a must.
Avoid slips and slides by making sure you practice on an ice-free surface.
Make sure that the earth or driveway is free of cracks or crevices large enough to cause instability.
If it's a sunny day, protective eyewear and sun block should be used.
Make sure you stay hydrated by drinking plenty of water.