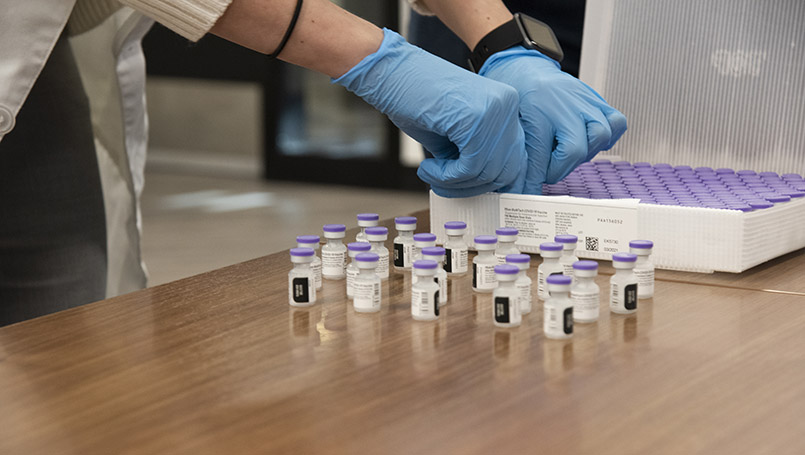 SAFETY
Safety has been a top priority for the U.S. vaccine safety system and the manufacturers working to develop and distribute COVID-19 vaccines. All FDA-approved vaccines must go through careful testing for safety and effectiveness. The FDA and CDC continue to monitor all vaccines for any problems or side effects.
TWO DOSES ARE NEEDED FOR THE MOST PROTECTION
Seven to 14 days after your second dose of the vaccine, you're up to 95% protected from getting COVID-19. Depending on the specific vaccine you receive, a second shot is given 3 - 4 weeks after your first appointment.
MILD SIDE EFFECTS ARE A NORMAL SIGN YOUR BODY IS BUILDING PROTECTION
Some people experience mild side effects for a few days after receiving the vaccine, including fatigue, soreness at the injection site, fever or headache. This is a perfectly normal sign that your body is building protection. If you think you might be having a severe allergic reaction after leaving the vaccination clinic, seek immediate medical care by calling 911.
DON'T THROW YOUR MASK OUT JUST YET
As we learn more about how the COVID-19 vaccines work, it's important for everyone to continue using all the tools available to help stop this pandemic. Cover your mouth and nose with a mask when around others, wash your hands often and practice social distancing.
SUPPLY IS LIMITED
There is currently a limited supply of COVID-19 vaccine available in the United States, but it is expected to increase in the weeks and months to come. The CDC and State of Michigan are working closely to make recommendations on which groups should be vaccinated first based on the limited supply.
---
NEXT STEPS AND HELPFUL RESOURCES