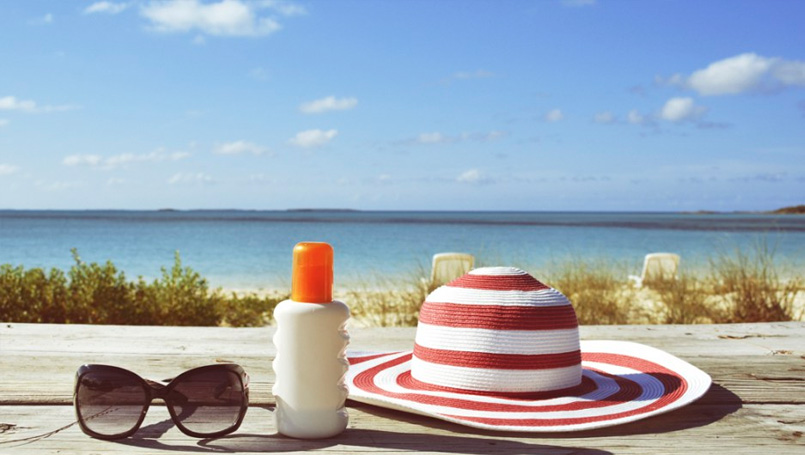 According to the Skin Cancer Foundation, one in five Americans will develop skin cancer in the course of a lifetime.
Practicing sun safety, not only in the summer but all year, is the best way to prevent skin cancer.
In addition to self-skin exams every month, you should see your physician every year for a professional skin exam.
Here are practical and achievable tips for protecting yourself while still enjoying the outdoors:
Make a sunscreen with an SPF 15 or higher part of your daily beauty regimen.
Seek the shade when in the sun for extended periods of time, especially between 10 a.m. and 4 p.m. when the sun's UV rays are most powerful.
Cover up with UV-blocking clothing, including a broad-brimmed hat and sunglasses. Don't forget SPF lip balm to protect your lips.
Apply a broad spectrum (UVA/UVB) sunscreen with an SPF (UVB protection) of at least 30 and good UVA protection. Apply this at least 30 minutes before going outside. Be sure to reapply every two hours, especially after swimming or sweating.
Look for sunscreens containing zinc, which is a physical sunscreen – reflecting light instead of chemically reacting with UV rays.
Avoid indoor tanning booths.
Keep newborns out of the sun and apply sunscreen to babies over the age of six months.
Do self-skin exams every month, and see your physician every year for a professional skin exam.
Consider taking an over-the-counter supplement called Heliocare (Polypodium leucotomos) on days that you are going to be getting prolonged sun exposure. This water-soluble antioxidant made from a fern extract acts within 30 minutes of ingestion to help protect your skin cells from DNA damage from the sun. It is NOT a replacement for sunscreen and/or sun avoidance.