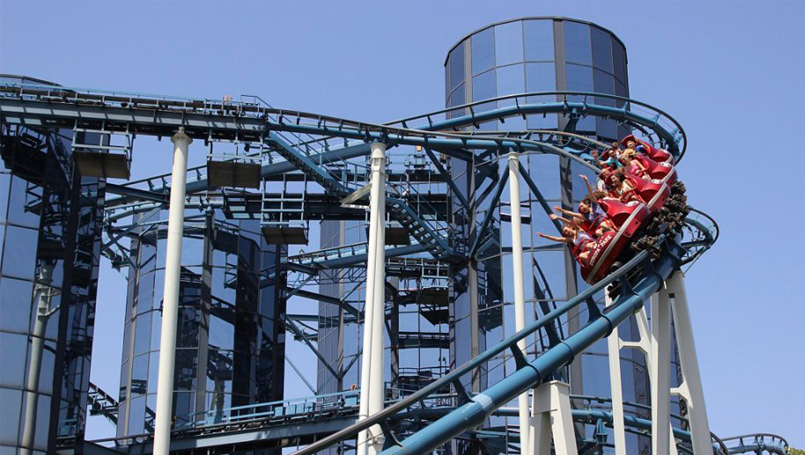 National Roller Coaster Day dubs itself as "a celebration of the king of thrill rides." This celebration has been taking place August 16 of each year since the 1980s. August 16 is significant in that in 1878, two roller coaster pioneers received the first U.S. patent for the a wooden roller coaster.
Are you one of the nearly 290 million people who seeks thrills from these speedy, loopy and heart-pounding rides? If so, what does that say about your personality?
We asked Beaumont Psychologist, Carnigee Truesdale-Howard, PsyD, about the psychology of roller coaster thrill-seekers:
ARE SOME PEOPLE MORE PRONE TO SEEKING THRILLS ON ROLLER COASTERS?
I think people who make it their business to ride the most terrifying roller coaster are thrill seekers and see this as something fun to do. They may tend to be more adventurous and risk-takers. Roller coasters allow you to let loose in a controlled environment. Most individuals enjoy the rides at amusement parks and like watching others ride the scariest roller coasters.
There are also individuals that do not want to relinquish that control at all. They may choose to take risks in other areas. People who do not enjoy roller coasters may have had an unpleasant experience or seen or heard a news story that convinced them that roller coasters are not safe. When individuals are able to conquer their fear of roller coasters they generally enjoy the ride.
WHERE DOES THE "RUSH" COME FROM - HEIGHT, SPEED, VULNURABILITY OR SOMETHING ELSE?
I believe people who enjoy roller coasters find the whole experience attractive, but there are others that have their favorite parts of a roller coaster ride. Being propelled at high speeds, dropping several feet and looping around and around all in a matter of seconds while simultaneously screaming and laughing intrigues some people.
WHAT ARE THE PSYCHOLOGICAL EFFECTS OF RIDING A ROLLER COASTER?
The psychological effects of riding a roller coaster are going to depend if you are a fan of roller coasters or not. Our fight or flight response is activated which signals the rush of adrenaline. Those who are in favor of roller coasters tend to experience joy, happiness, excitement and satisfaction as this is what they wanted to feel. Therefore the psychological effect is positive. The pleasure principle is quite content.
However, those that are anti-roller coaster people, like myself, may experience anxiety, fear and terror and find no enjoyment in this experience whatsoever. We will do whatever it takes to avoid this feeling such as "flee" the situation. There are some individuals who do enjoy feeling terrified, but the difference psychologically is that terror is a welcoming feeling for them, therefore it will still lead to a positive experience and happiness.
ARE THE EFFECTS BASED ON THE LEVEL OF EXCITEMENT ASSOCIATED WITH A SPECIFIC RIDE?
Persons that are thrill seekers and enjoy roller coasters will likely seek out the scariest, tallest or fastest roller coaster to ride as a way to challenge themselves and chase after that adrenaline rush. Roller coasters allow you feel as though you are doing something dangerous and death-defying, but in a pretty safe way.