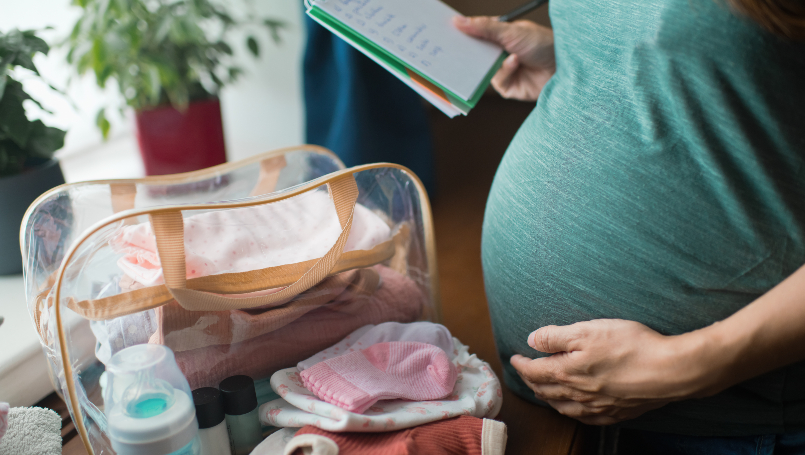 There's no such thing as being too prepared. No baby preparedness checklist is complete without the perfect hospital bag.
During the final weeks of your pregnancy, you should begin to collect the things that will be of aid and comfort to you and your coach during labor. Here is a list of things to put in your labor bag and other items for your comfort bring to the hospital:
LABOR ITEMS FOR BIRTHING PARENT
Insurance information, photo ID, any hospital paperwork, name and phone number of maternity care provider and baby doctor
Comfortable clothes, robe, thick non-skid socks or slippers, and flip-flops
Lip moisturizer, massage lotion or massage oil
a bath pillow and waterproof knee pad are both optional items that have been suggested for more ease and comfort with different positions in the jacuzzi tub
Massage tool, a tennis ball is suggested
Favorite comfort item from home, such as a pillow or blanket
Focal point, consider an object, photo, or baby item
Diversions for long or induced labor
Music or audio recordings for use with headphones, ear pods, or blue tooth speaker
Ambient lighting, such as LED candles or string lights
Eyeglasses, contacts, lens case and solution, hair ties, makeup, body wash, and basic toiletries
Cell phone and charger
Current medication list, include name, dosage, and how often it is taken
Copies of Birth Plan or enlarged document to post
Optional items include bathing suit for hydrotherapy, sports bra, or camisole tops
POSTPARTUM HOSPITAL STAY ITEMS

Comfortable, loose lightweight clothing for at least three days and an outfit to wear home
Sanitary pads, disposable underwear, or 8 – 10 cotton underwear that can be thrown away
Comfortable nursing bras (no underwire) and breast pads
Optional items include eye mask, ear plugs, breastfeeding garments, nipple cream, baby book, nursing pillow, and insulated container for fluids
Snacks and hydration
LABOR / HOSPITAL STAY ITEMS FOR PARTNER
Information on hospital location, parking, and entrance to hospital and family birth center
Cash for vending machines, cafeteria, and food services
Sandwiches, snacks, hydration for labor and hospital stay, and insulated container for fluids
Basic toiletries, breath mints, gum, and mouth spray or rinse
Cell phone and charger cords for all devices and camera with batteries and memory card
Change of clothes for three days, including appropriate sleep attire, bathing suit (for tub or shower assist during labor), and an extra layer for warmth
Notepad or journal, pen, photo ID, updated text / call list, prescription medication, and pillow
FOR BABY

Rear facing infant car seat (removed from box and installed)
Seasonal outfit for discharge home and one extra light layer such as a sweater
Baby nail clippers or baby nail file
Light blanket, socks or booties, and a hat
Footprint supplies, though this might be provided by the hospital
PROVIDED BY HOSPITAL
Labor tools include, birth ball, peanut ball, essential oils, heating pad, and hydrotherapy
Hydration and food as indicated for labor and during hospital stay
Linen, including pillows, hospital gowns, wash cloths and towels
Postpartum care items include sanitary pads, peri wash bottle, and mesh underwear
Baby items include, infant formula, undershirts, diapers, blankets, burp cloths, wipes, and skin care
ITEMS YOU SHOULD NOT BRING TO THE HOSPITAL
Jewelry, large amounts of cash, and other valuables
Personal breast pump
Medication for birthing individuals, including vitamins, as they will be provided by the hospital pharmacy
Candles and diffusers
Baby clothes other than the discharge home outfit
Baby bottles and nipples
---
CAR SEATS

Read your car seat instructions carefully so that you know how it works. You will need to bring it into the hospital to show your nurse prior to discharge.