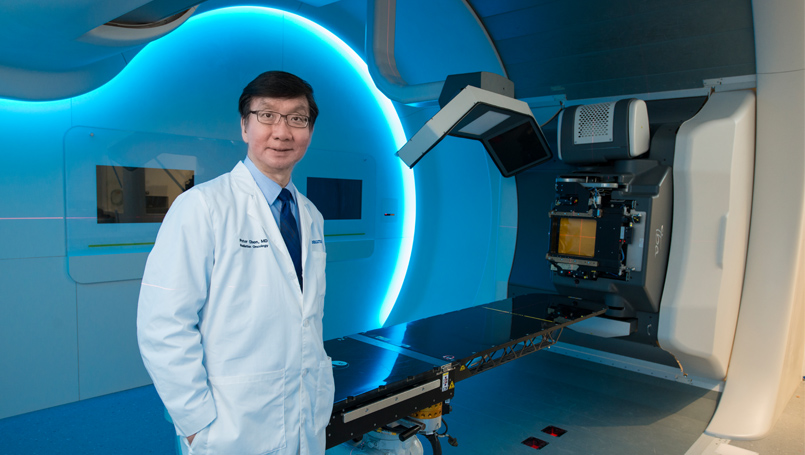 Breast cancer is one of the most common cancers. One in eight American women will develop the disease during her life. Many will go through several types of treatment including radiation therapy.
While standard radiation can play an important role in treating breast cancer, it often comes with both short and long-term side effects because it can damage healthy tissue surrounding the tumor.
But, for women diagnosed with left-sided breast cancer, new treatment options can reduce side effects.
Proton therapy is a high-tech alternative to standard X-ray radiation. The technology uses atomic particles, traveling up to two-thirds the speed of light, to precisely target the cancer. As a result, the treatment does not affect nearby healthy tissue and patients typically experience fewer side effects.
"Proton therapy allows doctors to safely deliver the intended radiation dose to the tumor," said Dr. Peter Chen, a Beaumont radiation oncologist. "The treatment does not affect nearby organs such as the heart and lung, which is especially important in left-sided breast cancer, as the cancer is close to those critical organs."
Nancy Simpson, a fitness trainer and breast cancer survivor, went through six weeks of proton therapy as part of her treatment for breast cancer. The 71-year-old did not experience many of the typical radiation symptoms such as fatigue and skin irritation and continued training her clients and exercising throughout her treatment.
"I care about my clients – I didn't want to abandon them," Simpson said. "Proton therapy was not at all disruptive to my life."
More importantly, proton therapy reduced the radiation exposure to Nancy's heart and lungs.
"Damage to the heart and lungs can result in significant lifestyle changes and could be life-threatening in some breast cancer survivors," Dr. Chen said. "Some side effects might not appear until decades after a woman has been treated for cancer."
The risk of breast cancer survivors developing cardiovascular disease is higher than the risk of their cancer recurring. This is primarily because of the damage some cancer treatment methods cause.
Although advances in treatment like proton therapy can make treatments safer and more comfortable for patients, Dr. Chen still stresses the importance of early detection through regular annual screenings.

"Women who have regular mammograms and perform self-exams have a greater chance of detecting breast cancer earlier," Dr. Chen said. "Knowing what to look for, performing thorough self-examinations on a regular basis and getting annual mammograms can save lives."
---
Next steps and useful resources