Friday, December 09, 2016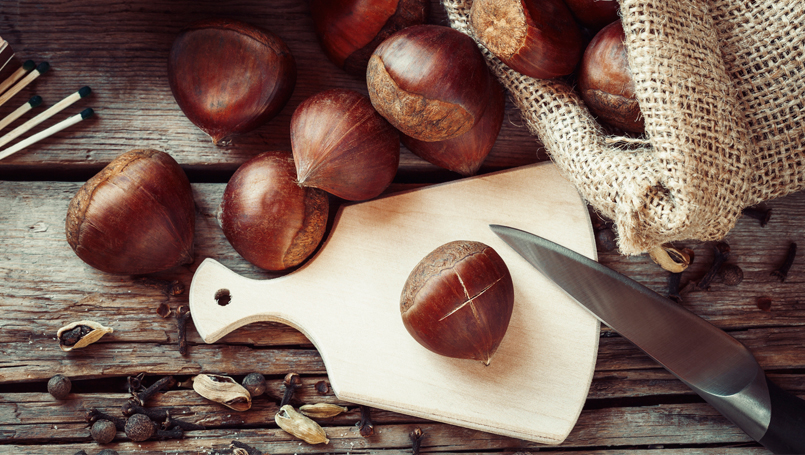 You may know the familiar lyrics of "The Christmas Song," but the seasonal nut described in this classic tune offers much more than meets the eye. Featuring a glossy, brown outer shell with a sweet and creamy white kernel inside, chestnuts are full of health benefits too!
Some people avoid nuts due to their high fat and calorie content. However, unlike other seeds and nuts, chestnuts are actually low in calories and fat. Mostly made of starch, chestnuts are comparable to sweet potatoes, sweet corn, and plantain.
Chestnuts are a good source of dietary fiber, which can help lower blood cholesterol levels. Additionally, while you might think you can only get vitamin C from berries and veggies, chestnuts are also rich in vitamin C, which helps support a healthy immune system.
Chestnuts can be eaten by hand after roasting, or used in countless recipes including soups, stuffings and desserts. Try one of these delicious recipes during the holiday season:
Nutritional Information
1 oz (28.4 g)
Calories: 37
Fat: 0.4 g (0%)
Cholesterol: 0 mg
Sodium: 8 mg
Potassium: 203 mg (5%)
Total Carbohydrates: 8 g (2%)
Dietary Fiber: 1.9 g (7%)
Protein: 0.6 g (1%)
Vitamin A: 0%
Vitamin C: 12%
Calcium: 1%
Magnesium: 3%
Iron: 2%
Vitamin B-6: 5%
Vitamin D: 0%
Vitamin B-12: 0%
---
CHESTNUT RECIPES
Ingredients
1 1/2 cups thinly sliced onion
3/4 cup (1/2 x 1 1/2-inch) julienne-cut red bell pepper
3 tablespoons extra virgin olive oil
1 1/4 teaspoons salt
1/2 teaspoon freshly ground black pepper
1/2 teaspoon caraway seeds
3 pounds Brussels sprouts, trimmed and halved (about 10 cups)
8 garlic cloves, thinly sliced
Cooking spray
1 (8.5-ounce) bottle chestnuts, coarsely chopped
Directions
Preheat oven to 400°.
Combine first 8 ingredients in a large bowl, tossing to coat.
Spread onto a large roasting pan coated with cooking spray.
Bake at 400° for 25 minutes, stirring occasionally.
Add chestnuts; stir well.
Bake 8 minutes or until vegetables are tender. Serve immediately.
Ingredients
1 pound chestnuts
1/4 cup butter
Salt to taste
Directions
Preheat oven to 375 degrees F (190 degrees C).
Cut a 1/2 inch crisscross on the flat side of each nut. Be sure to cut through the shell to prevent the nut from exploding.
Place the nuts in a shallow baking pan and bake for 25 to 30 minutes.
Allow to cool and peel off the shell.
Place nuts in a skillet with butter and sauté over high heat until the butter is melted and the chestnuts are well coated. Place skillet in oven and roast until they are golden on top. Sprinkle with salt and cinnamon.