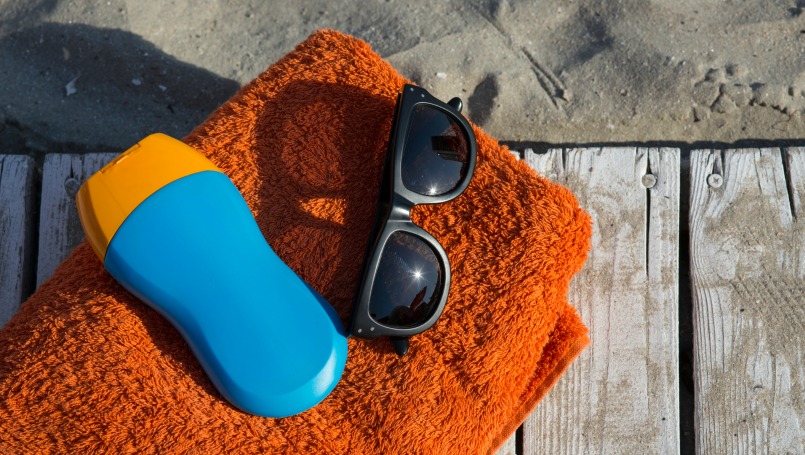 Bottles and bottles of sunscreen line the shelves of major retailers, but does anyone know what all those numbers on the bottle mean?
There's varying degrees of SPF - ranging from 15 to 100 plus. There are sprays, sticks and lotions. There's sunscreen for kids, sports and water.
Which one do you choose?
"SPF stands for 'sun protection factor,' but I like to think of it as 'sunburn protection factor,'" said Elena Hadjicharalambous, M.D., Beaumont dermatology resident. "The numbers signify how well the sunscreen protects you from the sun. Unfortunately, there's no sunscreen that protects you 100 percent from the sun. The best thing is to avoid direct sunlight during peak hours between 10 a.m. and 2 p.m. - seek shade during those times."
When shopping for sunscreen, you want to look on the label and see that it's "broad spectrum," which means it protects from UVA (causes aging and increases risk for melanoma) and UVB (causes sunburn and other skin cancers) rays.
Next, look at the SPF. According to Dr. Hadjicharalambous, clinical studies show the most beneficial sunscreen is SPF 30. SPF 50 has very little additional benefit, while higher numbers have no further benefit at all.
According to Dr. Hadjicharalambous , there are good things about each type of sunscreen:
SPRAY
Spray is great for ears and the top of the head. If you're not wearing a hat, use the spray on your head, even when driving with the sunroof open. But keep in mind, you have to rub it in. You can't just spray and go. Spray thoroughly, then rub it in.
STICK
Have you ever gotten sunscreen in your eyes? It's no fun. Sunscreen sticks are helpful in preventing that from happening. It doesn't run, so if you think you'll be sweating, rub some on around your eyes. Added bonus: it's very affordable.
LOTION
Sunscreen lotion is a classic. You're more likely to have an even application, because you will rub it in. Keep a bottle handy this summer.
If you have acne, look for one that's specifically for the face and that's "non-comedogenic," which means it won't block pores. Those with sensitive skin should look for sunscreen made for kids or babies.
As for the younger crowd, kids and babies need sunscreen, too. Sunscreens made for them are zinc or titanium oxide-based, so it forms a physical barrier on their skin. Other sunscreens are safe to use, but some parents are more comfortable if certain chemicals aren't included.
If you work outside, or are exposed to sun through glass for long periods, you should keep sunscreen handy. A proper amount for full-body coverage is about one shot glass full, with reapplications every two hours.
"You want people to have a positive experience with it," said Dr. Hadjicharalambous. "I like to offer a bunch of name brands to my patients to try. Remember - any sun screen is good, as long as you use it."
Remember - any sun screen is good, as long as you use it.

Dr. Hadjicharalambous