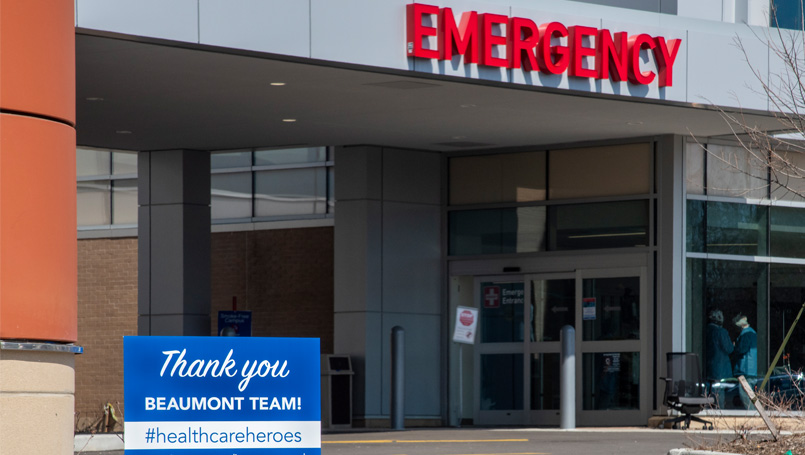 We asked Dr. Jaime Hope, Beaumont emergency medicine, some common questions about COVID-19 / coronavirus. Here's what she wishes everyone knew:
WHAT ARE THE COMMON SIGNS AND SYMPTOMS OF COVID-19?
In the mild form, COVID-19 presents as a cold. These people might get sniffles, a sore throat, runny nose, a cough, fever along with things like muscle aches, fatigue and just generally not feeling well. Unique to COVID-19, some people lose their sense of taste and smell. It can also have less common symptoms associated with it, such as an upset stomach and diarrhea that we don't necessarily often associate with a respiratory virus.
For some, COVID-19 becomes severe. These people become very short of breath and have a difficult time getting air. The cough can get worse as the disease progresses to the more severe form.
WHAT IF I'M SICK, BUT DON'T NEED TO BE HOSPITALIZED?
If you are not becoming short of breath, we encourage you to take really good care of yourself at home. Physically isolate yourself from other family members.
While you're at home, make sure you're getting plenty of rest and fluids. Practice excellent hand washing, surface wiping and be careful not to touch your face. If you have access to a pulse oximeter, it will help because the numbers should be around 100%. If it gets below 90, that shows that you're not getting as much oxygen as you should. That would be a reason to come to the hospital.
CAN I STILL GO TO HOSPITAL FOR OTHER EMERGENCIES?
Yes! If you have a heart attack, a stroke, a broken leg or appendicitis, we will still take care of you and we will take every precaution to keep you safe so you don't catch COVID-19 even though we are also treating those patients.
If you have a medical emergency, please go to the emergency department. We want to take care of you and we want to make sure that you're safe.
WHY DO I NEED TO STAY HOME OR PRACTICE SOCIAL DISTANCING?
I've heard people who have mild symptoms or feel that they're low risk say things like, "Why do I need to stay at home? I'll just get a cold. I'll be fine," and that's true in many cases. 81% of people who get this, we think, are going to experience mild symptoms. But what happens is you're passing it to people who are at risk even if you don't realize it. You might cough or sneeze and the droplets could get on somebody. You might contaminate a surface by touching it and if someone with a less robust immune system touches it they can become severely sick.
So, stay home if you're sick. If you're healthy, wear a mask and keep your distance in public. What we should be calling it is physical isolation and physical distancing because we still need to stay connected to each other socially. It's good for our souls, but we just need to do it from 6 feet away, from behind a mask and/or over a digital medium so we can all stay safe.
WHY DO WE STILL NEED TO FLATTEN THE CURVE?
You've likely seen the flatten the curve graphic. The line you see is the limit to our health care resources; our masks, our ventilators, our ICU beds, medication our hospital personnel. When we start seeing people above that line, we will struggle to help save those people. But if we slow down the spread, we can keep as many people under that line as possible.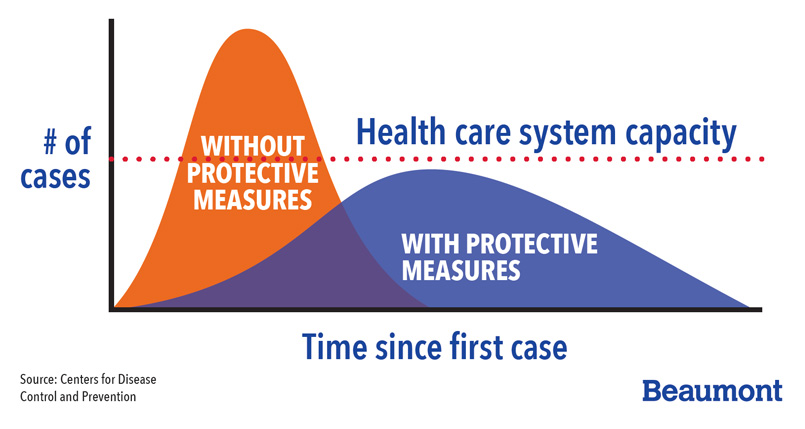 Please continue to practice physical distancing and stay connected socially in safe ways.
HOW CAN WE MANAGE THE STRESS THIS IS CAUSING?
This is affecting people because with so much stress going on, it's sometimes hard to see the good things that are happening. Now, in my family, our family motto is, "Find the good."
Thank you for what you are doing. Please remember to wash your hands, don't touch your face, be physically isolated, but still stay socially connected, and together we can flatten the curve and get through this.