Wednesday, April 15, 2015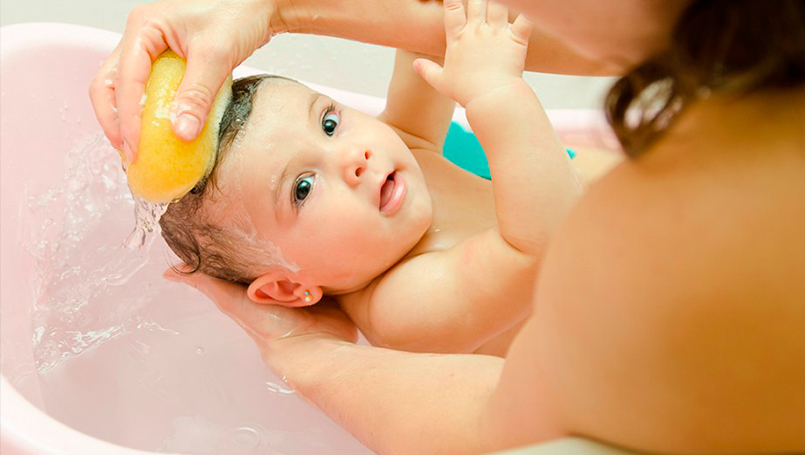 Although you want to keep your newborn clean, you don't have to overdo it on the baths. You clean up your baby often enough throughout the day, during diaper changes and after feedings, that your newborn needs only two to three baths each week. Here's what you need to know about your baby's first bath and when to switch from sponge to tub baths.
The most important bath time rule
Whether you're giving your newborn a sponge bath or a tub bath, the most important baby bath time rule is to never take your hands off him or her. If you have to move around or leave the room to grab more supplies or answer a ringing phone, take her or him with you.
When to give baby a bath
Some parents prefer to bathe baby during the day when he or she is alert. Others prefer to incorporate bathing into a bedtime ritual. There isn't a right or wrong time. Do what works best for your family.
Give sponge baths before tub baths
At first, you need to give your newborn sponge baths and should continue to do so until her or his umbilical cord falls of and the stump heals, and if you have a circumcised boy, once his circumcision heals. In general, the umbilical cord should be kept dry, and you can expect it to fall off in about two to three weeks.
How to relax your baby during bath time
Your baby might cry during the first few sponge and tub baths because it's a brand new experience for them. To soothe them, hum, sing or talk softly to your baby.
What you need for bath time
You need soft towels and washcloths during your baby's bath and a diaper and clothes once you're finished, but here are few more items you need for bath time:
basin or sink for sponge baths
baby bathtub for tub baths
bath cushion or thick towels
baby shampoo
baby soap
nonslip mat
bath thermometer
hooded baby towel
STEP-BY-STEP INSTRUCTIONS
Water preparation: Clean a sink or basin and add warm (not hot) water to prepare for a sponge bath. When filling a baby bathtub, check the water temperature with a bath thermometer. Aim for a temperature around 100°. Make sure the room is also warm at about 75°.
Bath time begins: During a sponge bath, place your baby on a bath cushion or thick towels, keeping them covered with a towel or blanket. During a tub bath, use a nonslip mat in the bathtub.
Washing their face: With no soap, use a moistened clean wash cloth to wipe each eye. Again with no soap, use a moist washcloth to wash your baby's face and the outside folds of the ears.
Washing their body: Add a little soap to the washcloth to wash the rest of your baby. Rinse with a clean moist washcloth or by using a cup of water to wash away the suds. During a sponge bath, keep the umbilical cord dry and clean one area at a time, while keeping the rest of their body covered with the towel or blanket.
Washing their head: Add shampoo to a washcloth to wash your newborn's head. Next, hold your baby by placing your arm under their back and support their head and neck with your hand and wrist. While firmly holding your baby, carefully rinse your baby's head under the faucet, avoiding any soapy water from running over their face and possibly into their eyes.
Drying off: Gently pat their skin dry and then wrap them up in the hooded baby bath towel. Never use a blow dryer on your baby's hair, simply use a baby brush to comb their hair. You doctor can give you specific instructions to keep dry and care for the umbilical cord.