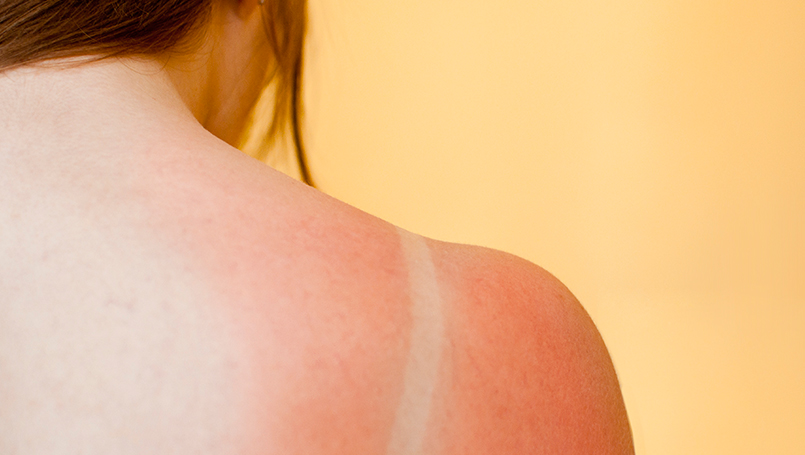 When you're out having fun on a beautiful summer day, it's easy to forget the dangers of the hot sun. At the first sign of sunburn, it's important to get out of the sun and start treating your sunburn.
Check out these 5 ways to relieve sunburn:
MOISTURIZE WITH ALOE WHILE SKIN IS DAMP
After a bath or shower and while skin is still damp, slather on a moisturizer that contains aloe vera to help soothe your skin. When you're sunburned, you need to keep your skin as moisturized as possible to aid its recovery. Be sure to reapply as often as needed. You can also chill the moisturizer in the fridge before applying for added relief.
HYDRATE TO REPLENISH LOST FLUIDS
Sunburn draws fluid to the skin's surface and away from the body. Be sure to drink plenty of water and sports drinks to replace lost body fluids and replenish electrolytes. This will help your burn heal more quickly.
TAKE A COOL SHOWER
Once you get inside, take a cool shower to rinse off any residue like chlorine or salt water that will further irritate your skin. Remember to avoid using soap or perfume, which can dry out your skin.
REDUCE INFLAMMATION
As soon as you notice sunburn, take an anti-inflammatory drug such as ibuprofen to help with the discomfort. This will help reduce swelling and take the sting out of your sunburn.
DON'T GET BURNED AGAIN
When your skin peels from sunburn, the layer underneath is more sensitive and more prone to getting sunburnt. We know the best way to relieve a sunburn is to not get sunburned at all, but it's especially important to take every measure to protect yourself the next time you're out in the sun.
While these tips will help relieve your sunburn, it's important to protect yourself the next time you head outside this summer. Apply sunscreen everywhere, and reapply frequently.