Tuesday, February 28, 2017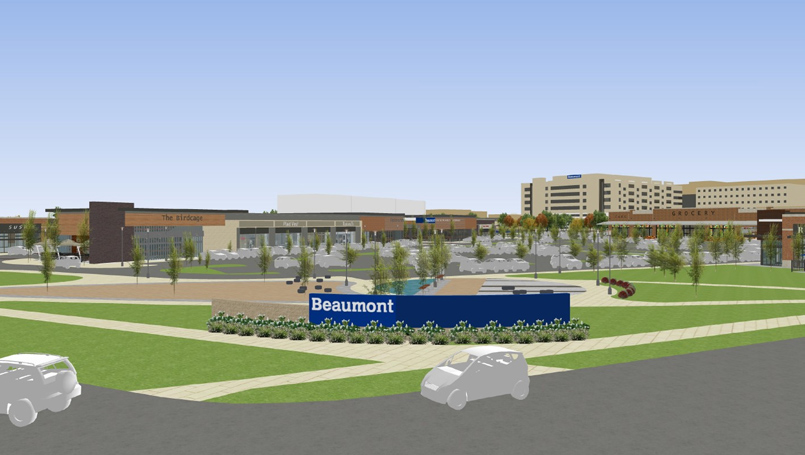 Beaumont Health has received final approval from the Royal Oak City Commission on a zoning change that clears the way for redevelopment of the former Northwood Shopping Center at Woodward Avenue and Thirteen Mile. Approval came at the commission's Feb. 27 meeting.
Groundbreaking for a new, 183,000 square-foot commercial retail development on the 15-acre property is expected to take place this summer. Demolition, abatement and soil remediation of the old shopping center buildings and townhouses on the property is underway.
"We appreciate the city's support and are very excited to move forward with our plan to revitalize the property, based on the ideas of 6,000 area residents and Beaumont employees gathered through a survey," said Rosanna Morris, president, Beaumont Hospital, Royal Oak.
Beaumont's plan calls for a grocery store, a five-story hotel, and an array of restaurants and other retail offerings in an attractive setting that includes green space, landscape gardens and community gathering areas where festivals and fairs can be held.
"This development will enhance the experience for the surrounding community and for the 10,000 people who visit our campus each day, and will be easily accessible through walking paths from the hospital," said Morris. "We have a list of more than 300 retailers interested in space at the new center, she said.
"With the opening of our new proton therapy center this summer, Beaumont, Royal Oak will become even more of a destination medicine center, as cancer patients and their family members from around the country travel and stay here for proton treatment," said Morris. "Having a hotel, dining and retail within walking distance of the hospital will benefit them and others looking for a respite or relaxation."
The development will create hundreds of construction jobs as well as permanent jobs at the center's new hotel, retail and dining establishments. It is expected to be complete by the end of 2018.
Beaumont has owned the property since the 1980s and will continue to pay annual property taxes of $435,000 on the property during redevelopment. The taxable value of the property will increase from $7.6 million to an estimated $11.3 million after redevelopment, ultimately benefitting the city of Royal Oak with additional tax revenue to support city services.
Former retail businesses on the property closed last summer.