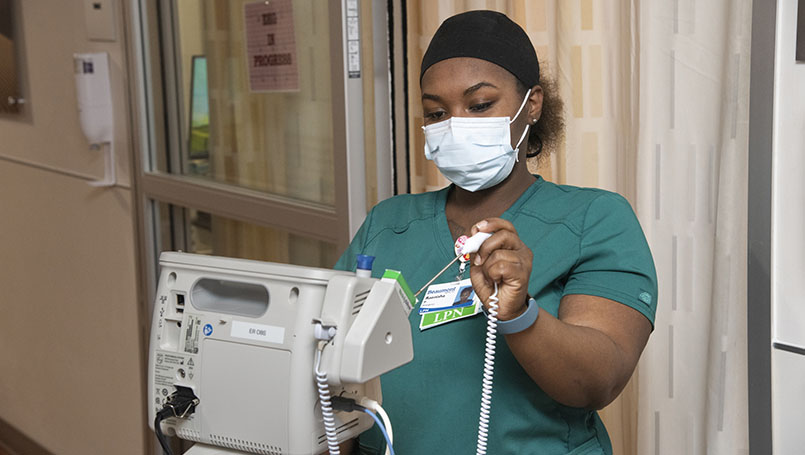 When Raenisha Patterson, 24, first heard about Corewell Health's Walk-in Wednesdays events, she thought they sounded too good to be true.
"My mom and I saw the ads, but I was skeptical. Still, we thought it would be worth it for me to check things out," said Patterson, who received her licensed practical nurse certification through Schoolcraft College's two-year program, then spent two years working at an in-patient care facility. Hospital experience is something she wanted on her journey to becoming an RN.
Since Patterson was working full time, she was thrilled that Walk-in Wednesdays allowed her to take care of everything in one convenient visit. This included meeting the team and hiring manager, touring the department, interviewing and receiving a job offer – all in about two hours.
"When I got to the event, everything was as described," she said. "They told me the starting salary upfront, so nobody's time was wasted. I interviewed and accepted the job that day."
The perfect candidate
Patterson is the exact kind of job candidate Walk-in Wednesdays was designed for, said Mo Minard, RN, project champion and director of Nursing at Corewell Health's Beaumont Hospital, Farmington Hills.
"Raenisha had a busy schedule, but also the skills and desire to grow and learn. She is definitely the kind of person we want on our team," Minard said.
Besides LPNs, Walk-in Wednesdays offers opportunities to RNs, nursing assistants, nurse techs, emergency techs and surgical techs, attendants in Environmental Services and Food Service along with imaging and lab positions.
Community response
According to Kim Guesman, RN, chief nursing officer at Corewell Health's Beaumont Hospital, Farmington Hills, Walk-in Wednesdays – in combination with other initiatives, like on-the-job training, implemented since the pandemic – have been quite successful in attracting, promoting and retaining top talent.
For example, the March 23 Walk-in Wednesdays event at Farmington Hills drew 54 jobs seekers, including three RNs, significant in metro Detroit's busy health care job market, where competition for top clinical talent is fierce.
Additionally, since Guesman and her team started creatively addressing recruitment and retention issues 8 months ago, open positions on the Environmental Services team's 80-member roster have dropped significantly, from 30 open slots to just 10 – with two offers pending.
Rewarding integrity
"We know we can train to skills," Guesman said. "Character and drive – that's not so easy. Our on-the-job training programs help us identify individuals who are compassionate and motivated and give them the opportunity to move up the ladder. It's been really fun to see people learn and grow."
Nursing assistant Ivy Chevis is an example of a team member who's both shown the desire – and had the opportunity – to do just that, learn and grow. When Chevis started at Corewell Health in 2019, she hired on in Environmental Services.
Her dedication, outgoing personality and willingness to go the extra mile for others, captured the attention of her current supervisor, who recruited her to participate in the hospital's 4 to 6 week on-the-job, nursing assistant, training program.
"People tell me I'm a caring person; I want to make a difference," Chevis said. "I loved my job in Environmental Services. But as a nursing assistant, I'm using new skills and making a greater impact."
The nursing assistant training program includes a skills checklist, classroom training and theory. The last 4 weeks are spent in the assigned unit, where trainees are linked with a preceptor who demonstrates job duties, then asks that they demonstrate those skills back to them.
"Due to overwhelming response to our Walk-In Wednesdays campaign, we are now assigning a single preceptor to 4 or 5 trainees," Guesman said.
In June, Chevis is looking to again add to her repertoire by training as an emergency tech.
Minard said part of Walk-in Wednesdays' growing appeal is that satisfied participants are spreading the word to their circles and friend groups. And momentum grows.
"I'm proud of where I work and what our team has to offer," Minard said. "I want everybody to know that. And if you think you have something to offer us in return, we're here every Wednesday. Come and check us out."
Visit Beaumont Careers for more information, including hours and location.