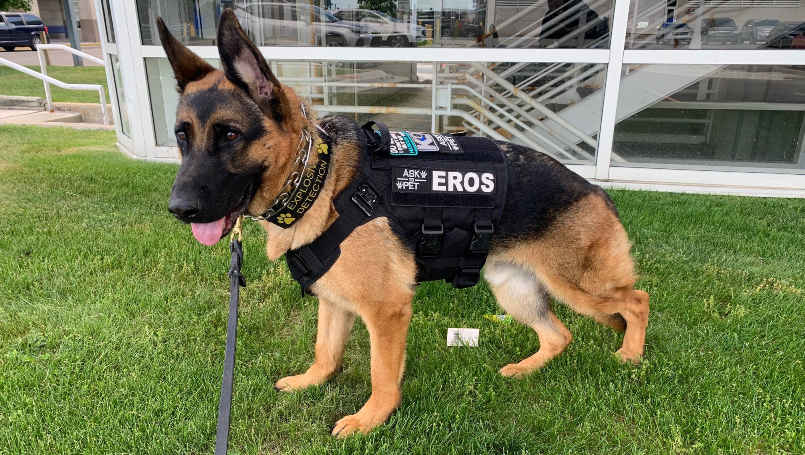 K-9 Eros joins security team, working alongside K-9 officer Angelo Gritsas
When K-9 officer Angelo Gritsas laid eyes on this 15-month-old, perky, black-and-tan German shepherd, who at the time he only knew as 'dog number two,' it was love at first sight. There were seven dogs to choose from at the breeder, but Gritsas said this one stood out from the pack.
"He caught my eye," Gritsas said. "I knew he was going to make a great work dog."
From the moment 'dog number two' jumped into Gritsas' car back in December 2021, he was no longer just a number.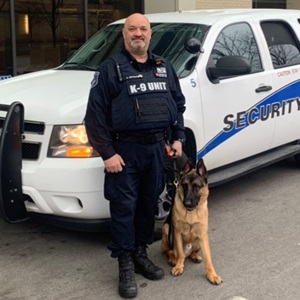 "I named him Eros, the Greek god for love," Gritsas said. "I'm Greek. I'm proud of my ethnicity, so I chose the Greek name because I knew he'd love to work. He loves everybody - our patients, staff and me, too, of course."
It was that love that got Eros through 12 weeks of intense training and bonding, which ultimately led to his certification in explosive detection, obedience, aggression and building searches. Gritsas said Eros has proven to be not only a dedicated worker but also a great addition to the security team at Beaumont Hospital, Royal Oak.
"Seeing him in action here at the hospital and when he does well, it puts a smile on my face," he added.
During his short time on staff, Eros has helped de-escalate situations involving irate visitors.
"Sometimes just bringing Eros to the area helps to diffuse the issue," Gritsas said. "They see the dog and they leave without any further incidence, which is exactly what we want to happen."
Eros has also doubled as a therapy dog.
"The emergency staff was trying to work on a little boy, and we just happened to walk by," Gritsas said. "His parents said, 'Oh, a dog!' And he started looking at the dog and immediately stopped crying."
Eros then sat next to the boy and comforted him, allowing doctors to continue to work with the child.
Originally from Germany, Eros is still a child himself, only 20 months old and a puppy at heart.
"When we're at home, I try to let him relax a lot, but he does enjoy going outside and playing a good game of fetch," Gritsas said.
While this pup may love his ball, there is arguably one thing he loves more and that's his partner, Gritsas.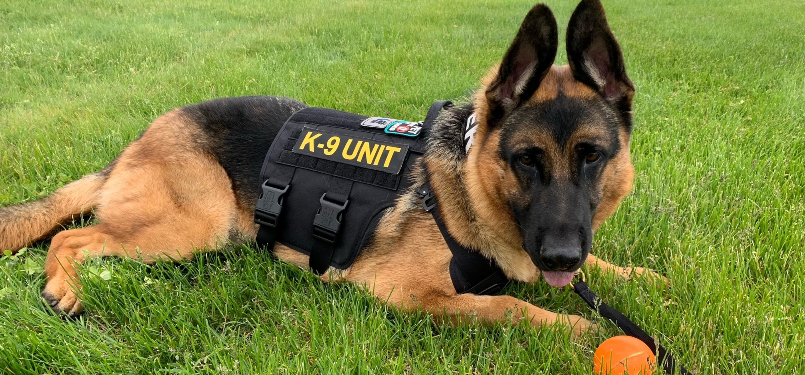 "Our bond is very strong," Gritsas said. "He wants to be with me at all times. Even when I'm at home doing work on the computer, he's laying at my feet. When I put him in a sitting position next to me, he'll put his right paw on top of my left foot just to make sure I'm there."
Gritsas said he always has his back - or in this case his foot - a trait to be admired, as partners like Gritsas and Eros truly count on one another, especially in the most difficult situations.
"The world's changing, so we're not trying to be reactive," Gritsas said. "We're trying to be proactive."
Gritsas is grateful to have another set of eyes and ears and a strong nose patrolling campus with him.
"We patrol on foot and we're mobile in the vehicles," he said. "We just want to make a safe environment for our patients, our visitors and our staff."
Eros is now one of three K-9s on the Royal Oak campus. Gunner works with K-9 Officer Charles Baker and Justice works alongside K-9 Officer Thomas Wyroba. They are part of Beaumont's 14 K-9 Officer Unit teams and 80 therapy dogs who work throughout the health system.