Wednesday, October 11, 2017
Beaumont Health and the University of Michigan-Dearborn collaborate to advance care for children with autism
The Beaumont Center for Exceptional Families and University of Michigan-Dearborn are collaborating to bring a new Autism Center to the Dearborn community, which includes an autism-focused cross-training program for students, health care providers and educators.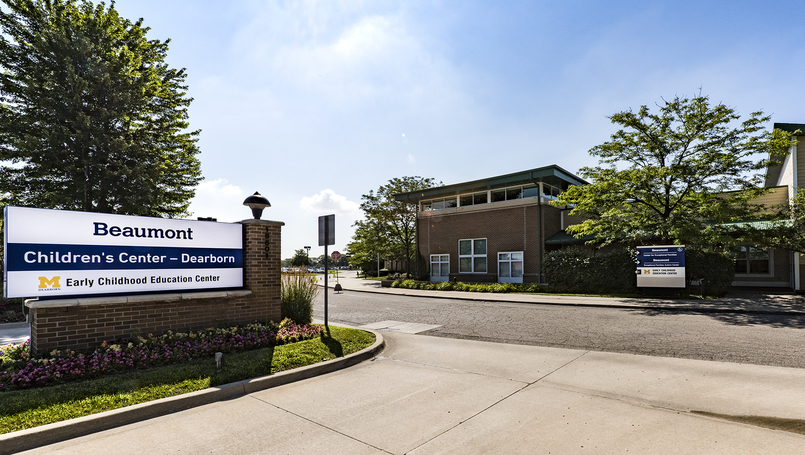 The center will be the first in the area to offer clinical and educational services for children with autism, including diagnostics, Applied Behavior Analysis, occupational therapy, physical therapy, speech therapy, social work and follow-up medical appointments. There will also be access and inclusion with a preschool of typically developing children in a daytime preschool program.
"This joint initiative between university student educators and health practitioners is an opportunity for students and patients to receive both medical and therapeutic autism treatment," said Susan Youngs, M.D., medical director of the Beaumont Children's Center for Exceptional Families.
The new center offers an Applied Behavior Analysis (ABA) approach to autism care that is widely considered to be one of the most effective treatment options for individuals with autism. It involves understanding individual behaviors and modifying the environment to encourage socially appropriate behaviors.
"ABA is tailor made to the individual patient," said Jason Majchrzak, supervisor and board certified behavior analyst. "It's a very personal therapeutic experience and it's really derived from addressing the deficit the child has into meeting the goals of the parent and family so that their child can be successful."
The goal of the center is to provide specialized training to behavior technicians and behavior analysts at the Beaumont Exceptional Families Autism Center, and educators at UM-Dearborn. These programs will help fill a void in the community.
Last year, UM-Dearborn was awarded a $750,000 grant by the Michigan Department of Health and Human Services with the assistance of Beaumont to serve patients and families affected by autism throughout southeast Michigan. The funds, which are spread over three years, have assisted in the creation of new training, undergraduate and graduate programs at UM-Dearborn.
The opening of the CEF Autism Center will allow UM-Dearborn to continue to advance our efforts to educate clinicians of the future who will become leaders in the field of autism," said Stein Brunvand, interim associate dean, College of Education, Health and Human Services, UM-Dearborn. "The ongoing collaboration between UM-Dearborn and Beaumont provides a unique opportunity for children and families to receive comprehensive, coordinated and culturally competent health care services for children with multiple disabilities, now including autism spectrum disorder."
According to the Centers for Disease Control and Prevention, autism is the fastest growing, serious developmental disability in the United States. About 1 in 68 children in the U.S. has autism, and about 50,000 individuals living in Michigan are on the autism spectrum. Therefore educators with experience in this area are in high demand.
"We offer everything under one roof from diagnosis through treatment, and then we do follow-up visits, which no other program I am aware of offers," said Michelle O'Connor-Teklinski, assistant director of the Center for Exceptional Families.
The Exceptional Families autism center is equipped with the newest technology to benefit students from one year old to age 18. The center can treat up to 60 children in morning and evening hours. All treatment spaces – both individual and group – have video and audio capabilities for clinicians, to allow students and even parents to observe and participate in the child's care remotely, without interrupting the session or making the child nervous.
Other amenities in the facility include:
a gross motor and sensory gym
an Activities of Daily Living apartment with a fully functioning living room, bedroom, kitchen, bathroom and a washer and dryer, to prepare young adults with autism for living independently
3 staff offices
11 treatment spaces
remote observation where parents can observe their children remotely in therapy
three exam rooms (in addition to the CEF exam rooms)
"This program is unique to metro Detroit," said Dr. Youngs. "The process of bringing this center to Dearborn has been illuminating and valuable for all of us. Along with helping patients and families, it will be a great learning center for ABA practitioners and educators of the future."
Find out if your child qualifies for the Exceptional Families Autism Center or learn about employment opportunities at the center.
Learn more about ABA related programs at UM-Dearborn.
HIGH-RES IMAGES FOR DOWNLOAD