Wednesday, October 11, 2017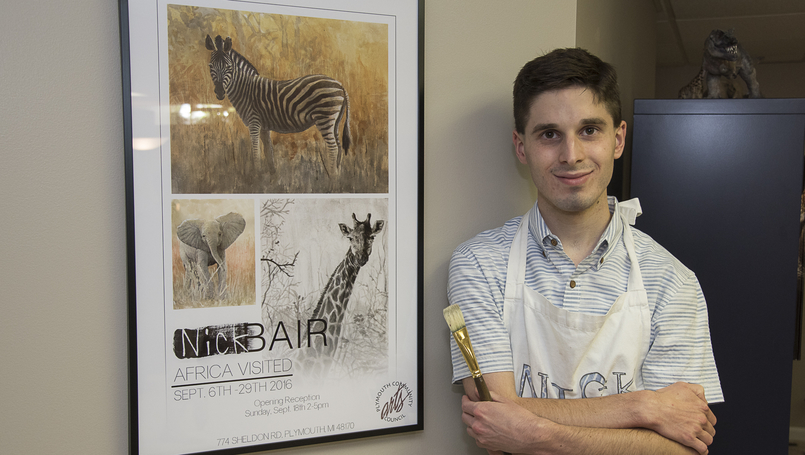 New Beaumont Exceptional Families Autism Center offers advanced therapy and technology through collaboration with UM-Dearborn
Paintings and sculptures of giraffes, elephants, rhinoceros, lions and tigers adorn the walls of Nick Bair's home art studio in Canton. Many of the life-like artwork is complete, and many more are in progress on easels and hung on the walls.
Nick, age 24, was inspired by safari life after a family visit to Africa years ago where he had the opportunity to see the desert and its natural inhabitants first- hand.
Now, a vast selection of his safari-inspired work is being displayed at the new Exceptional Families Autism Center, located within the building shared by the Beaumont Center for Exceptional Families and University of Michigan-Dearborn's Early Childhood Education Center.
Opening to children and families this month, the space is dedicated to families seeking individual and select services for their children based on their individual needs.
"One of the most important things about this center and what makes it a crown jewel is that we have so many important disciplines all in one place," said Jason Majchrzak, supervisor, Autism Center and board certified behavior analyst. "The Autism Center is a one-stop-shop for families who require a diverse set of services and disciplines to further their child's progress."
Everywhere you look, from the lobby to the conference rooms, classrooms, offices and learning areas, there's an art piece created by Nick. Though in his 20's, Nick still has biannual appointments with Susan Youngs, M.D., medical director of the Beaumont Children's CEF. They meet to catch up on Nick's progress and walk through any areas where Nick may need assistance or medical advice.
"Nick is a special and very talented young man," said Dr. Youngs. "I'm so proud to see how far he's come, and that he has excelled in a way that honors his passion in life. His interest in art and being active and involved in other activities shows how much he's grown."
According to his mom, Christina Bair, talking was difficult for Nick when he was younger. She said he used to draw a lot of pictures and his art would help him communicate with his parents and caregivers.
His inspiration and desire to learn more about mixed media artwork and other techniques led him to take a weekly class at the College for Creative Studies in Detroit.
His father, Derek Bair, M.D. is the Corporate Director of Neonatology at Beaumont Hospital, Dearborn. He's taken pen and ink art classes with Nick, while Christina joins him at his weekly class at the College for Creative Studies to take notes about the business aspect of art so Nick can focus on his work.
I do believe there's some genetic part of being an artist. His dad is an artist, and so are two of his grandparents," Christina Bair said. "Even from a very early age in preschool, he would be drawing shapes with his fingers in sand."
She added, "Sometimes people say 'Oh, it's a savant ability,' and it's not. This is who Nick is and he has worked very hard at it. He didn't come out of the box drawing masterpieces. It is who he is and we want him to have the same opportunity as anyone else to do this."
Recently, Nick toured the new autism center with his dad. When asked about his impression of seeing his artwork displayed for the first time, he was excited when he said, "It looks like I was famous."
He also had a few words for another young child with autism who might be interested in pursuing drawing.
"I started drawing dinosaurs when I was young," he said. "They should try and draw lots of different things. They should find things that excite them to learn about."
As for now, Nick is working on an acrylic painting of a flamingo from the Caribbean. In between his art class, a part-time job at a local grocery store and karate classes with his dad, he's refining his painting and planning for it to be part of an upcoming art exhibit in his hometown of Canton.
"Nick is a great example of someone with autism who has found a balance in his passion for art and other responsibilities in his life," said Dr. Youngs. "He's worked hard, but also has the drive to learn and get better at it," said Dr. Youngs."
To see more of Nick's works of art, visit www.artistnickbair.com. For more information about the Beaumont Children's Center for Exceptional Families, the University of Michigan-Dearborn Early Childhood Education Center and the Exceptional Families Autism Center, call 313-996-1951.
Autism treatment services are also available through Beaumont Children's Center for Human Development.
Beaumont Children's Center for Exceptional Families
The Beaumont Children's Center for Exceptional Families is an "all-comers" medical and rehabilitative facility that treats all developmental disabilities, disorders and diagnoses. Children at CEF range from mildly developmentally delayed to multiply impaired children with fragile health conditions.
Many children at the center have cerebral palsy, muscular dystrophy, autism, intellectual disabilities or genetic syndromes. Others are dealing with conditions related to other illnesses, accidents or traumatic births.