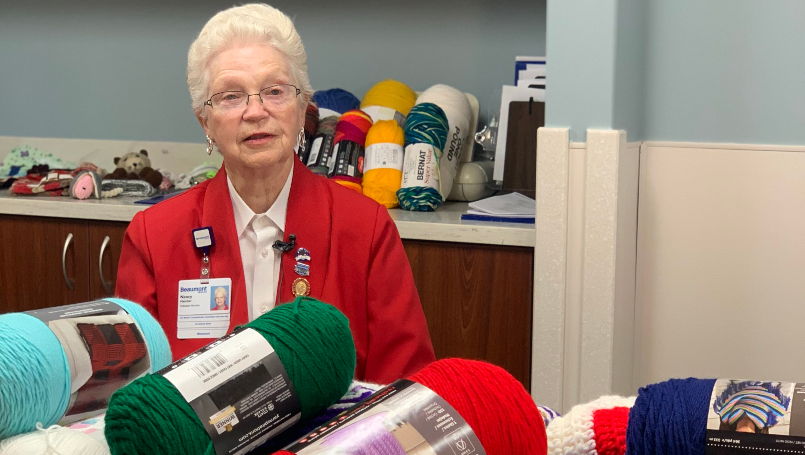 79-year-old Nancy has crocheted and donated 700 afghans in nine years
Nancy Hatcher, of Lathrup Village, was pushing a cart stocked with handmade items around Beaumont Hospital, Royal Oak, one morning when she heard an older gentleman say, "I'm cold."
The 79-year-old immediately handed the man a knitted blanket right from her cart and said, "Sir, I hope this gives you warmth and comfort."
For nearly nine years, Hatcher has been doing just that - literally providing patients with a warm embrace by knitting and crocheting various items as a Beaumont volunteer.
"You give something, and you know that people appreciate it," Hatcher said. "It's very rewarding."
Different patterns, different patients
From chemo hats for cancer patients to small blankets for newborn and premature babies, Hatcher has spent more than 15,300 hours knitting and crocheting different patterns for different patient groups.
"In our system, Nancy currently has the most volunteer hours of any active volunteer, which is pretty incredible," Jon Carolin, manager of volunteer services at Beaumont, Royal Oak, said. "She volunteers when she's onsite and even when she's not here by making blankets at home. She's virtually always on the clock."
During her time as a volunteer, Hatcher said she has crocheted about 700 large afghans - each one taking more than 30 hours to create by hand. Her newest passion project: fidget lap quilts.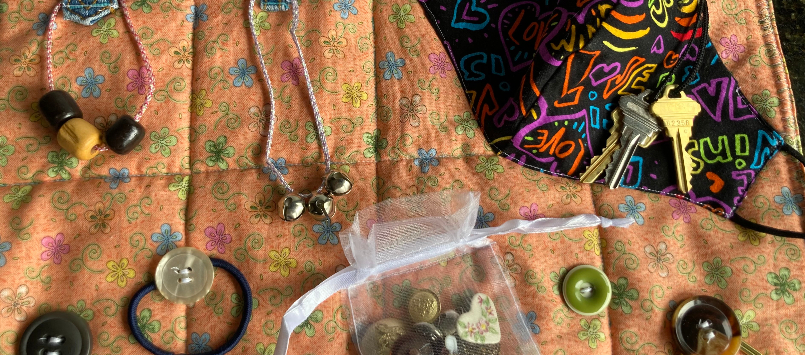 "A nurse recently asked us volunteers to make fidget lap quilts," Hatcher said. "We put things like jingle bells, keys, ribbons and pop-its into the lap quilts - anything that will provide sensory and tactile stimulation for the restless hands of someone with dementia."
Making a difference
Often, Hatcher doesn't get to interact with patients on the receiving end as she delivers the pieces to staff who then distribute. But the retired teacher said she knows she is making a difference.
"Sometimes we do get feedback from the nurses about how a piece impacted a patient," she said. "Other times we get thank you notes that are sent to the Volunteer Center."
Hatcher uses the word "we" because she said this is a team effort. While she said knitting and crocheting may be a dying artform, there are several other avid crafters who, like Hatcher, use their skills to give back.
"My mother taught me how to knit when I was 5 and I haven't stopped since. It's just something we do," she said. "We crochet, we knit, we sew, we donate."
She said there is a prolific crocheter in Roseville, along with an 85-year-old World War II survivor from Greece, and several others who, like her, donate their time by making blankets and other handmade items for patients. Hatcher will often pick up the items and deliver their work to the hospital.
"For some, it's about the convenience of it all, and then others aren't very mobile," she added. "If I can do pick-ups and deliveries to encourage them to continue to donate, then that's fine with me."
For the greater good
While Hatcher isn't one who enjoys the spotlight, she agreed to share her story of volunteering to encourage more people to donate both their time and skills.
"It's always good to give," she said. "It's not just about you. It's about helping other people."
Hatcher said Beaumont volunteers need acrylic, medium-weight yarn donations to bolster their stash. They are also looking for donations of new quilts and blankets of any kind. All donations can be dropped off at the welcome desk at the South Entrance of Beaumont, Royal Oak.