Wednesday, March 31, 2021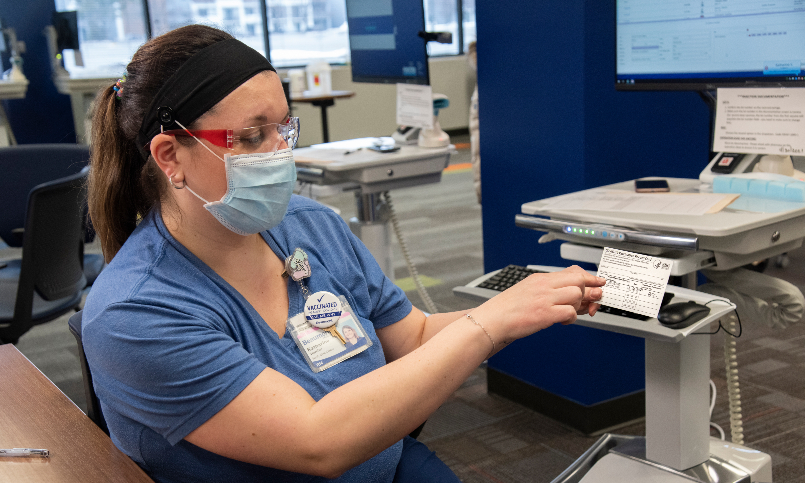 Beaumont Health is experiencing a major surge in COVID-19 patients, while very carefully allowing fully vaccinated individuals to visit their loved ones who are hospitalized with issues other than the COVID-19 virus.
"As we experience Michigan's third COVID-19 surge, the Beaumont Health team will use everything we have learned while treating the most COVID-19 patients in Michigan to again provide the best care possible," said John Fox, president and CEO of Beaumont Health. "Please continue to wear your mask, wash your hands, avoid large gatherings and practice social distancing while we work together to respond to the latest surge. Vaccinations are helping, but we are not there yet. We need to stay vigilant to protect our families, friends and communities. For now, the virus is moving faster than the vaccinations."
The number of COVID-19-positive or suspected positive inpatients jumped at Beaumont from 128 on Feb. 28 to more than 500 patients on Tuesday. That is more than double the number of COVID-19 patients being treated at any other hospital system in Michigan, according to Michigan Department of Health and Human Services data.
As a result, Beaumont has implemented the following:
COVID-19 units at all hospital sites have been expanded;
The "System Labor Pool" has been reconvened, connecting Beaumont Human Resources and clinical staff from each hospital in daily meetings to provide situational awareness to monitor and provide additional staffing requests;
Incident Command Centers remain active at all hospitals.
"We continue to monitor the numbers very, very closely and are instituting changes from the Incident Command Centers to best care for our patients," said Dr. Nick Gilpin, medical director of Infection Prevention and Epidemiology for Beaumont Health. "Expanding COVID-19 units at the sites is a result of that, and we are working hard to provide the best care in the region."
All of Beaumont's hospitals are safe and remain open to all patients needing health care including emergency visits, testing and surgery. Patients should continue to go to any Beaumont Emergency Department for medical issues that need urgent attention. Infections are growing in the community and not in hospitals.
The current surge resulted in various actions including Beaumont Health reinstituting visitor restrictions last week. The guidelines are listed on the Beaumont website. Masks are still required at all Beaumont facilities, for everyone, including those who have been fully vaccinated.
But recognizing the importance of support for hospitalized patients and the effectiveness of vaccines, fully vaccinated visitors - one person per day - are encouraged and welcomed at the bedside of patients who do not have or not suspected of having COVID-19. This policy began today at 8 a.m. Visitors must have finished their vaccination schedule and be 14 days past their final dose.
Proof of vaccination requires:
A completed, official Vaccination Record Card and photo identification
A photo of a completed, official Vaccination Record Card is acceptable
"We know that we're one of the first health care systems allowing vaccinated visitors," said Fox. "But we recognize that patients recuperate better when they have someone dear to them nearby. So, we are working hard to balance safety with compassionate family support as we lead the way through the pandemic."
As of Tuesday, Beaumont has provided more than 210,000 vaccinations to help combat the COVID-19 pandemic. The health system continues to operate vaccine clinics at Beaumont hospitals in Dearborn and Troy, as well as the Beaumont Service Center in Southfield. While the clinics have the capability of administering 50,000 doses per week, this is dependent on the amount of vaccine received.
Those who are vaccinated, but do not have a vaccination card, should request one from their vaccination site. If that is not an option, each state health department keeps a record of immunizations, including the Michigan Care Improvement Registry.Vaccine providers are required to provide a record of a vaccination to their state's immunization system within 72 hours.
For those vaccinated outside Michigan, the U.S. Centers for Disease Control and Prevention has a central list of state Immunization and Information Systems.