Wednesday, August 30, 2017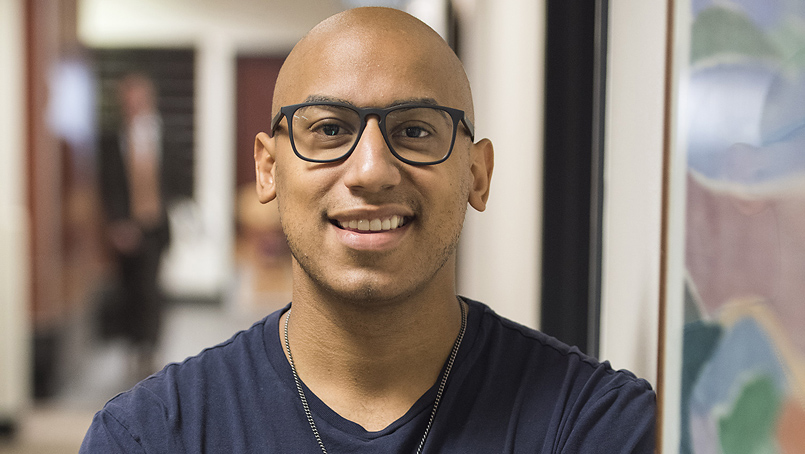 At just 21, Manny Torres, a Flint area native and an aspiring singer-musician, was living the dream. In January 2016, he was chosen as a contestant on TV's "American Idol." He appeared in the show's final season on Fox, and made it to the top 14.
High note and then a low note
Being selected to participate in "American Idol" was definitely a high note. Back then, Manny posted on social media, "This easily may have been the best day of my life@AmericanIdol #farewellseason #Idol #TeamManny #ImGoingToHollywood."
After his appearances on "American Idol," his musical career held promise, with work on a record in Chicago. But a stubborn pain in his back required a trip to a hospital ER. Imaging revealed a cancerous mass. He was diagnosed with testicular cancer.
"It happened very fast, over the course of a week."
The diagnosis shocked Manny, his family and friends.
He had a surgical procedure, an orchiectomy, at a hospital in Southeast Michigan. Then, there were post-op treatment options to consider.
Why now?
While many ask themselves, "Why me?" after a cancer diagnosis, Manny asked, "Why now?" His dreams of becoming a professional singer were coming together. He said, "Right at my peak, I was forced to put it all on pause – my record, concerts, bar gigs and wedding work."
His new focus: taking care of himself.
"The realization you have cancer hits you hard. But, it's life, things happen. You've got to adjust."
Researching treatment options
Manny did lots of research online and talked with many doctors. For his post-surgical care, he liked Beaumont oncologist Matthew Cotant, M.D., "Dr. Cotant advocated a less invasive approach with chemotherapy. I liked his manner and experience. He made me and my family feel comfortable," explained Manny. "I got a good vibe from him. The numbers and cure-rate were very favorable – at 98 percent."
Chemotherapy
Testicular cancer is the most common cancer in men 15-40. "It is very treatable with chemotherapy," said Dr. Cotant. "The cure-rate is high."
The doctor's advice, "Young men should routinely check their testicles when showering. If you feel a hard lump, get it evaluated by a doctor right away."
Manny underwent standard chemotherapy at Beaumont Hospital in Royal Oak. "It's not an easy treatment program, but he powered through it," Dr. Cotant added.
Now that his chemotherapy has ended, the focus is on surveillance. This includes: examinations, blood tests and CT images. The doctor says his prognosis looks good.
Facing cancer with strength
"When I met Manny, he showed maturity and insight far beyond his years," recalled Dr. Cotant. "He looked me right in the eye and asked a lot of questions. He showed concern about his cancer, but not panic. I've got to believe that's because of his strong religious beliefs and faith. Even during his first visit, he had all the nurses smiling."
Surrounded by support
Manny says the support he's received from family, friends, fans and medical team is incredibly uplifting. His immediate and extended family is a tightknit group. Family from near and far demonstrated their concern and love. His father, Ezequiel, was a pastor in Flint when Manny was growing up. The church and his faith have played a major role in his upbringing. He's also very active at his church in Chicago.
Manny said, "When someone in my family needs help or support, you visit them, you love on them. That's what they did for me."
From his American Idol family, he received a care package with hundreds of cards, books and goodies. "It was absolutely unreal the support I received from fans on social media, too."
Despite his positive nature, there were days during his chemotherapy that Manny didn't feel well. He explained, "On those days, I lean on God."
His experience with cancer has taught him not to take all the support and love for granted. "I'm blessed; I have an abundance of it. This cancer scare changes you and really puts things in perspective. Some things are out of your hands. Life is to be valued, appreciated."
Manny added, "I'm rarely unhappy, but cancer put my positive attitude to the test. It made me all the more appreciative of all the good things I have in life."
Active lifestyle
Despite his cancer diagnosis and treatments, Manny remained busy.
Said Dr. Cotant, "Manny was very active during his chemotherapy. I'd have to remind him to take it easy and pull back a little bit on his weight lifting and running."
Career-wise it has been challenging, but throughout the summer Manny has played a few gigs as he explained, "Just to keep my chops up."
Good news
On an Aug. 8 Facebook posting Manny shared:
"IM IN REMISSION BABYYY GOD IS GOOD! #LETSGO"
His mother and girlfriend enjoy having him back in Michigan. While he continues to focus on his recovery, Manny hopes to return to Chicago in November or December to resume his music career.
Said Manny, "The opportunities are still waiting for me. I've got to get back to singing and making music. That's what I love."