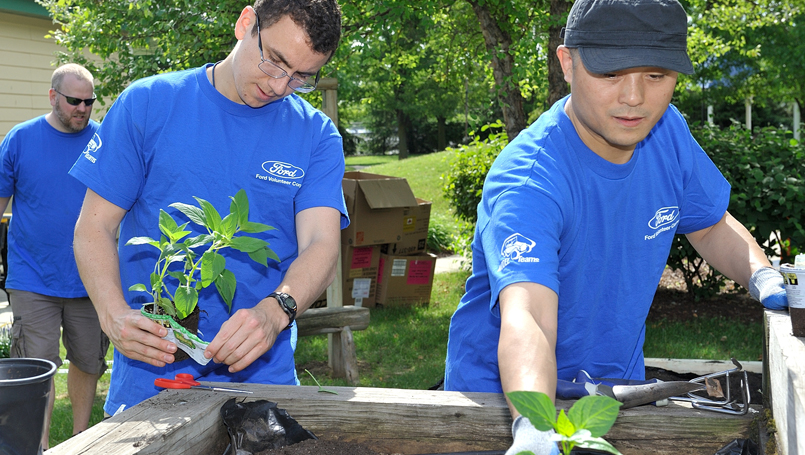 Volunteers build therapeutic sensory garden
The grounds of Beaumont's Center for Exceptional Families in Dearborn offers many places to benefit from the beauty of nature. Thanks to a grant from the Ford Motor Company, a new sensory garden will help introduce more of nature's healing attributes while stimulating the development of children with disabilities.
This summer, the CEF is going one step above with the help of the "Better World" initiative from Ford Motor Company's Volunteer Corps and its employees. Together, they are creating a sensory garden to stimulate the five senses of those who have disabilities and, at times, have difficulty engaging in traditional exam rooms.
"Sensory gardens are spaces where individuals can be immersed in scents, textures, sounds and various colors of surrounding plants. All five senses are stimulated to create a relaxing environment that will contribute to their development," said Michelle O'Connor-Teklinski, assistant director, Beaumont Center for Exceptional Families. "Our therapists and physicians now have the opportunity to provide treatment outdoors when it's appropriate."
Yesterday, a dozen volunteers from Ford Motor Company spent the day constructing the new garden that will create a multisensory experience, especially for children who at times have short attention spans.



The space will include a five-tier, elevated garden bed with special features, such as:
plants with pungent fragrances, bright colors and unique textures
the ability to touch and pick fruits and vegetables
multicolored painted equipment
bamboo wind chimes
sun catchers that reflect light in different colors
"This sensory garden will open a new world for children and families to explore and enjoy together," said Janet Lawson, director, Ford Volunteer Corps. "Ford volunteers are working to make people's lives better and this garden will stimulate the senses and provide the joy of discovery that only nature can provide."
O'Connor-Teklinski added, "There are many positive effects of regular garden visitation. These gardens are designed to help visitors feel, smell and taste the plants around them and these experiences, according to other research, helps increase disabled children's awareness of the world around them."
This is the fourth project funded and constructed by the Ford Motor Company Volunteer Corps. Other projects include the CEF's annual holiday gift giving for families in need, a wheelchair garden swing and another smaller scale garden bed.