Wednesday, August 01, 2018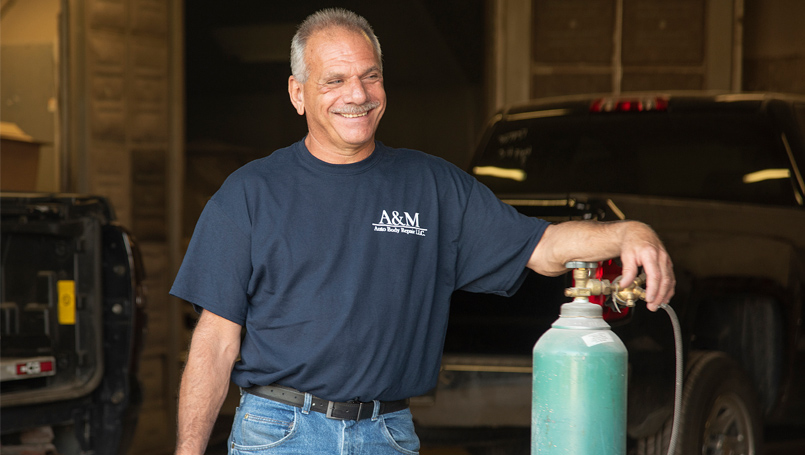 A diverticulitis attack has been described like getting kicked repeatedly in the stomach. The other symptoms are awful, too. That's what Al Mousouleas II, 59, of Riverview, lived with for more than a decade. With each attack, he'd return to the Emergency Center at Beaumont Hospital, Trenton, for pain and infection treatment.
"It was so bad, I could hardly stand up. I needed surgery, but I just would not be that guy wearing a colostomy bag," said this father of four and grandfather of three.
For 35 years, he and his family has owned and run A&M Auto Body in Trenton. It's physical work. Mousouleas put up with the painful attacks to support his family, until a Beaumont emergency medicine physician set him straight during his last ER visit.
"He told me every diverticulitis attack made the walls of my colon weaker. I was putting my life at risk. He assured me surgery to remove the damaged part of my colon and rejoin the two ends would cure me. And, I wouldn't have to have a colostomy bag."
Mousouleas' daughter, Krystal, a nurse, helped him research surgeons. She urged him to go see Raymond Laird Jr., D.O., in Trenton.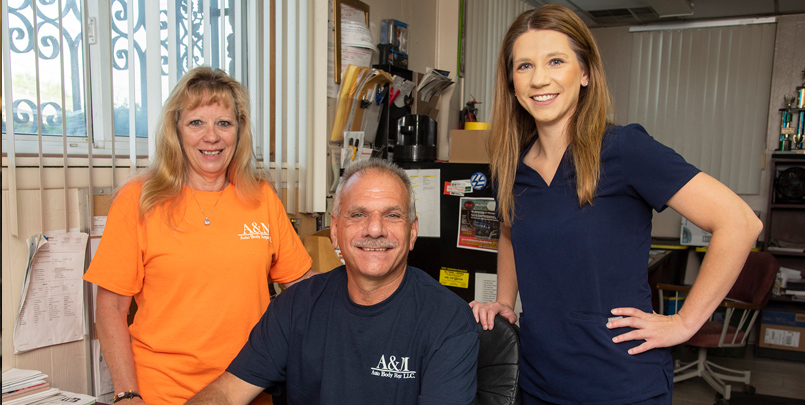 "Dr. Laird explained everything using normal language with a sense of humor. He's a fantastic surgeon. He told me about a new surgical technique he helped bring to Beaumont, Trenton – da Vinci robotic-assisted colon surgery. I would be the first one, his 'guinea pig' so to speak."
Mousouleas became the first patient at Beaumont, Trenton last year to have intracorporeal anastomosis, where the colon is cut and put back together with the surgical robot inside the patient.
"Mr. Mousouleas has continued to do well following his sigmoid colectomy to remove the left side of his colon. My OR team and I can perform this surgery for patients with colon cancer, or for non-cancerous conditions such as Crohn's disease or diverticular disease, like what afflicted Mr. Mousouleas," explained Dr. Laird. "Da Vinci robotic-assisted surgery is now my standard approach for all my patients who need colon surgery."
The day after surgery, Mousouleas said he felt fine, got out of bed, walked around the nursing unit and announced that he didn't need pain medication. He was discharged home the next day.
The average length of stay for Metro Detroiters is 7-8 days in the hospital for an open colectomy, most of whom are offered only traditional open surgery because their hospital or surgeon does not provide robotic-assisted surgery. The costs associated with open surgery are much higher, for both hospital and patient. And, recovery can take up to six weeks.
Dr. Laird said, "One reason Mr. Mousouleas recovered very quickly is that his largest incision was only 2 centimeters instead of having a long, vertical incision on his belly. Using advanced minimally-invasive surgical techniques decreases post-surgical pain. "
He returned to his collision shop with a 10-pound lifting restriction the next week. After one month, Dr. Laird allowed him to work without restriction.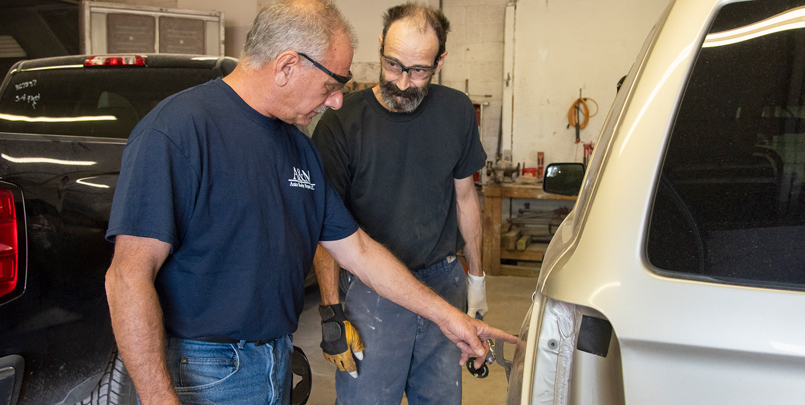 "I was amazed how quickly I recovered. I'm 100 percent, now. Before, I couldn't even think about eating many foods, such as tomatoes, corn on the cob, peanuts, anything with seeds and popcorn. And, I can eat all that great Greek food I love."
Mousouleas urges others who are in pain like he once was to get help: "For the love of God, don't suffer for years like I did. Get the surgery. Life is so much better now."