Wednesday, November 18, 2020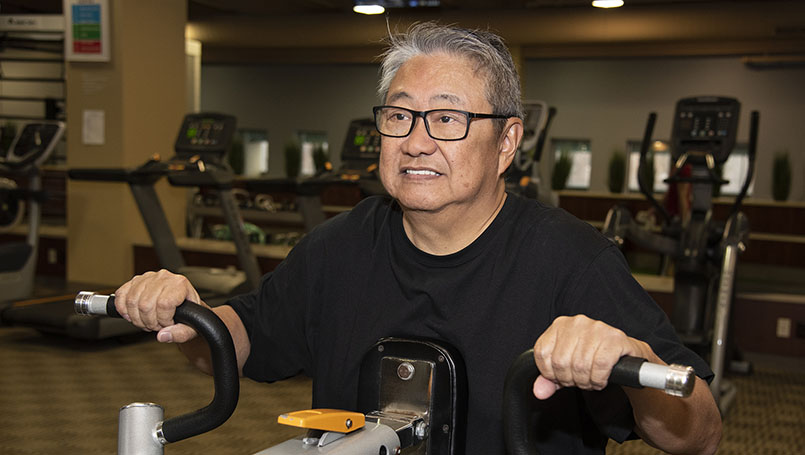 Gerry Francisco's lung cancer diagnosis came as a surprise. "It was a shock to me," he said. "I found out on my wife's birthday. I told her, 'We'll fight through this.'"
While Francisco felt better after quitting smoking at 60, a CT scan revealed several small nodules in his right lung. His medical team explained they'd monitor the lesions annually, and if they became larger, a biopsy would be done to determine if they were cancerous.
After Francisco, of Macomb, quit smoking, he was more energetic. He smoked one pack each day for 25 years or about 182,500 cigarettes. His primary care physician referred him to the Lung Nodule Clinic at Beaumont, Royal Oak for a low-dose lung cancer CT.
A pulmonary nodule is a round or oval shaped growth in the lung, sometimes referred to as a lesion or spot on the lung. While lung nodules can be noncancerous, they may be an early sign of lung cancer. Smaller nodules, as in Francisco's case, require monitoring. And larger nodules may require a biopsy.
Lung cancer is the leading cause of cancer deaths in both men and women. It accounts for approximately one-quarter of all cancer deaths nationwide. Annually, more people die of lung cancer than of colon, breast, and prostate cancers combined.
Francisco's first lung CT was in 2015, thereafter, he received one each year. In 2018, at 64, because his nodules were increasing in size, a biopsy was done.
The results of his biopsy hit him hard. The lung nodules were cancerous. Francisco thought, "I've had a good life. Whatever will happen, will happen."
The medical team at Beaumont's Lung Nodule Clinic in Royal Oak: Dr. Sanjay Dogra, medical director; and Margaret Lopez, nurse navigator, encouraged Francisco to consider treatment options. He was referred to a thoracic surgeon, Dr. Michael Coello.
"We all work together to guide patients, like Gerry, through the recommended next steps, which can involve treatment by a team of physicians, including thoracic and pulmonary specialists," Dr. Dogra said.
Dr. Coello explained Francisco's surgical option. The upper lobe of his right lung, with the cancerous nodules, could be removed. This is called a lobectomy. Traditionally, this surgery requires a large incision to open the chest, however Dr. Coello offers a minimally invasive option using video-assisted thoracic surgery, or VATS, using a tiny camera, called a thoracoscope.
The multidisciplinary lung nodule clinic includes specialists - pulmonologists, oncologists, thoracic surgeons, radiation oncologists, radiologists and pathologists, who are also involved with the tumor board. The tumor board reviews individual cases and imaging studies. They discuss alternate treatment options, and talk about clinical trials for which the patient may be eligible.
Francisco also considered radiation as an option to treat his lung cancer, but decided video-assisted thoracic surgery was his best choice.
In March 2019, using computer-aided technology, Dr. Coello removed the upper lobe of Francisco's lung. After his minimally invasive surgery, he remained in the hospital for four days. Francisco was pleasantly surprised that he experienced less pain than anticipated and his incision was small – about 4 inches.
While pulmonary capacity in his left lung was good postop, his medical team restricted his physical activity for 60 days. Then, he was cleared and encouraged to resume a fitness program: 30 minutes of cardio and weight training three times per week.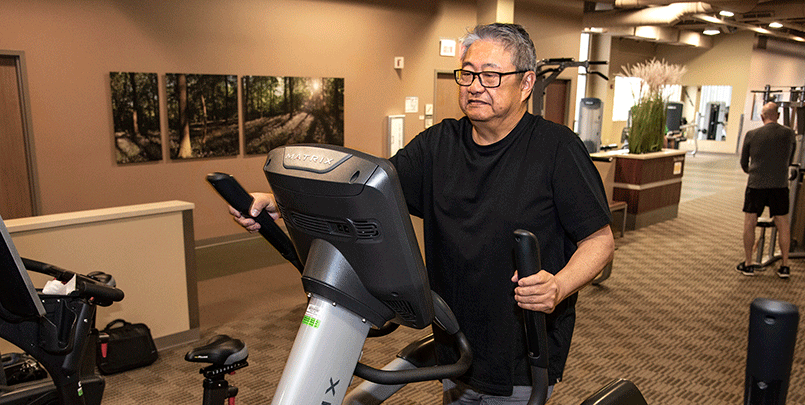 Due to the pandemic, with his compromised respiratory system, Francisco is a homebody. These days, much of his fitness is comprised of walking in the neighborhood.
Francisco's advice, "Do not hesitate to have surgery, and explore your treatment options. Get a second opinion."
Because his lung nodules were discovered early and monitored annually, Francisco did not need follow-up radiation or chemotherapy treatments.
Now retired, the former automotive design manager, has plenty of time to pursue his passion for traveling the world with his wife Debbie.
Francisco, 66, said, "My annual follow-up exams at the Lung Nodule Clinic were a blessing. The early diagnosis and treatment, probably saved my life. I am grateful to the whole team, including my nurse navigator, Margaret."