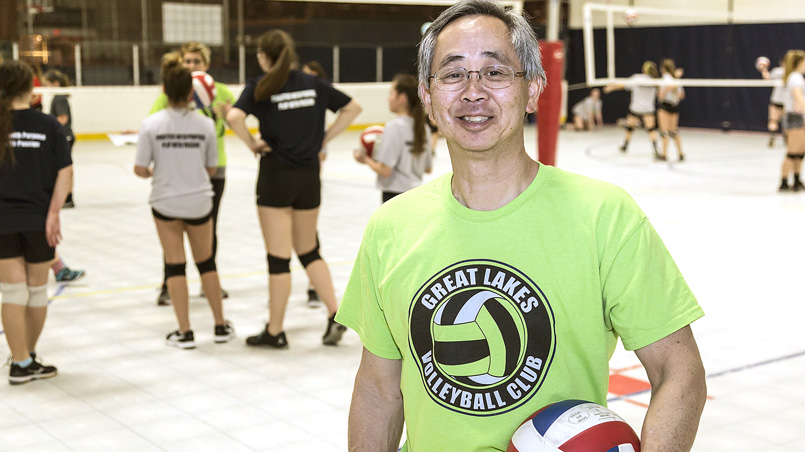 Physical therapists, family support and his determination help him reconnect
For Curt Wong, 64, coaching volleyball is more than a game - it's about life lessons. Despite being diagnosed with cancer last year, he continued coaching his girls. By day, he underwent radiation and chemotherapy treatments. By night, he was back in the gym working with his team. Outside the gym, Curt's battle with cancer was challenging, yet he didn't keep it a secret. While the team knew about his cancer, he reassured them, "Don't be afraid of it."
Curt caught the volleyball coaching bug about 15 years ago. It began when he volunteered to help coach his daughter Eleanor's 5th/6th grade team. Since 2006, he's been a volunteer coach with the Stevenson High School volleyball program in Sterling Heights. In addition, he coaches with the Great Lakes Volleyball Club.
Along with coaching, Wong still enjoys playing competitive and recreational league volleyball. It's been his passion for 40 years. While he's only 5 feet 6 inches tall, he said his jumping ability almost always catches his opponents off guard.
CANCER DIAGNOSIS
About one year ago, the retired scientist with General Motors, was diagnosed with rectal cancer. "I remember being overdue on my scheduled colonoscopy and I had a run-in with an undercooked turkey. Some of those symptoms persisted for quite a while," said Curt.
He experienced some bleeding and subtle changes in his bowel movements, prompting Wong to seek medical attention. He had a colonoscopy in February 2016.
On receiving the news about his diagnosis, Wong recalled, "It was a shock. I was surprised."
During March and April he began concurrent radiation and chemotherapy to treat his cancer at Beaumont Hospital, Troy. The treatments were five days a week for 28 days.
"I tolerated the treatments pretty well. It was not as bad as I anticipated," Curt said. He coached, and except for one week when his radiation burn was particularly intense, played volleyball through the whole process. "Some of my players would ask, 'Hey coach, how come you're walking funny?'"
Working with young players has taught him patience and a sense of humor.
"Coaching has been a savior to me. It got me off the couch and doing something productive. I enjoy working with the kids. It's very rewarding. I'm there to not only improve their volleyball skills, but teach life lessons and sportsmanship. With my math and science background, I like to explain the game using physics, algebra and geometry."
Wong's science background also helped him understand the technology used to treat his cancer. "The whole team at Beaumont – physicians, radiologists, technologists was glad to answer my technical questions. They were great."
Coaching has been a savior to me. It got me off the couch and doing something productive. I enjoy working with the kids. It's very rewarding.

Coach Wong
He credits his wife, Denise Dunn and daughter for their support after his diagnosis. While the shock of his diagnosis made it hard for him to process all the information from the nurse navigator, Denise listened carefully.
SURGERY
In June, Curt underwent surgery. His rectum was removed. He now needed to learn to live with a permanent colostomy. Rest and recovery were priority one. And along with his day-to-day activities, he thought about volleyball and paddling his kayak. He and Denise had thoughts of one day moving to northern Michigan, near Traverse City, to be closer to the many rivers and lakes.
After surgery, he would undergo more chemotherapy.
REHABILITATION
"Denise is proactive about my health and was the one who encouraged me to explore all rehab opportunities after my surgery," explained Curt.
She encouraged him to get information about the Cancer Survivorship and Wellness Program.
Daun Pascaretti, supervisor Outpatient Physical Therapy in Sterling Heights, remembers Curt. "Mr. Wong was looking for a program in which he could return safely back to exercise and his beloved volleyball. He was very motivated and eager for education."
Physical therapist, Mary Jane Ogoy-Ferrer, who specializes in pelvic floor therapy, evaluated Curt. She determined some one-on-one personalized therapy would be helpful before he began participating in the Cancer Survivorship and Wellness Program.
Mary Jane worked with Curt for seven weeks. "Mr. Wong was the best patient. He continued his exercises at home," she said.
BACK TO VOLLEYBALL
Daun reported, "He progressed very well. His strength increased and he reported no pain at discharge. The increase in his endurance allowed Curt to return to playing volleyball – four games at a time, all while undergoing chemotherapy! He also continued to coach volleyball, his passion."
Curt credits Mary Jane with helping him build-up his core muscles and safely return to volleyball. Therapy helped him with lower back pain, muscle weakness and fatigue.
"The permanent ostomy is a part of me now. It has both advantages and disadvantages," said Curt.
As for his advice to others who find themselves diagnosed with colorectal cancer, "Be strong. Focus on the positive. That's the advice my cousin gave me. He underwent rectal cancer surgery 30 years ago and continues to run, bike, hike and paddle."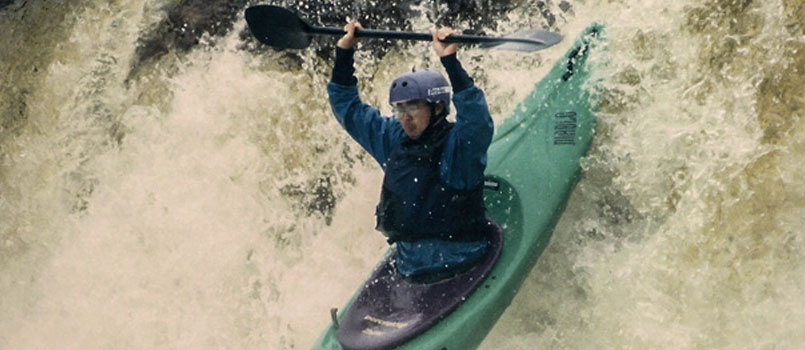 This past December Curt and Denise purchased their dream house in the Traverse City area.