Wednesday, November 16, 2016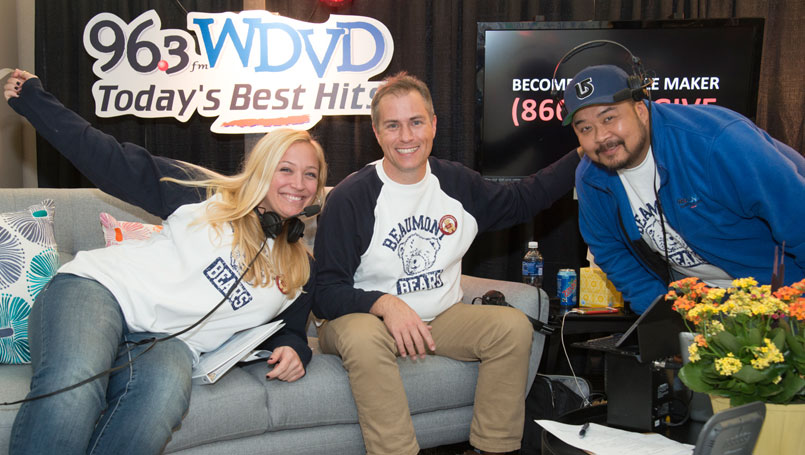 Every year, Beaumont Children's provides advanced care for thousands of children from throughout Southeast Michigan and beyond. Each child has a compelling story and their bravery in the face of adversity is truly inspirational.
WHEN AND WHERE
The radiothon will broadcast live from the South Tower Concourse of Beaumont Hospital, Royal Oak on Thursday, Nov. 17 from 6 a.m. until 7 p.m. Anchoring the presentation will be Detroit radio veteran, Blaine Fowler from the Blaine Fowler Morning Show, alongside the entire 96.3 WDVD air staff.
WHY DONATE
Last year's 96.3 WDVD Cares for Kids Radiothon raised $115,000 for Beaumont Children's through Children's Miracle Network Hospitals.
Donations helps to purchase lifesaving medical equipment, fund research, support community education and ensure that no child is ever turned away regardless of their ability to pay.
THE CHILDREN
Take a moment to learn a little about some of these amazing children and their families who will be featured during the 2016 96.3 WDVD Cares for Kids Radiothon:
Sara
Sara loves Disney princesses and stuffed animals. After years of searching for the right specialist and hospital to treat her autoimmune disease, Sara was referred to Beaumont and Dr. Susan Youngs. The Center for Exceptional Families in Dearborn has meant so much to this family.
---
Braylen
Braylen was born at 26 weeks and as he grew older, he found it hard to express himself using words. Through Beaumont Children's speech pathology programs, he has grown tremendously in his language development.
Now 4-years-old, Braylen enjoys building, science and math.
---
Kieran
Kieran is a junior at Utica High School and has been diagnosed with Apert syndrome and ADD. At the age of 17 he has had more than 40 surgical procedures, but he's pretty much your average teen – he bowls on the school bowling team, loves baseball, enjoys listening to music and hanging with his friends. During his hospital stays, the ICU and child life teams have meant a lot to his family members, who have nothing but praise for Kieran's pediatric plastic surgeon Kongkrit Chaiyasate, M.D.
---
Ali
At the age of 7, Ali began a medical journey unlike any other. A rare bone disorder put her through 10 surgeries, a 145 degree-curvature of her spine and a year in rehabilitation, ultimately leaving her wheel chair bound. When she was 13 years old she went for a regular check up with her spinal doctor and was told that she needed surgery immediately. The surgery increased her lung capacity from 19 to 30 percent and saved her life.
Through these challenges, Ali has consistently utilized her passion for music as a healing outlet. She began by singing and writing lyrics early in life and later took up the piano at the age of 14 and guitar at 16. The music – writing, lessons, performing – became something to look forward to and allowed her to express her feelings.
---
Stella, Lillian and Charlie
On July 6, 2015, Graham and Laura's lives changed forever. Only 23 weeks and 6 days into her pregnancy, Laura went into labor and gave birth to triplets, Stella, Lillian and Charlie. They were only 9 inches long and 1 ½ pounds.
As Graham writes:
Once Laura was discharged, we would leave the hospital every evening without our babies, and would sit by the phone waiting for it to ring. Unfortunately, this happened several times. Our son Charlie was struggling with his digestive system, quite common with extreme prematurity. We spoke with an amazing surgeon, Dr. Nathan Novotny, who explained a procedure they were going to do to try to save Charlie. The procedure was done, and we hoped and prayed it would help. The next evening, as we waited for Charlie to turn around, Dr. Novotny came in at midnight on a Saturday night, just to check on him. He was not on call, he just cared that much.
Tragically, the surgery did not help, and we spent the night at the hospital, praying for a miracle that did not come. That morning, Monday, July 20, we made the decision to take Charlie off of life support. This was the first time we ever got to hold our precious son. This was the most devastating moment of our lives. The Beaumont people put together a box of mementos for us to remember him, and were so wonderful to us while we grieved.
"As tragic as it was to lose Charlie, we had 2 beautiful little girls fighting for their lives that needed us," Graham says. "We spent the next 130 days going to the hospital every day to support them, pray for them, cheer them on."
The girls weighed over 7 pounds when Graham and Laura finally were able to take them home. Today, despite some additional close calls and more care at Beaumont along the way, Graham reports they are doing very well. He and Laura remain grateful for all that was done for the girls and for Charlie.
"We still have some hills to climb, but they are thriving and our true miracles. We owe everything to the amazing people at Beaumont, and will never forget them."
---
Conner
Conner was born 17 weeks premature and spent four months in the Beaumont, Royal Oak NICU. At birth, he was diagnosed with an interventricular hemorrhage and had to undergo several surgeries on his heart, abdomen and eyes. His parents were told that he would probably never walk or talk. At 2-years-old, as a result of his IVH and premature birth, Conner was diagnosed with hypotonic cerebral palsy.
For the past eight years, Conner has participated in occupational, physical and speech therapy at Beaumont. Today, Conner is walking and talking and has made tremendous progress despite his cerebral palsy.
To date, generous supporters have helped raise more than $1 million for Beaumont Children's. You can make a gift anytime by calling 866-963-4483 or donating online.