Thursday, September 02, 2021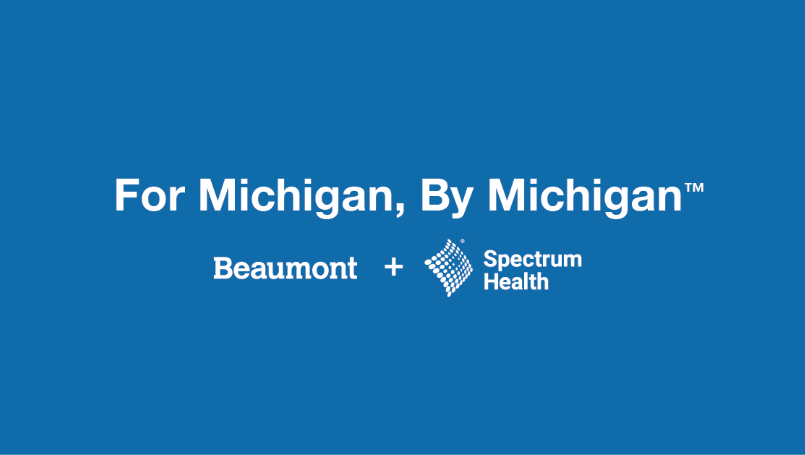 Beaumont Health and Spectrum Health have signed a formal integration agreement, the next step in the process to create a new health system that is For Michigan, By Michigan™. The integration agreement signals ongoing momentum and commitment toward the organizations' shared vision to provide more accessible, affordable, equitable and exceptional health care and coverage for people across the state.
In June 2021, Beaumont Health and Spectrum Health signed a Letter of Intent (LOI) to join together to create a new health system, and began the process of state and federal regulatory review. After the regulatory review process is complete, the two organizations hope to launch the new health system, temporarily named BHSH System, this fall.
"We have worked together to develop a deeper understanding of each organization. I greatly appreciate the efforts of our teams, and I remain confident that together we will create an optimal health system For Michigan, By Michigan™," Tina Freese Decker, President & CEO of Spectrum Health, and future BHSH System President & CEO said. "Both Spectrum Health and Beaumont Health have rich histories with compassionate, high-quality and dedicated health care professionals. As COVID-19 and the delta variant increase, I am grateful for the care provided to our communities by our team members. I look forward to working with our teams to make health care and coverage more accessible, affordable, equitable and exceptional for Michiganders."
Beaumont Health Board Chair Julie Fream added, "We are very pleased to be making important progress toward launching our new health system. Beaumont Health and Spectrum Health each have strong legacies of service. We are eager to combine the best of both organizations as we create a new health system that is For Michigan, By Michigan™." Fream will be the Board Chair of the new organization.
Beaumont Health and Spectrum Health remain committed to the goals and commitments defined in the LOI, which are also incorporated into the integration agreement, including:
Improving health and health equity: Providing exceptional, equitable care and service to all patients and health plan members will always be at the center of the new system's work.
Enhancing the consumer experience: Making the experience easier for patients and members will include investing in new digital technologies and providing services in more convenient ways such as virtual and in-home care.
Improving health care quality, value and outcomes: Creating a new health system, which includes Priority Health, will allow for the development of and investment in innovative solutions that improve health care and coverage for all Michiganders.
Making health care more affordable for the communities we serve: Bringing together the strengths of Spectrum Health and Beaumont Health will improve efficiency and deliver affordable, high-quality care and coverage across the state.
Ensuring the voices of team members and physicians are heard: Gathering the input of physicians, nurses and other team members who are closest to patients will be critical to realizing the mission and vision of the new organization. The new organization will also foster a culture that attracts and retains top health professionals to live and work in Michigan.
"With progress towards an integration, I remain confident our new health system will not only allow us to more effectively meet our obligations to our local communities but will drive further excellence in care and coverage while improving both affordability and access for the communities we serve across the state," Spectrum Health Board Chair Robert Roth said.
Beaumont Health President & CEO John Fox added, "This is an important step forward to bring together our organizations to create a new system that improves the health of individuals throughout the state. We continue to receive positive feedback about what our teams can do together, and we are excited about the future."
For updates and more information, visit www.formichiganbymichigan.org.
---
About Beaumont Health
Beaumont Health is Michigan's largest health care system and is most preferred for health care in Southeast Michigan, according to NRC Health survey data. The not-for-profit organization's more than 33,000 employees share a mission to provide compassionate, extraordinary care, every day. The system includes eight hospitals with 3,375 beds, 155 outpatient sites, nearly 5,000 affiliated physicians, 1,800 advanced practice providers, 9,000 nurses and 2,000 volunteers. Beaumont's total annual net patient revenue is $4.6 billion. In 2019, the health system had 179,600 inpatient discharges, 17,600 births and 577,000 emergency visits.
About Spectrum Health
Spectrum Health is a not-for-profit health system that provides care and coverage, comprising 31,000+ team members, 14 hospitals (including Helen DeVos Children's Hospital), a robust network of care facilities, teams of nationally recognized doctors and providers, and the health plan, Priority Health, currently serving over 1 million members across the state of Michigan.
People are at the heart of everything we do. Locally governed and headquartered in Grand Rapids, Michigan, our $8.3 billion organization is focused on our mission: to improve health, inspire hope and save lives. Spectrum Health has a legacy of strong community partnerships, philanthropy and transparency. Through experience, innovation and collaboration, we are reimagining a better, more equitable model of health and wellness.