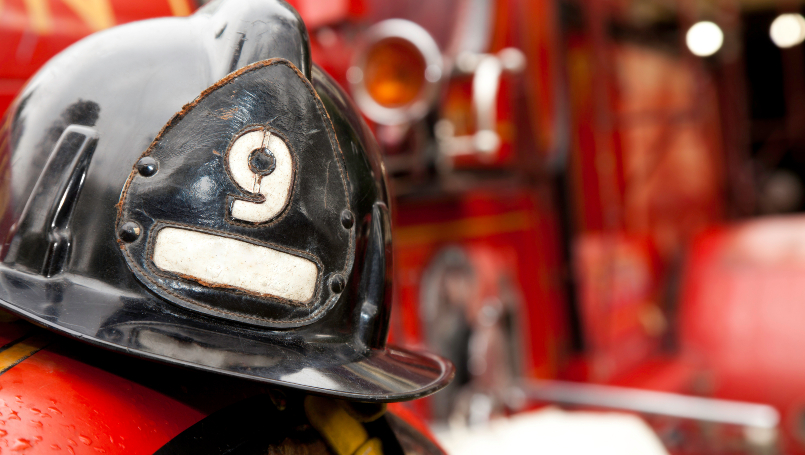 Beaumont cardiologist starts free first responder screening program to prevent heart attack deaths
Farmington Hills firefighter George Baker got in line with 57 of his fellow firefighters when Beaumont Health interventional cardiologist Dr. Justin Trivax offered a free cardiac screening.
The 10-minute test in April may have saved his life. The 10-minute coronary calcium screening detected buildup in his vessels; further investigation found a potential widow-maker blockage in his coronary artery that regular stress tests failed to detect. He underwent coronary bypass surgery in May.
"I know I would have died on a mountain somewhere, alone," said Baker, who regularly hikes alone in remote areas of national parks across the United States to stay in shape for his firefighting job.
Dr. Trivax created the "Hearts for Heroes" program, free coronary calcium scans for first responders, at the urging of his two daughters. Tessa, 16, and Sienna, 15, began asking questions after the family saw a news report of the tragic cardiac arrest death of a local police officer while on duty.
"They go from zero to 100 on their job, and if they have a problem, they can have a heart attack and die," Dr. Trivax said. "The girls were like, 'People come in and get screened all the time, and we can't screen those who protect us? What can you do?' And I said we can do calcium scoring, and it all came together in 30 seconds."
The test itself takes about three minutes: a couple of deep breaths, laying under a CT scanner. The screening typically costs about $100 and is usually not covered by insurance.
"If everyone knew they could pay $100 and have a better understanding of their risk, they may get it," said Dr. Trivax. "But a lot of physicians don't offer it, and you need a prescription."
A prescription is required because the screening involves a small amount of radiation exposure - less than a chest X-ray. The resulting scan shows the amount of buildup in the vessels that carry blood to the heart - buildup that can restrict or block flow in the vessels, or break off and cause a heart attack. Because buildup occurs over years, the test is usually reserved for those over 35 years old. It offers insight into heart health different than a stress test, typically a treadmill test which measures heart function.
Dr. Trivax reached out to his local fire department. Farmington Hills Fire Chief Jon Unruh immediately agreed to share the offer of a free test to more than 100 employees – and 57 were screened at the first event in April.
"It wasn't as if all the other 56 people were normal," said Dr. Trivax. "Others with coronary artery calcium will need to be continually assessed, because if they go from zero to 100, they could also have a cardiac event. Once you're over 40, coronary artery disease can be a problem in that age group."
After George's save, others had a change of heart. The Aug. 14 screening is one of a number of additional dates scheduled to screen all the members of the Farmington Hills department. Dr. Trivax and his partners are donating the tests for the Farmington Hills Department; the Farmington Hills Police & Fire Benevolent Fund donated $3,000 to the cause, to cover some of the cost for testing at another department. A foundation dedicated to expanding the program is in the works.
"As soon as they heard about George, I think there was a ton of remorse that they didn't get the test when it was originally offered," said Chief Unruh, who is vice president of the benevolent group. "The first number was 57 - I bet we're going to easily get that for this screening.
"It really is peace of mind," he added. "Our folks work really hard to save others. This is a great way to take care of them - and we're paying it forward."