Wednesday, February 28, 2018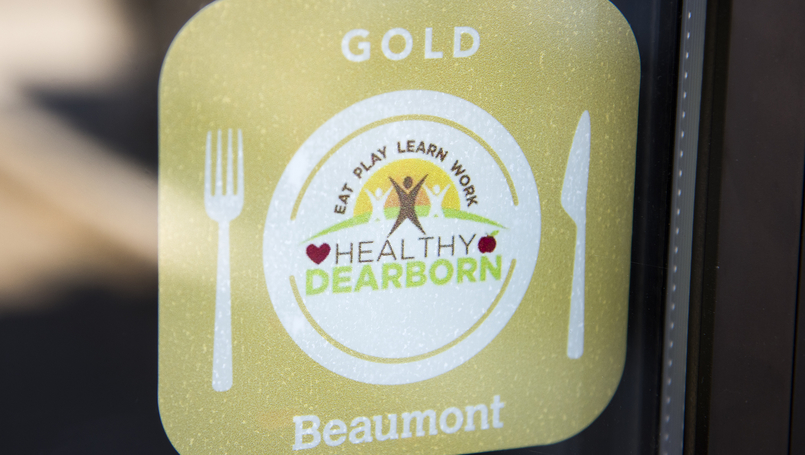 Beaumont and the city of Dearborn's Healthy Dearborn program today recognized restaurants going above and beyond
Finding local food that is delicious and healthy is now a lot simpler.
The first awards event honoring the healthiest restaurants in Dearborn took place today. The awards program acknowledges those eateries that have met stringent criteria to achieve Healthy Restaurant status, a new designation from the Healthy Dearborn initiative.
The mayor of Dearborn, Beaumont leadership, local officials and members of the Healthy Dearborn program attended the event held at Brome Modern Eatery in Dearborn.
"We know that it possible to eat healthy and delicious meals outside the home," said Betty Priskorn, vice president, Community Health and Outreach, Beaumont Health. "Dearborn restaurant owners should be applauded for their efforts to support healthy eating and offering options that meet the requirements of the Healthy Dearborn restaurant recognition program. The community's show of support at the recognition ceremony today highlights the demand for healthier food options when eating out and demonstrates that restaurant owners and chefs are helping to build a culture of health in Dearborn."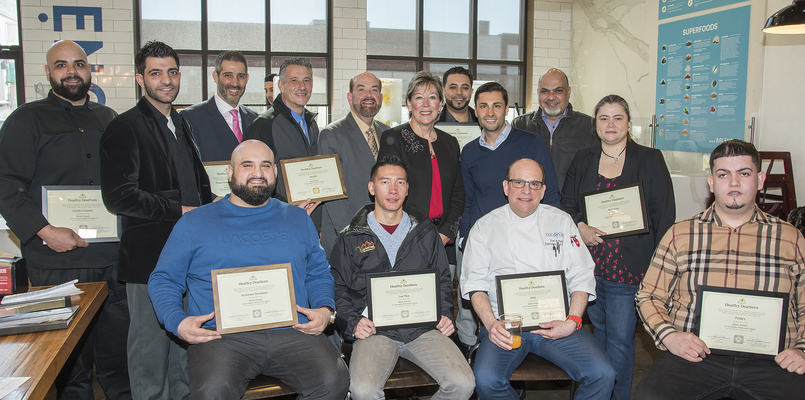 [Seated l to r: Hassan Hashen of Al-Ameer Restaurant, Dearborn, Lue Yang of Lue Thai Cafe, Tim Enfield of TRIA Restaurant at The Henry, Fernand Gutierrez of Frida Mexican Cuisine; standing l to r: Hassan Markabani of Habib's Cuisine, Sam Hammoud of Sahara Restaurant, Dearborn, Allen Attee of Picasso Restaurant Group, Kamal Salame of Mint 29, John B. O'Reilly Jr., mayor, city of Dearborn, Betty Priskorn, vice president, Community Health and Outreach, Beaumont Health, Ismael Aljahmi of Sheeba Restaurant, Sam Abbas of Brome Modern Eatery, Mohamed Dbouk of La Pita Restaurant, Dearborn and Heidi Merino of M Cantina.]
Thirteen local restaurants were recognized with a gold, silver or bronze window decal based on their utilization of the healthy restaurant criteria. The recipients are:
GOLD LEVEL
Brome Modern Eatery
Picasso Restaurant Group
Mint 29
SILVER LEVEL
Al-Ameer Restaurant
Andiamo Ristorante, Dearborn
Frida Mexican Cuisine
Habib's Cuisine
La Pita Restaurant, Dearborn
Lue Thai Cafe
M Cantina
Sahara Restaurant, Dearborn
Sheeba Restaurant
TRIA Restaurant at The Henry
Sam Abbas, owner, Brome Modern Eatery and gold-level awardee, says he was inspired after living on the U.S. West Coast for many years.
"We offer healthier food options and help educate the customer about what it means to eat clean; to have clean milk, clean dairy, clean beef and clean produce as well as balancing out the menu with things like burgers that are delicious," Abbas said. "It means a lot to us because we're able to bring something unique to the community and do it in a way that is informative."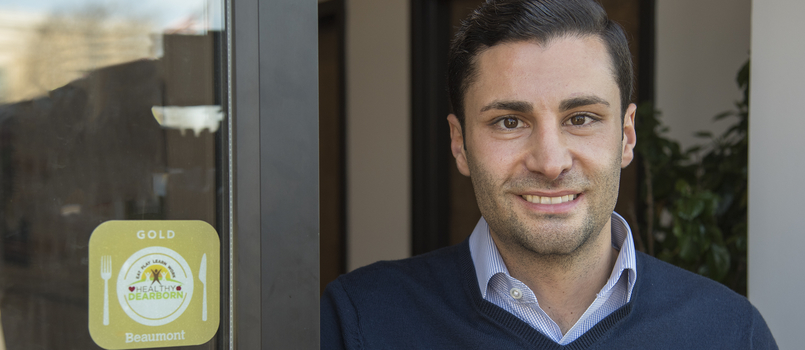 All participating restaurants have expressed commitment to providing experiences that incorporate not only healthy menu items, but also a healthy outlook and sustainable practices.
For Kate Pepin, chairperson, Healthy Dearborn Healthy Restaurants Coalition, sustainability is crucial: "Sustainability is very difficult to sell. Environmental and food sustainability are so remote from what happens to us on a day-to-day basis, but you can personalize it and that is exactly what Healthy Dearborn is helping to do. And, that helps our entire community."
The standards - developed by researchers, a registered dietitian and restaurateurs - identified the following criteria:
Bronze: A healthy restaurant must include at least 30 percent of menu items made from whole food ingredients, no preservatives, low-fat/low-sugar, rBGH-free milk and have at least one vegetarian option.
Silver:Restaurants must meet the bronze criteria and at least four additional criteria, such as fresh fruit as a dessert option, alternative oil options, one vegan entree and beverage options like unsweetened teas or infused waters, lifestyle options (halal, kosher, low carbohydrate) and/or allergy-free options.
Gold: Restaurants have to achieve silver status and offer at least four options, such as organic ingredients, pasta grain alternatives, locally sources ingredients or partnerships with a local food bank for unused food.
For more information, visit healthydearborn.org or call Sara Gleicher, project manager, Healthy Dearborn, Beaumont Health, at 313-378-7052.