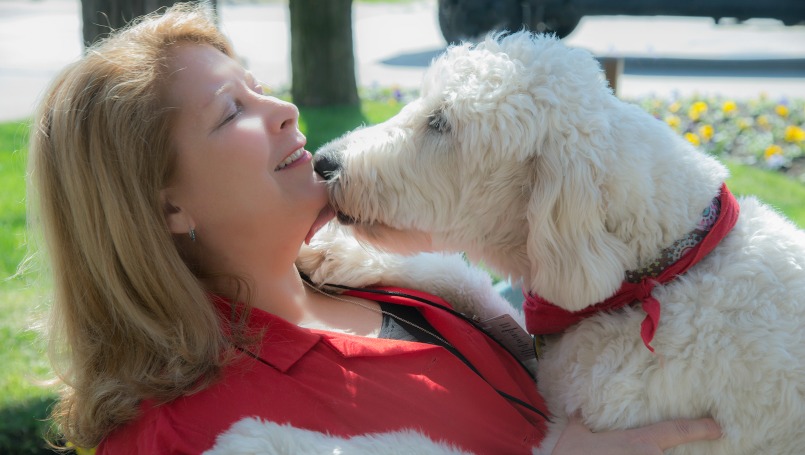 Alex Peabody loved many things in his 17 years of life: family and friends; his cello; and dogs, starting with his pet Havanese, Carter.
But, he especially loved the therapy dogs he connected with at a Pittsburgh hospital where he received a heart and lung transplant in 2013. This connection inspired his mom, Michelle Peabody, to become a therapy dog volunteer at Beaumont Hospital, Grosse Pointe.
"When you spend a lot of time in the hospital, you're bored. You're scared. You feel powerless," Peabody said. The Grosse Pointe mother added, "The one thing that comforted Alex and brought him joy were visits with the therapy dogs who came to see him."
"The therapy dogs calmed him down and eased his fears," Peabody said.
"Alex collected postcards from each one and kept them on his nightstand at the hospital to look through and enjoy."
After Alex died unexpectedly of respiratory complications in February 2015, Peabody spent a lot of time reflecting on her son's happy, generous and active life.
"Alex was good to his friends. He had a natural curiosity for science, travel and music," she said. "But, he was also fortunate to have a lot of people in his life who did wonderful things for him, including the therapy dog volunteers. I felt it was time to give back."
In September 2016, Eden Peabody, a poodle and European Golden Retriever mix, received her certification from Therapy Dogs International.
In December, she visited her first patient, and is now on a volunteer rotation that brings her into the hospital two to three times a month.
"It's not just the patients who enjoy her companionship," Peabody said.
Beaumont, Grosse Pointe, Director of Volunteer Services Betsy Schulte, said "the entire hospital comes alive when Michelle and Eden come to visit."
"When Eden makes her rounds throughout the waiting rooms and visits with families waiting for loved ones, you can feel the energy change and stress levels drop," Schulte said. "When I call the units to ask for patients identified for visits, the staff ask if Eden can stop at the nursing station for a visit, too. She brings therapeutic healing to everyone she meets."
Peabody also benefits from keeping Alex's spirit alive by sharing his story and making a difference in the lives of other people in a way Alex would appreciate.
"Alex and I had talked about someday working with a pup to become a therapy dog," Peabody said. "I think Alex would love Eden and approve of how well she behaves with patients, and the simple joy she brings. It's one way I can make a small difference in someone's day."