Friday, December 09, 2022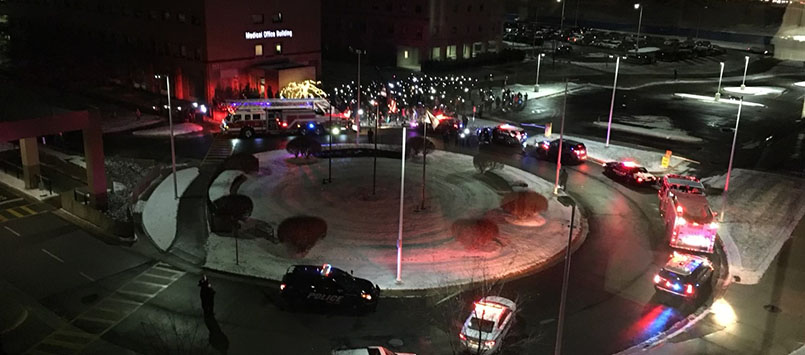 All three of Megan McClellan's kids know what it's like to stay overnight at Beaumont Children's.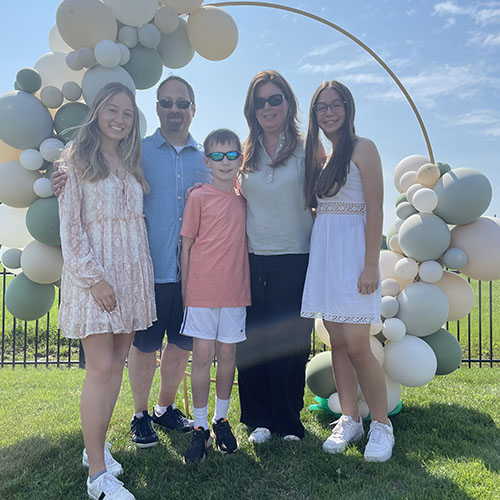 The Royal Oak mom's son Landon Mojtahedi, now 11, was in the pediatric intensive care unit for several days when he was about 7 weeks old because he was having events where he'd stop breathing. Her daughter Shea Mojtahedi, now 14, was in the hospital when she was five with an autoimmune disease. And her daughter Madison McClellan, now 19, was at Beaumont Children's with a kidney infection as a baby and again as a middle schooler with vocal cord dysfunction.
"Collectively, as a family, we've spent about four weeks in the hospital," McClellan said. "Each time, it was a disconnection to the everyday world. I remember just looking out the window and seeing cars drive by and just kind of being envious that they were just going on with their regular day. It was an isolating feeling."
Katie Gott, of Royal Oak, knows that isolating feeling all too well. Her son Henry passed away in 2015 at just 3 years old, after a year-long battle with hepatoblastoma, a very rare form of liver cancer.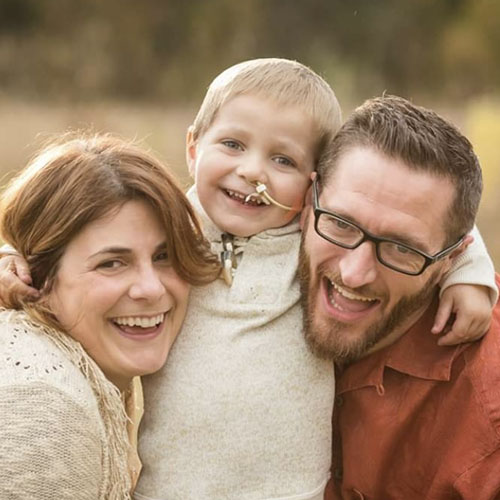 "We spent the entire month of December 2014 in the hospital," Gott said. "When you're in there, you kind of lose track of time and everything just blends together. It's very numbing."
Both McClellan and Gott decided to take the experience of witnessing their children sick in the hospital and turn it into a positive by joining Beaumont Children's Pediatric Family Advisory Council.
The advisory council, made up of seven parents, two employee facilitators and a pediatric physician, is aimed at improving the patient and family experience. The group is supported by hospital administration, including Dr. Matthew Denenberg, the chief of Pediatrics at Beaumont Children's, and partners with the care team to give direct input into programs and practices at Beaumont Children's to enhance and implement services and patient and family-centered care initiatives.
"As both a nurse and mother, I thought I had a unique perspective," Gott said. "I wanted to do something to make the experience better for other people who would be going through a similar situation. It has been very rewarding and a good way for me to keep Henry alive."
The idea
At a Pediatric Family Advisory Council meeting in 2017, McClellan shared that she saw a national news story about a group of restaurants on the East Coast who had a tradition of shining flashlights across the street at a local hospital.
"I shared the idea with the council and my thoughts on creating a similar tradition here," McClellan said. "The news story came on in the fall and I thought, 'That would be a really nice thing to do around the holidays because it must really feel terrible to be in the hospital during that magical time of year.'"
Kathleen Grobbel, Child Life supervisor at Beaumont Children's and an employee facilitator on the advisory council, added, "When we first heard the idea, it sounded like something really important that could make a difference for our patients and families. Our parents, like Megan, have first-hand knowledge of what was important to them while they were in the hospital, so we really wanted to try to make this happen."
With just a couple weeks to share the event with the public, mostly through word of mouth to family and friends, the council hoped for a good turnout.
"We didn't want to get people psyched for this and then have nobody down there. It was nail-biting," McClellan said. "I remember getting so excited the first night when people started rolling in, and we had about 50 to 100 people come out."
The impact
Now, each night, anywhere from hundreds to more than a thousand people from the community come out to shine beams of light up to the windows of the pediatric unit for children to enjoy. Pediatric patients, in turn, return the festive glow with flashlights of their own. This year, after a two-year hiatus due to the COVID-19 pandemic, Moonbeams for Sweet Dreams returns at 8 p.m. each night from Dec. 9 to Dec. 24.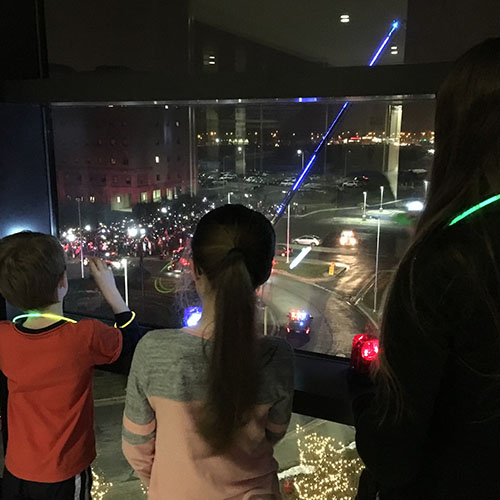 From entire families and former patients to Scout and church groups, people of all backgrounds and ages unite with one purpose in mind: to raise the spirits of children and their families who might feel isolated or have a hard time settling in for a good night's sleep during the winter holidays.
"I think it's an important thing for community members to experience this because it kind of helps you step back from all the hustle and bustle of the holidays," Gott said. "There's so much more to life than all of the insignificant things we usually worry about. Moonbeams just helps people step back, slow down and realize that."
McClellan said it's clear this event has resonated with people in the community and made a world of difference for patients inside the hospital – both big and small.
"I've heard stories where some of the adult units can look down and patients who never got out of bed before got out of bed to come and watch," McClellan said. "And kids who have looked down at the sea of people and said, 'Are all of these people here for me?!' It's really touching to see."
Gott added, "I know Henry would've loved it. He was two, during his extended hospital stay in December 2014, but he knew about Santa and all of this stuff he was missing this time of year. It would've grounded him a little bit and given him something to look forward to when he was miserable."
Not only that, but Gott said it gives her 6-year-old son, Winston, an outlet to connect with his brother Henry. "Winston comes every year with me." Gott said. "He knows why we do it, and he knows Henry would've really liked it. Even though he never knew his brother, he knows what he went through, and I think it's a really cool way to connect with a sibling that he never knew."
The message: togetherness, kindness and so much more
McClellan said what started off as just a group of moms with an idea turned into something so much bigger.
"It's just an event that I'm really proud to be a part of, and I'm just thrilled that it has taken off and really spoken to people the way that it has," she added. "It has been a great example for my children that you can follow through and make something happen."
McClellan said there are a lot of people behind the scenes working to make this event a continued success.
"I know employees donate flashlights and their time to come out and help direct cars to parking," she said. "I've seen people come out in the freezing cold weather with nothing but scrubs on to just stand there and be a part of that moment. There are so many little contributions that people maybe don't realize. It's just a giving event all around."
And for Gott, it's about the togetherness of an event like this and paying the kindness forward that she once received.
"Moonbeams brings people together," she said. "When Henry was first diagnosed with hepatoblastoma, I felt so alone and numb. Then I found out coworkers had organized a bake sale to raise money for him. Friends brought him toys. Tons of people came out of nowhere to show their support. That outpouring of kindness really helped keep me going. I'd like to think Moonbeams helps other parents in the same way."
For more information on the event and to register a group, visit www.beaumont.org/moonbeams.