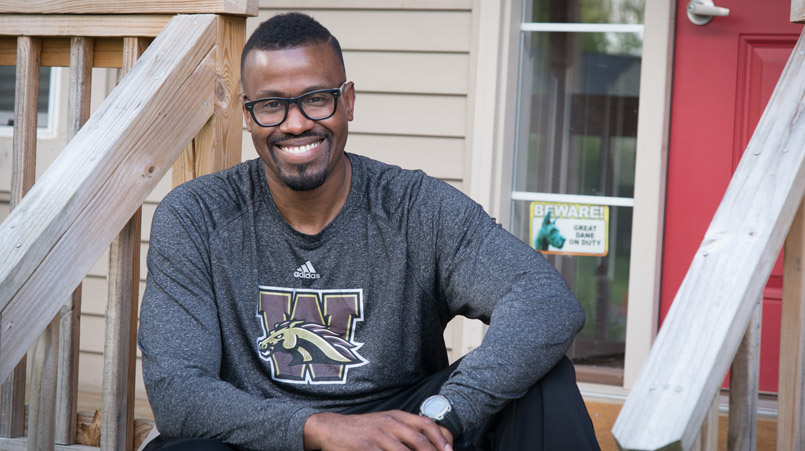 Stroke treatment window is small – seconds, minutes matter
Dion Powell, 43, of Southfield, knows a thing or two about getting knocked down. As an all-conference defensive tackle with the Western Michigan Broncos from 1991-95, he was a force to be reckoned with, causing havoc at the line of scrimmage – colliding, tackling and knocking down opponents.
KNOCKED DOWN
Twenty-two years later, the former football player, looks in great shape, thanks to his regular workouts and fitness routine. However, this past October, he was knocked down in the early morning by a life-threatening stroke.
At about 4 a.m. Dion remembers trying to get out of bed to go to the bathroom. As he tried standing, he fell and crashed to the floor. "I couldn't get off the floor. I pinched myself. My left side was numb," said Dion.
His wife, Jennifer, director of Continuing Care and Clinical Integration at an area hospital, came to his assistance. Almost immediately she noticed his face was drooping on the left side.
"I felt myself drooling," recalled Dion. He later learned he was slurring his words, too.
Jennifer called 911 and helped pull his 270-pound frame back onto their bed. EMS arrived shortly and took him to nearby Beaumont Hospital, Royal Oak.
ASSESSMENT
After an assessment by the stroke team in the Emergency Center, he had a brain CT. Imaging confirmed he had a major blockage in his middle cerebral artery down to his carotid artery. Dion had experienced an ischemic stroke.
In a race against the clock, the team worked to restore blood flow to his brain. If blood flow is not restored quickly, the affected brain tissue dies. While Dion was not a candidate for a clot-busting drug called tPA, he was a good candidate for clot removal with a minimally invasive procedure known as a mechanical thrombectomy.
CLOT RETRIEVAL
Jeffrey Wilseck, D.O., an interventional neuroradiologist, performed the thrombectomy. The procedure involves advancing a catheter in the patient's leg artery, near the groin, to the blocked vessel in the brain. The clot is retrieved or removed to re-establish normal blood flow.
"Mechanical thrombectomy is another option for some of our patients when treating an ischemic stroke," says Dr. Wilseck. "Unlike tPA, which has a three-hour treatment window, the procedure can be effective up to six hours after the onset of symptoms in the appropriate patient setting."
Dr. Wilseck was able to successfully remove Dion's clot.
POSTOP
Dion remembered, "When I woke up, I could wiggle my left toes. It's just a miracle!"
After a short hospital stay, he was soon back to most daily activities. And after 90 days, Dion was given the green light to head back to the gym and resume his workout program. He now takes a daily aspirin and Lipitor.
Anna Glaser, RN, MSN, stroke coordinator, Comprehensive Stroke Center, Beaumont, Royal Oak, said, "Dion has made a very good recovery."
GRATEFUL
Dion is thankful:
For his wife's quick-recognition of stroke symptoms/warning signs
For her urgency in calling 911
To live close to a Comprehensive Stroke Center
He was a candidate for mechanical thrombectomy
His medical team successfully retrieved his clot
He experienced no complications
"I'm grateful to Beaumont's stroke team and thankful my wife acted so fast," Dion said.
CALL 9-1-1
Dr. Wilseck emphasized, "If you suspect a stroke, call 911. When in doubt, err on the side of a true medical emergency."
Glaser agreed, "Time is brain. It is extremely important to seek medical attention immediately to determine if you are a candidate for stroke interventions. Unfortunately, many people do not recognize stroke symptoms and do not get to the hospital in a timely manner. About half of stroke patients come to the hospital by car, resulting in delay. Transportation by EMS or ambulance is best. Paramedics communicate with our medical staff while en route to the ER so our stroke team can be waiting for the patient to arrive."