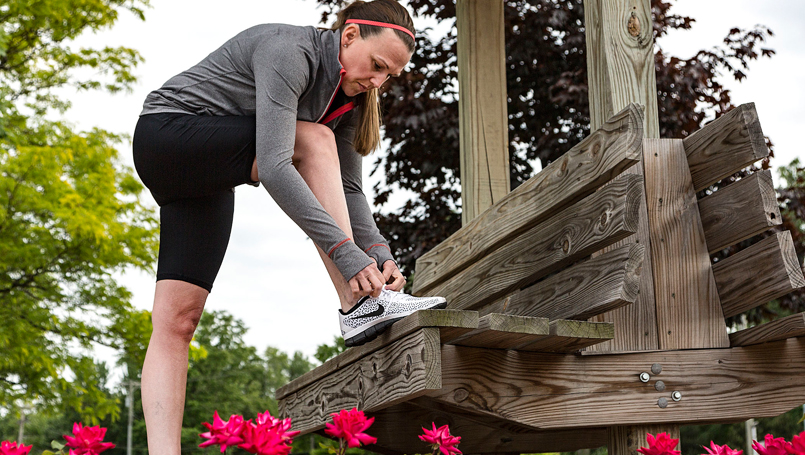 Increased energy outcome of venous treatment
Tracy Jed, 44, of New Baltimore, isn't the typical soccer mom.
While she's a big supporter of her two, soccer-playing sons, one 8 and one 15, Jed also plays soccer herself and runs, participating in 5 and 10K races with her oldest son and good friends.
About 12 months ago, pain and intense fatigue in her right leg started putting Jed on the bench and sofa.
"My right leg just felt really, really heavy, I could barely cross the finish line anymore," Jed recalled.
Jed's primary care physician, Parag Patel, M.D., provided her with a referral to board-certified interventional radiologist, Michael Bischoff, M.D., founder and director of the Beaumont Vein Center in Sterling Heights.
"Tracy's case wasn't typical," said Dr. Bischoff, who has more than 20 years of experience performing and interpreting ultrasounds and ultrasound-guided procedures. "Though she was experiencing significant insufficiency in her great, small and intersaphenous veins, she did not have visible varicose veins to indicate this."
A lower extremity ultrasound revealed Jed's veins were unable to properly deliver blood from the ankle, lower leg and thigh up toward the heart, due to incompetence of the saphenous vein valves. Insufficient vein valves allow blood to flow backward and pool in the leg, causing poor circulation, pain and fatigue.
Bischoff successfully addressed the problem with an endovenous laser ablation in May. This minimally invasive procedure, destroys the damaged vein, causing it to shrink, collapse and disappear. Afterwards, patients wear a support stocking for one week to minimize pain and promote healing.
To eliminate unsightly spider veins, always a cosmetic issue but also potentially a sign of underlying venous insufficiency, Jed received sclerotherapy. In this outpatient procedure, sclerosants are injected into the vein causing them to collapse and fade.

"I feel so much better, more energetic and I can run again," said Jed, who ran her first 5K in a year on June 24. She's also waiting for a gap in her sons' sports schedules to return to the soccer field sometime this summer. "I'm glad I had this procedure done and would recommend it to anyone who wants to continue to enjoy an active lifestyle."
Vein Center patients, such as Tracy, are usually able to return to work immediately following their procedure, Dr. Bischoff said.
"We make people look a lot better and feel a lot better, with minimal discomfort and the ability to return to their busy lifestyles right away," Dr. Bischoff explained.
Treatment plans are developed in a one-on-one physician consultation, based on ultrasound scans which assess damage.
In addition to saphenous ablation, the Beaumont Vein Center in Sterling Heights, located directly across the street from Beaumont Hospital, Troy, offers the following:
perforating vein ablation
microphlebectomy
ultrasound-guided foam sclerotherapy
Spider vein treatments include:
microsclerotherapy
dermal skin laser
veinwave
Other services include:
laser hair removal provided by a licensed esthetician
Endovenous laser vein ablation and most other procedures can be completed in under an hour and are covered by most insurances. In addition to the Beaumont Vein Center in Sterling Heights, Grosse Pointe Farms and West Bloomfield, Beaumont offers vein treatment in Berkley, Farmington Hills and Royal Oak.