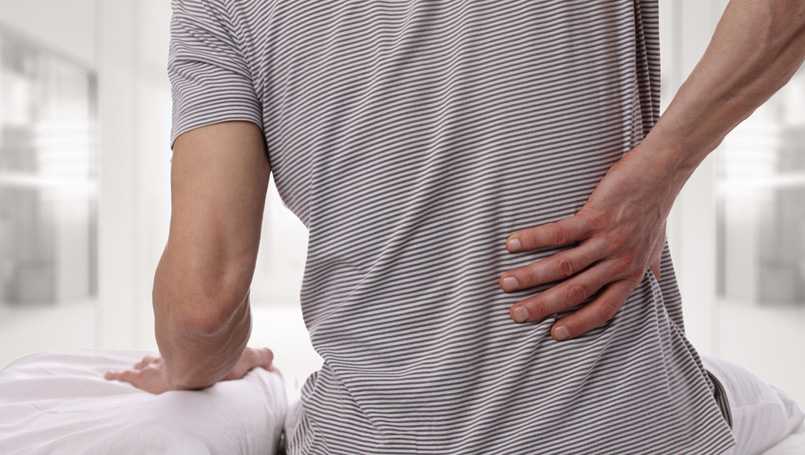 With so many moving parts supporting our entire body, it's no wonder our backs get sore from time to time. In fact, about 80 percent of all adults experience back pain at some point in their lives.
When to see a doctor
Most back pain goes away by itself, often within a few weeks. While not all back pain calls for a visit to the doctor, there are limits to everyone's pain threshold. Over-the-counter pain relievers, heat/ice and small amounts of rest can all help. But be careful. Many physicians warn against resting for more than a day or two. Any more could make things worse. Try gentle, measured movements instead—like a slow walk around the yard.
If your back pain doesn't go away and you experience any of the following, it's time to make an appointment with your physician.
the pain shoots down one or both legs
the pain gets worse, especially at night when you're trying to sleep
the pain occurs with a fever
the pain causes numbness or tingling in your legs
Back pain that comes after a fall or high-impact crash warrants a trip to the emergency center, especially if you have changes in urination or bowel control, fever with back pain, or weakness.
---
---
Treatment for back pain
For general back pain not linked to an injury or illness, The American College of Physicians recommends over-the-counter pain relievers, exercise and rest. However, if you and your physician decide it's time to try something else, there are many options available.
Prescriptions - Your physician might prescribe a muscle relaxant to help your back unknot. If the pain is severe, he might also prescribe something stronger than you can get over-the-counter.
Injections - For nagging back pain, your physician might recommend a cortisone injection. Cortisone is an anti-inflammatory that can help reduce the swelling that causes pain.
Physical therapy and exercise - Resting for back pain is not recommended and can even make things worse. Physical therapists have a tool box full of back pain relievers that can help. They can even teach your exercises you can do to strengthen your core, back and posture to lessen the chance of your back pain returning.
Surgery - Usually reserved as a last resort for back pain, surgery is most helpful to relieve pain that is structural and directly related to bones and nerves. However, if your pain isn't responding to any treatment and is accompanied by pain in your legs, surgery could help.
At Beaumont, we're looking for new ways to help patients get back to normal. From pioneering a minimally invasive nerve-ablation procedure that allows us to turn back pain off like a light to the latest surgical techniques, our comprehensive approach to pain includes the expertise of both orthopedic spine surgeons and neurosurgical spine surgeons.
Many Beaumont spine surgeons are leaders in the field, conducting innovative research and clinical trials to expand the boundaries of spine surgery.
---
Information provided by Jeffrey Fischgrund, M.D., Beaumont orthopedic surgeon.