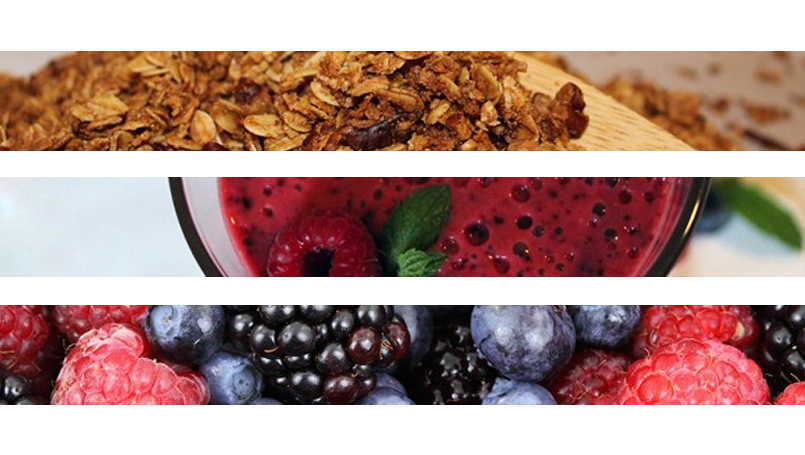 Research shows that when kids see their parents eating healthy foods, the kids are more likely to eat the healthy food as well. Try one (or all!) of these healthy recipes this summer:
HOMEMADE GRANOLA BARS

Ingredients
1 cup Oats
2 cups Low Sugar Granola (<6 grams of sugar per serving)
½ cup Walnuts, Chopped
½ cup Dried Fruit of choice (Goji Berries, Dried Cherries, Chopped Apricots)
½ cup Shredded or Shaved Coconut
¼ cup Ground Flax Seeds or Chia Seeds
1 cup Dark Chocolate Chips
½ cup Pure Maple Syrup
2 cups Natural Nut-Butter of your choice (Peanut, Almond, Sunflower Seed etc.)
Directions
With 1 tablespoon of coconut oil, lightly oil a 9×11 baking pan.
Combine all dry ingredients in a large bowl and stir together with a spatula.
Stir in the wet ingredients (maple syrup and nut-butter) until all ingredients are combined and the mixture formed paste.
Place mixture into baking pan and spread out to evenly distribute along all sides of the baking pan.
Using aluminum foil to cover the pan, firmly press down on the mixture to help create denser bars.
Place baking pan with mixture in refrigerator for two hours to set.
Cut the mixture into bars and enjoy!
BANABERRY SMOOTHIE

Ingredients
½ cup Frozen Mixed Berries
½ small Banana
½ cup plain yogurt
1 tsp cinnamon
Directions
Cut up banana into 1 inch pieces and add to blender.
Add mixed berries and yogurt to blender.
Add cinnamon.
Blend mixture until it reaches the desired consistency and enjoy!
FRUIT KABOBS

Ingredients
8 strawberries, hulled
8 pieces cantaloupe
8 pieces pineapple
8 pieces kiwi fruit
4 blueberries
4 bamboo or other disposable skewers (such as plastic)
Instructions
If using wooden or bamboo skewers, make sure all the splinters are off of them by rolling two together in your hands, or rub them over each other, as if you are sharpening a knife.
Cut the fruit that is not already small into 1-inch, or bite-size, chunks.
First, skewer the strawberry
Then, skewer the cantaloupe
Then, skewer the pineapple
Then, skewer the kiwifruit
Then, finish the skewer with 2 blueberries on the pointed end.