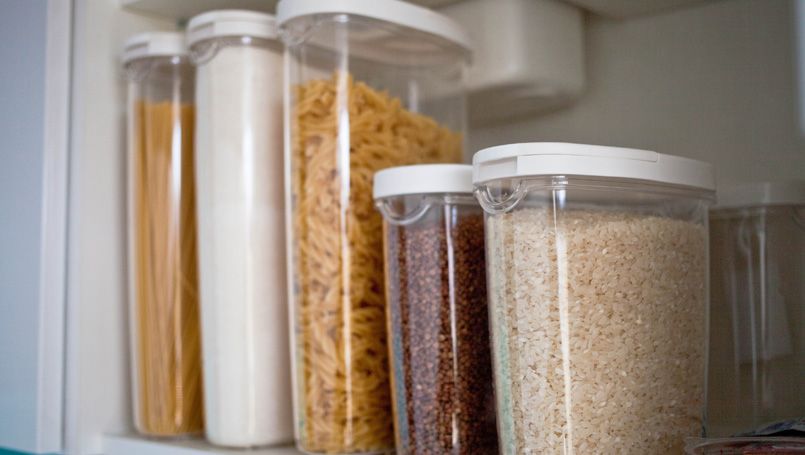 Fresh foods may get all the attention, but canned, frozen and packaged foods are the backbone of a nourishing pantry. These groceries will stay safe and nutritious until you are ready to use them.
Packaged cuisine can also help cut back on food waste. How many times have you thrown out unused spoiled vegetables and slimy salads? It's happened to us all.
"Just like fresh fare, some packaged foods offer more nutrients than others. These simple guidelines will help you fill your pantry with healthy options," Silvia Veri, a Beaumont registered dietitian, said.
Top three tips
Look for labels with low sodium or no-salt added. Don't have low sodium beans and vegetables? Rinse and drain and you'll wash away up to 40% of the sodium.
Simple, easy to read ingredients are best. Stay away from food with artificial preservatives and additives.

Try to choose BPA-free cans.
---
Fruits and vegetables
No fresh produce on hand? No problem. Most frozen and canned fruits and vegetables contain the same amount of nutrients as fresh and are more affordable.
When it comes to vegetables, the plainer the healthier. Skip the cheese, sauces, pasta, rice or seasonings. These extras add fat, sodium or sugar.
Experiment with newer frozen vegetable substitutions like riced cauliflower and spiral cut vegetable "noodles."
For fruits, choose fruits packed in their own juice with no added sugar or syrup. When it comes to frozen berries, choose organic.
Pantry picks – canned tomatoes, frozen vegetable blends with added protein or superfoods pumpkin puree, unsweetened applesauce and frozen organic blueberries
---
Grains and beans
Quinoa is among the few plants that provide complete proteins, which means it contains all nine essential amino acids. Microwavable quinoa pouches are fast and protein packed. Pick plain options and customize with your favorite low sodium spices and herbs.
Chickpeas and black beans are good sources of plant-based protein and fiber, super versatile and very inexpensive.
Pantry picks - quinoa, oatmeal, chickpeas, brown rice, whole wheat pasta and lentils.
---
Fish and seafood
Besides freshly caught, flash frozen is the best way to enjoy fresh nutrient-rich seafood.
Choose plain varieties instead of breaded, buttered or fried. Bake seafood at home and add your own healthy, low sodium seasonings. Avoid frying or cooking in oil.
Look for fish and seafood with lower mercury levels and healthy omega-3 fatty acids, which can reduce risk of heart disease and improve brain development and function.

Select canned fish packaged in water, not oil. Ready to eat light tuna in pouches are protein packed and omega 3 rich.
Pantry picks – sardines packed in water, light tuna in water, canned salmon and frozen Alaskan salmon patties.
---
Chicken
For frozen chicken, flash freezing is the best option. Choose chicken with the least amount of added sodium or broth. Be sure to follow USDA regulations for defrosting chicken: In the fridge, in the microwave or submerged in cold water.
For canned chicken, buy the option with the fewest ingredients and lowest sodium.

Chicken patties, nuggets and tenders are considered processed meats and should only be consumed occasionally.
Pantry picks – antibiotic free, flash frozen chicken breasts