Tuesday, October 11, 2016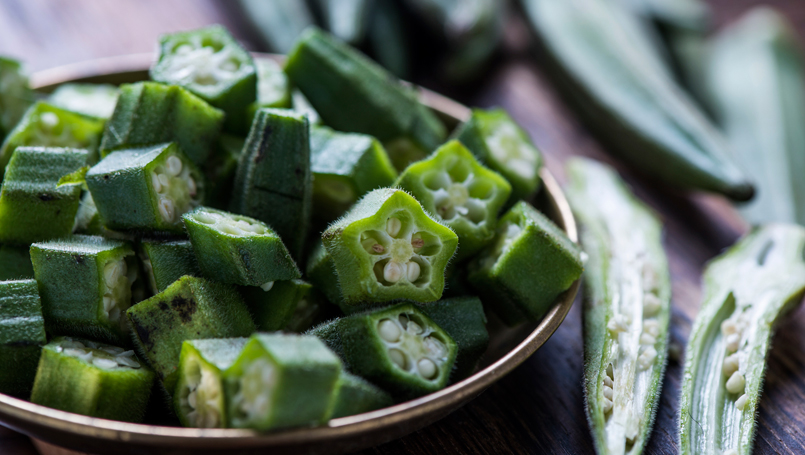 Also known as a "lady's finger," this veggie actually belongs to the same family as cotton! Okra is a flowering plant with numerous green pods that contain small, white colored seeds. Okra pods are picked just before they each maturity, and are abundant in health benefits and cooking styles.
Okra is often a vegetable that people might have never tried before, but can definitely make an excellent addition in any diet! Eating okra can help aid digestion and keep you feel full longer, because it's a great source of dietary fiber. Okra is also a great source of dairy-free calcium to help promote healthy bones and regulate blood pressure and cholesterol levels.
Okra's mild taste is similar to eggplant, and makes a great pair with lemon, natural herbs or chopped garlic. While okra is often served fried, eating it grilled or raw is the best way to absorb the nutrients. It can also double as a thickening agent for gumbo and many other soups and stews. Try one of these recipes below while okra is in its peak season!
Nutritional Information:
1 cup (100 g)
Calories: 33
Fat: 0.2 g (0%)
Cholesterol: 0 mg
Sodium: 7 mg
Potassium: 299 mg (8%)
Total Carbohydrates: 7g (2%)
Dietary Fiber: 3.2 g (12%)
Protein: 1.9 g (2%)
Sugar: 1.5 g
Vitamin A: 14%
Vitamin C: 38%
Calcium: 8%
Magnesium: 14%
Iron: 3%
Vitamin B-6: 10%
Vitamin D: 0%
Vitamin B-12: 0%
Recipes:
Ingredients:
2 cups black-eyed peas, fresh or frozen (thawed)
1 pound fresh okra, stem ends trimmed, cut into 1-inch pieces
1 medium onion, coarsely chopped
1 large clove garlic, finely chopped
3 cups low-sodium chicken broth
2 small bay leaves, preferably fresh
1/2 teaspoon salt
1/2 teaspoon freshly ground pepper
1/4 teaspoon cayenne pepper, or to taste
Directions:
Heat oil in a large saucepan over medium heat. Add onion; cook, stirring, 3 to 5 minutes. Add garlic; cook 1 minute. Add broth and bay leaves; bring to a boil. Stir in peas.
Reduce heat; simmer, stirring occasionally, for 20 minutes. Add okra, salt, pepper and cayenne. Simmer until tender, about 15 minutes.
Ingredients:
1 pound okra, washed
2 teaspoons olive oil
Salt, to taste
Ground black pepper, to taste
Pinch of cayenne pepper, optional
Directions:
Skewer okra or place in a grill basket to prevent it from going through the grill grates while cooking. Drizzle with olive oil and place onto grill that has been preheated to around 450º F.
Cook until the skin of the okra begins to caramelize and then flip to cook the other side.
Remove from the grill and sprinkle with salt and pepper to taste. Add cayenne pepper, if desired.
Serve warm.