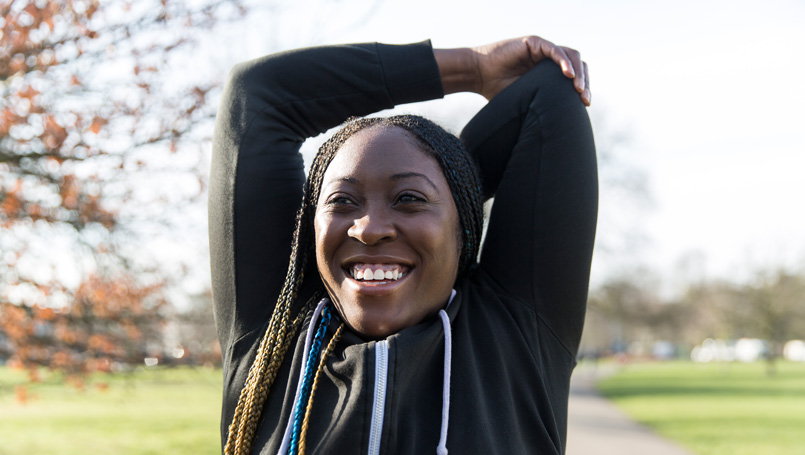 At the first sign of warmer weather, everyone is anxious to get outside to start or reinvigorate their exercise routine. Whether it's going on a family bike ride or enjoying a nice jog through the park, it is important to ease into your workout program to prevent injuries.
Nearly 500,000 workout-related injuries occur each year in the U.S. A major cause of injury is people wanting to do too much too fast, leading them to overuse their muscles.
When people begin a new exercise program, they often push their bodies too far and put themselves at risk for injury, according to the American Academy of Orthopaedic Surgeons (AAOS).
Cold starts, without any warm-up exercises, are a common cause of workout-related injuries. Another common source of injury is starting your workout too quickly at a high-intensity level.
To avoid injury, you should start with an activity level that you can handle. Slow and steady progression is the safest way to increase your activity levels. You should always listen to your body - it will tell you if you're pushing yourself too much.
A good, spring exercise program looks something like this:
Warm up. Always take time to warm up and stretch before physical activity. Research studies reveal cold muscles are more prone to injury. Warm up with activities like jumping jacks, stationary biking, running or walking in place for three to five minutes. Then slowly and gently stretch, holding each stretch for 30 seconds.
Start slow. Remember that moderate physical activity can include walking the dog, working in the garden, playing with the kids or taking the stairs instead of the elevator.
Increase intensity only when ready. Observe the 10% rule. When changing your activity level, increase it in increments of no more than 10% per week. This applies to both cardiovascular and strength training.
Develop a balanced fitness program. Your routine should incorporate cardiovascular exercise, strength training and flexibility. In addition to providing a total body workout, a balanced program will keep you from getting bored and lessen your risk of injury.
It's recommended to exercise regularly throughout the week rather than trying to cram in hours of exercise into one day or a weekend. Without regular, beneficial exercise injuries ranging from muscle strains and ligament injuries to possible cardiac issues can occur.
Is pain keeping you from your regular exercise? Physical therapy may help. "We can guide you through an individualized exercise program and utilize hands-on skills to help you regain strength, mobility and reduce pain," explains Jennifer Wilson, a physical therapist and supervisor at Beaumont Physical Therapy, Lenox. " If you're dealing with knee pain or low back pain, a specialized physical therapy assessment is a great place to start," continues Wilson. Learn more at beaumont.org/knee-pain-therapy or beaumont.org/lbp.
Be sure to check with your doctor before beginning any new exercise program. If you have had a sports injury or chronic condition, consult with your primary care physician.