Wednesday, April 22, 2015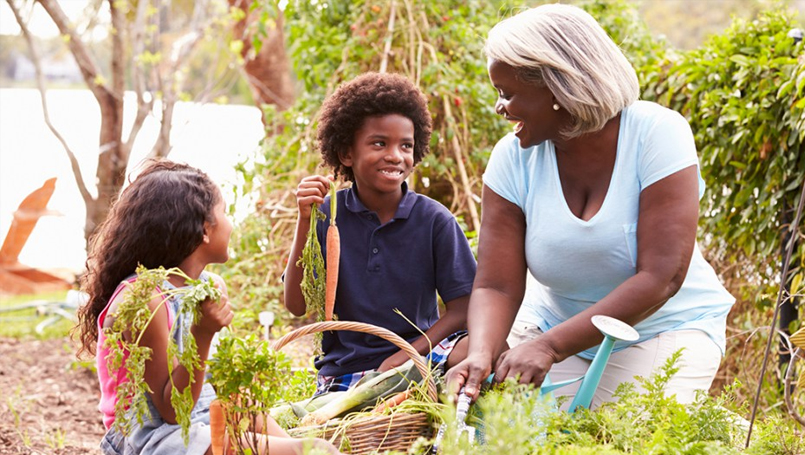 Growing your own food serves many purposes - not only will you have fresh food, but you'll also have a new hobby. Growing your own healthy fruits, vegetables and herbs can be easy, you just have to start with the right foods.
Try planting one (or more!) of these easy and healthy foods in your backyard garden and you'll have tasty homegrown ingredients before you know it.
BASIL
This fragrant herb is perfect for aspiring gardeners that also love to cook. Basil can be grown in your garden or in it's own pot, but if you're planting it in the backyard, know that it only grows in summer. Your basil plant needs moist soil, lots of light (especially if indoors) and benefits from pinching off leaves and regular pruning.
LETTUCE
Create your own salad bar by growing lettuce in your garden bed or in outdoor pots. There are many varieties of lettuce, each with specific harvesting instructions. Often, you can remove outer leaves or cut leaves about an inch above the soil and leave the rest to keep growing. Whenever your lettuce leaves look wilted, add water to perk them back up.
TOMATOES
You can grow tomatoes in your garden from seeds or seedlings, or for novice gardeners, you might want to start with a tomato plant already growing and potted from the store. Tomatoes will need full sunlight and a tomato cage or a stake to help support the plant as it develops.
CARROTS
If you want to harvest a veggie in the fall, but are worried about an early frost, carrots are a good choice since they can stand the frost and actually can taste better after a few frosts. To care for your growing carrots, you'll want to control weeds, thoroughly water about once a week and make sure there's space for roots to grow in the soil.
RASPBERRIES
You have your options when planting raspberries, choosing the type that bear fruit once each season or one that bears fruit both in summer and fall. Growing raspberries takes some patience since they won't bear fruit until their second season. It will be worth the wait to pick and taste your own fresh, juicy fruit.
CUCUMBERS
You'll be growing lots of cucumbers and growing them quickly. When you pick cucumbers, they should be green all over, don't let them get yellow. Since cucumbers grow on vines, you'll need lots of space in your garden, or you can save space and use a trellis to allow the vine to climb.
Once you're feeling confident in your newfound gardening abilities, don't stop with these six ideas. You can keep developing your skills and grow your own superfoods for even more fresh and healthy foods always at your fingertips.