Tuesday, September 20, 2016
For more than 16 years Beaumont Hospital, Royal Oak environmental services attendant Barbara Lee has personified the definition of dedication, not just by going above and beyond in cleaning rooms, but also by making every patient and visitor she encounters feel special.
Just recently, the family of a teenage patient returned to thank her for being one of the few people to lift their spirits during an emotional, three-week stay, which prompted her being honored as employee of the month by hospital leadership.
More amazingly, for most of Barbara's 5,580 days of extraordinary service and care, she's had to commute for about two hours to and from work, using two different buses. And she has only been late once.
"Barbara epitomizes Beaumont's standards of compassion and excellence," said Cheryl Webster-Miller, director, Hospitality and Environmental Services for Beaumont Health.


"The fact that she is dedicated to giving 110 percent of her service to our patients and their families, despite navigating the various gaps in our current transit system, is simply amazing."
Beaumont estimates that at any given time, hundreds of its employees use mass transit as their primary transportation to and from work. However, in most instances, it requires two or three different buses which typically take two to three hours - and that's if the buses are running on schedule.
"We have employees from all walks of life who at some time or another use mass transit for their commute," added Webster-Miller. "Unfortunately they must go to great lengths just to get to work in a timely fashion using public transportation unlike their counterparts in other major U.S. regions."
Because Southeast Michigan lacks a true, reliable and coordinated regional mass transit network, many Beaumont Health employees using mass transit have had to get to work sometimes up to two hours early in order to start their jobs on time.
We have employees from all walks of life who at some time or another use mass transit for their commute.

Webster-Miller
Recently, J. Paul Conway, senior vice president and chief human resources officer for Beaumont Health announced Beaumont's support of an upcoming ballot initiative to fund the first true plan for regional mass transit in Southeast Michigan.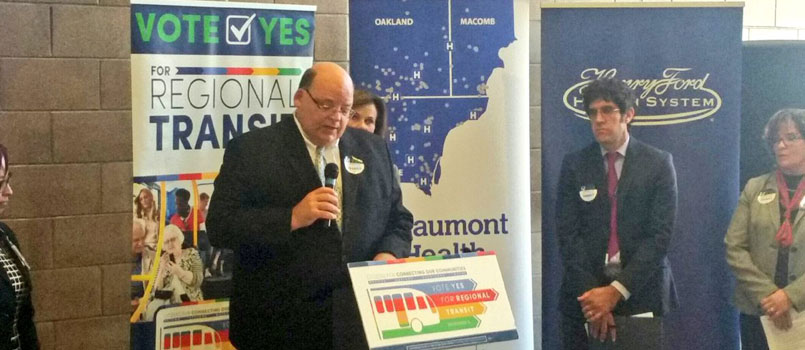 On Nov. 8, voters will have the opportunity to approve funding for the Regional Master Transit Plan that will connect more than 2,600 miles, 4 million residents and nearly 2 million existing jobs across Macomb, Oakland, Washtenaw and Wayne counties. It will ensure faster, seamless service along major regional corridors and key connectors, instead of today's fragmented, uncoordinated and limited options.
The plan will also increase paratransit services by at least 33 percent to help provide greater independence for seniors and people with disabilities who also depend heavily on these services for their health care needs.
"It's about getting people to jobs and career opportunities and getting our patients the care they need and deserve to lead healthy, productive lives," said Conway. "We know reliable regional transit is critical to creating livable, healthy communities, which is why we need to vote YES and make connected transit a reality this November."