Friday, February 02, 2018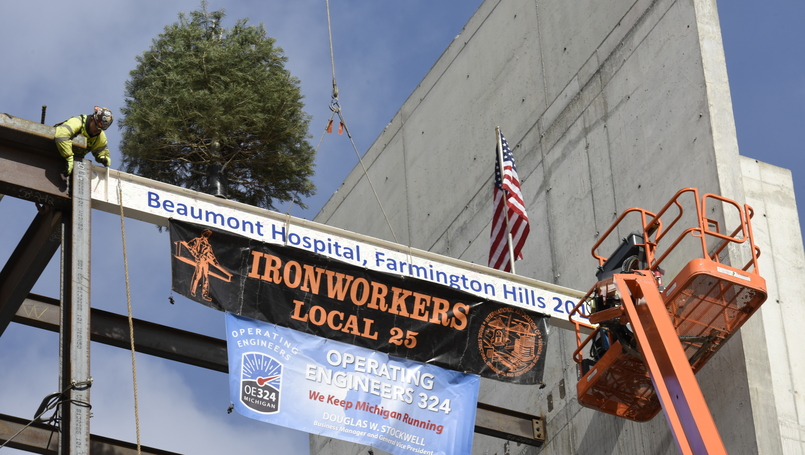 Largest construction project on the hospital's campus in 20 years
Construction crews hoisted the final steel beam into place on Beaumont Hospital, Farmington Hills' new tower this afternoon as part of a "topping off" ceremony. The $160 million project includes 193,000-square-feet of new space. More than 61,500-square-feet of existing space on the campus will also be renovated.
"We are excited about how this project will benefit our patients and families. The innovations and additional space will allow us to better deliver our promise of compassionate, extraordinary care," President Connie O'Malley, RN, said.
Michael Rebock, D.O., vice president and chief medical officer, Beaumont, Farmington Hills, added, "Our physicians embrace the hospital's growth and development as we move forward with new technology and facilities."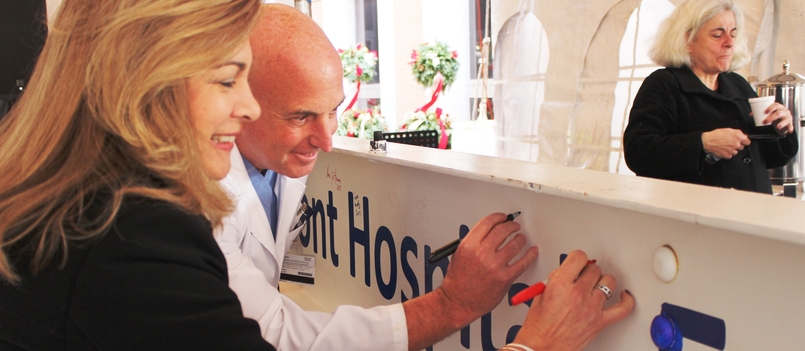 The expansion and renovation of the hospital's East Pavilion includes:
a larger Emergency and Level II Trauma Center with 58 treatment and evaluation bays, including three dedicated trauma rooms
a 17-bay Observation Unit
a larger Surgical Services department with nine operating rooms (currently there are six) and 27 private patient rooms
a 20-bed Critical Care Unit with private rooms
a 10-bay infusion center
an expanded family lounge area
The new five-story South Tower includes:
80 private patient rooms
dedicated units for orthopedic, oncology and respiratory care patients
a new main entrance and reception area for the entire hospital
Sixty-five patient rooms in the existing hospital will also be renovated into private rooms as part of the project. In addition, 45 semi-private rooms will be updated. When construction is complete, the hospital will have 165 private rooms and 165 semi-private rooms, for a total 330 beds, which is the same number of beds that existed prior to construction.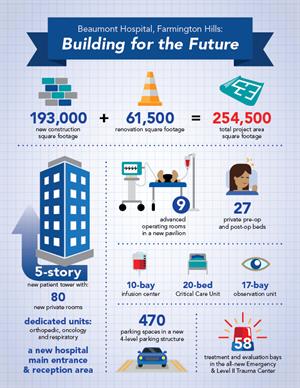 Beaumont Health is investing $150 million in the project, the largest expansion on the campus in more than two decades. The health system will rely upon charitable giving to raise the remaining $10 million needed to complete the project.
"So far, we have raised $5 million. We're halfway to our goal. We are talking with community leaders and working to raise the rest of the funds," O'Malley said.
Construction on the existing East Pavilion and new South Tower runs through the end of this year. Renovation of existing space will conclude in late 2019.
As part of this project, a 473-space parking structure opened in October 2016. A new power plant that is 30 percent more energy efficient than the previous plant will be complete in March.
Assisting Beaumont with this project are architect HKS, Plante Moran CRESA Real Estate Consultants, Michigan's largest builder Barton Malow and AIM Construction Inc.