Valve experts use catheter method to help 34-year-old Southeast Michigan woman
Cardiologists at Beaumont Health successfully replaced a 34-year-old woman's tricuspid valve in a rare valve-in-valve procedure limited to only the most highly qualified heart teams in the world.
"Our experienced structural heart teams at Beaumont Health can step in where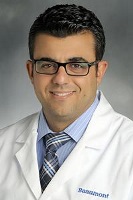 others cannot – to save lives or improve the quality of patient's lives," said Beaumont interventional cardiologist Dr. Joseph Chattahi, director of the Structural Heart Disease Program at Beaumont Hospital, Dearborn, and a leading expert in catheter-based valve and other cardiac procedures in the region. "It's a game-changer for our patients."
Led by Dr. Chattahi, the Beaumont Heart Valve Clinic team at Beaumont Hospital, Dearborn, performed the successful procedure on May 4. The patient went home the next day.
Dr. Chattahi said the procedure was the patient's best hope for survival. In 2017, Beaumont Dearborn cardio-thoracic surgeon Dr. Timothy L. Sell replaced the patient's malfunctioning native tricuspid valve in a successful open-heart surgery. But two years later, a bacterial infection damaged the bioprosthetic valve – a porcine, or pig, biological valve on a metal ring -- that was used to replace the native valve. As a result, the patient became very sick starting in 2019 with extreme fatigue, shortness of breath and swelling in her abdomen from the pooling of fluid. She also was at risk of damage to her liver from the potential of fluid backing up into the vessels leading to the vital organ.
"She needed help badly," said Dr. Chattahi. "She was getting progressively worse. It's not uncommon for doctors to say that nothing else can be done for people with advanced tricuspid valve disease. It can be a difficult valve to access safely, so issues with the tricuspid valve should be treated by very experienced teams."
The patient was initially evaluated for another open-heart surgery by Dr. Sell, a highly qualified cardiac surgeon in Southeast Michigan and who she had entrusted with her care four years earlier. But due to the prior surgery, resulting scar tissue and her clinical condition, another open-heart procedure would be risky.
Drs. Chattahi and Sell reviewed her case with other members of the Multidisciplinary Structural Heart Team at Beaumont Hospital, Dearborn, including Dr. Samir Dabbous, director of the Cardiac Catheterization Lab at Beaumont, Dearborn; interventional cardiologist Dr. Rita Coram; cardiac surgeons Dr. Reza Dabir and Dr. Baron Hamman; cardiac imaging specialist Dr. Paolo Marciano and other experts in catheter-based procedures.
Together, they determined that a novel, catheter-based approach would be the safest method for replacing her malfunctioning tricuspid valve. The patient was relieved to hear that her heart could be repaired without having to reopen her chest, so she made the decision to move ahead with the procedure by Drs. Chattahi, Coram and Sell.
"We are fortunate to have both surgical and catheter-based approaches for patients with advanced cardiac conditions, and we rely on a team approach to determine which option is safest for each patient," said Dr. Sell. "It is our privilege to work with doctors throughout Beaumont Health and referring physicians across Michigan to provide expert cardiac care and ongoing follow-up with each patient's own cardiologist. Working together helps us best serve our patients."
Planning for the rare procedure began with high-resolution CT scans and 3D TEE – three-dimensional transesophageal echocardiography. With TEE, cardiac imaging specialists use a small ultrasound probe inserted into the patient's esophagus to take pictures of the tricuspid valve prior to the procedure. The structural heart cardiologists then use the CT and TEE images to choose a properly sized valve for the patient's anatomy.
The procedure took about 40 minutes. A catheter was inserted into a small incision near the patient's upper thigh and groin area, and was guided through a vessel that travels up the body into the patient's heart.
The team then inflated a balloon inside the old valve, stretching the diseased leaflets to create more room for the new valve. The Beaumont team then deployed the new valve, loaded onto the end of the catheter, inside the old valve, which anchors it in place.
"She told us the next day she felt like a new person," Dr. Chattahi said. "We're so glad she's feeling better."
---
Advanced Heart Valve Procedures at Beaumont
Learn more about advanced heart valve procedures at Beaumont and the Beaumont Heart Valve Clinic.
Heart Health Risk Assessment
Take Beaumont's online heart quiz to determine your risk for heart disease