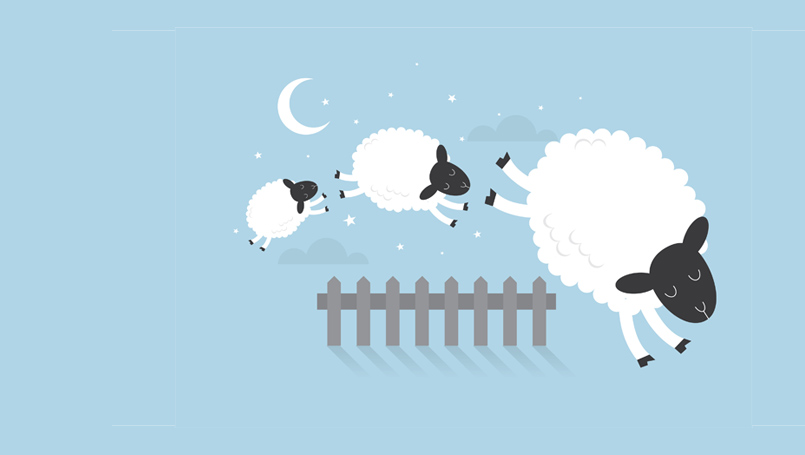 If you're eating right and exercising regularly, not getting enough quality sleep may be sabotaging your healthy lifestyle.
Use these strategies to transform the way you sleep so you can finally get some rest:
ASSESS YOUR SLEEPING HABITS
Unsure how much "good sleep" you're getting? There are numerous fitness trackers, kits and even apps that help monitor your sleep habits (restlessness, times awake, REM, etc.).
Use that information to set sleep goals or track your history to see if there's a pattern of restlessness or where you can fit more sleep into your schedule.
FOLLOW A SLEEP SCHEDULE
Falling asleep and waking up at the same time every day is important for better sleep. You'll need to keep this schedule as consistent as possible, even on weekends and vacations.
If you're following your schedule and you can't fall asleep in 15 minutes, it's okay to get up, but do something relaxing and return to your bed once you feel tired.
ESTABLISH A BEDTIME ROUTINE
Set aside time to unwind and prepare for sleep by doing something relaxing. You might choose to read a book, listen to music or meditate to clear your mind. A bedtime routine will cue your body that it will soon be time to sleep.
During your bedtime ritual, avoid using electronics like TVs, laptops and cell phones. The light from their screens and the action of using them will stimulate your brain rather than relax it.
CREATE A COMFORTABLE ENVIRONMENT
There are many ways to make a more comfortable environment for sleeping. Although it can be fun to occasionally cuddle with children or pets in bed, you'll want to limit the number of guests in your bed if you're having difficulty sleeping. Replacing old pillows and mattress with new ones might be the simple switch you need for better sleep. To block out distracting noises, consider white noise, soothing sounds or earplugs.
PAY ATTENTION TO WHAT YOU EAT / DRINK BEFORE BED
What you put into your body before sleep affects the quality of your sleep, especially substances like nicotine, caffeine and alcohol. Nicotine makes it harder to sleep because it's a stimulant and smokers experience withdrawals during the night. If you're going to have caffeine or alcohol, plan your intake so it's many hours before bed.
REMEMBER TO EXERCISE
You'll get a better sleep if you exercise every day. You don't have to be an exercise expert, just be sure to fit in some sort of physical activity. Plan your exercise for earlier in the day since some people find exercise at night too stimulating.
DAYTIME NAPS MAY INTERFERE WITH SLEEP AT NIGHT
You might feel like you have to make up for your missed sleep at night with naps during the day. These naps might not be as helpful as you think, and you should instead be napping differently or not at all. If you're going to nap, your naps should be about 10–30 minutes long and during the afternoon.
LET THE LIGHT IN IN THE MORNING
Signal to your body that it's time to get up by using light. Expose yourself to natural light or an artificial light designed to gradually wake you up in the mornings. You might find that using light to wake you up is a better transition from sleep than an alarm clock.