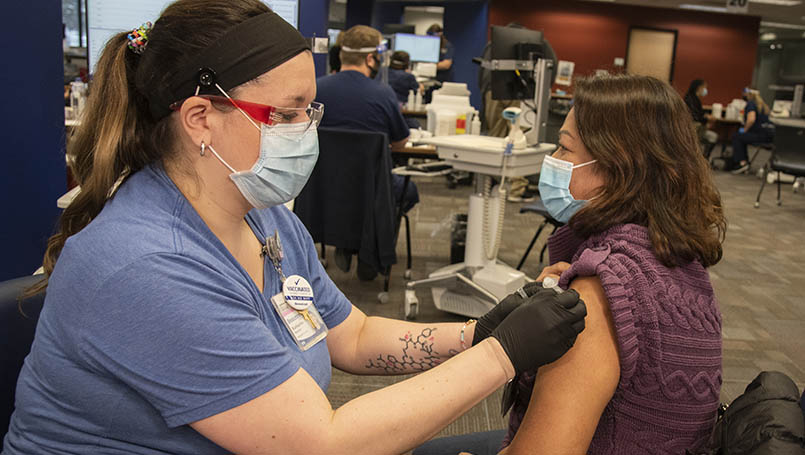 Beaumont administered its first dose of the Pfizer COVID-19 vaccine in mid-December and vaccinated nearly 80,000 employees, affiliated providers and community members in the first eight weeks.
If you received an email invitation and unique access code to schedule your first dose, here's what you can expect from your visit and how you can best prepare.
Prior to your appointment
Beaumont is currently offering Pfizer and Moderna vaccines, both of which require a second dose. It's important to take the timing of this second appointment into consideration when scheduling your first. If you're going to be out of state or otherwise unable to come back to the same location three to four weeks after your first appointment, you'll need to wait to schedule until you're available for both appointments.
Note: Your myBeaumontChart unique access code to schedule does not expire and can be used to schedule at any time.
Jessica Richards, director of nursing at Beaumont, Farmington Hills and organizer of Beaumont's vaccine clinics, recommends arriving a little early if you're unfamiliar with the area of the clinic. For those with an appointment at the Beaumont Service Center in Southfield (26901 Beaumont Blvd.), older GPS devices should use this address: 26901 Northwestern Hwy. The Dearborn Vaccine Clinic is currently at the Beaumont Learning & Innovation Center, 18200 Oakwood Blvd, Dearborn 48124.
Richards added, "Some people may be waiting to get their vaccine for different reasons. But, it's important to know that these vaccines are safe and provide you with up to 95% immunity after both doses."
Vaccine rollout and supply
The Centers for Disease Control and Prevention determines the priority rankings for the vaccine and works closely with the State of Michigan. Beaumont must follow the government's guidelines.
Currently, Beaumont is vaccinating employees from Phase 1A and patients age 65 and older from Phase 1B.
"We have been waiting for the arrival of a vaccine since the pandemic began," said Dr. Nick Gilpin, Beaumont Health director of Epidemiology and Infection Prevention. "We're confident this vaccine, and the others in development, will stop the spread of the virus and save lives. I also know it's going to take some time for the majority of the population to get vaccinated. In the meantime, it's critically important we all keep wearing masks and practice social distancing."
Pre-appointment checklist
There are a few things you can do to best prepare for your time in the vaccine clinic. Richards recommends:
Dress in layers and wear a short sleeve shirt so we can easily access your upper arm.
Expect to come in for your appointment alone. If someone comes with you, please have them wait in the car. If you need help with walking or checking in, that person may accompany you.
While the line moves quickly, make sure to wear comfortable shoes and bring any assistive aides to help you as you will stand on average for 20 - 30 minutes.
Wheelchairs are available.
Plan for about an hour total. You'll have to wait for 15 minutes after your injection to be observed for side effects. We'll also book your next appointment during this time.
After your shot
It is important that you return for your second dose to be fully vaccinated. If you get the Pfizer vaccine, you will return in 21 days. If you get Moderna, you will return in 28 days. Bring your vaccine record card with you so that we can fill out your second dose. This is important to have on you in case you need to show proof of your vaccine.
Monitor for side effects
After your shot, you will be asked to wait 15 minutes in our observation area to monitor for any immediate side effects or reactions.
Mild side effects are common and are a sign that your body is creating an immune response to the vaccine. The most common side effects that have been reported with the COVID-19 vaccine include:
injection site pain
tiredness
headache
muscle pain
chills
joint pain
fever
injection site swelling
injection site redness
nausea
feeling unwell
swollen lymph nodes
Patients who have had reactions to medications or vaccines in the past should discuss the COVID-19 vaccine with their primary care provider or allergist.
For more frequently asked questions regarding possible side effects, click here.
Continue wearing a mask, washing your hands and social distancing
Recent studies of the available vaccines found that protection doesn't start until 7-14 days after the first shot.
Data is still being collected to determine whether somebody who is fully vaccinated can spread the virus to others. Therefore, wearing a mask, washing hands and social distancing remain critical, even after vaccination.
"It's important to continue using all the tools available to us to help stop this pandemic, like covering your mouth and nose with a mask, washing hands often and staying six feet away from others," explained Dr. Gilpin. "We need to understand more about the protection that COVID-19 vaccines provide before changing any of those recommendations."