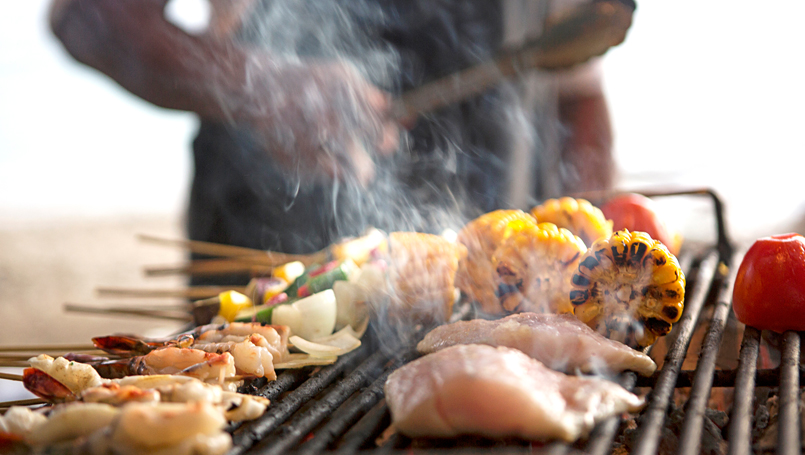 Grilling is a great way to cook healthy meals and enjoy the outdoors.
Grilling can also help lower your calorie intake and may even help with weight loss. While grilling does not remove all the fat from meats, it causes the excess fat to melt and drip off the racks. Other cooking methods allow the meat to cook in its own fat, which can be reabsorbed. Grilling also helps food keep more of their vitamins and minerals and seals in moisture leaving you with a juicy meal without the added fats.
Store-bought condiments, such as ketchup and barbecue sauce, are often higher in sugar and may add unnecessary calories. Use spices or homemade marinades in place of sauces when grilling. In many cases, the grilling flavor is delicious enough that you don't even need to add anything extra - just enjoy the food as it is!
Fish, veggie burgers, vegetables and even fruit taste great on the grill! They can be placed straight on the rack, layered as a kabob or wrapped in foil for a creative grilling twist.
Avoid charring foods, specifically meats, on the grill by continuously turning them over. Charring foods form certain chemical compounds that have been associated with a higher risk of cancer. Avoid exposure to harmful bacteria that could cause food-borne illnesses by using a meat thermometer to ensure foods are cooked to the proper internal temperature (165°F for poultry, 155 - 160°F for beef and other meats and 145°F for fish).
Just because you're grilling, don't forget proper portion sizes. The MyPlate method recommends that vegetables fill half of your plate while meats and other proteins make up a fourth of your plate in a portion size that is about 3 ounces or the size of a deck of cards. Save your starch for the remaining fourth of your plate and don't forget to add a side of fresh fruit!
GRILLING CORN ON THE COB
A common vegetable to grill is corn on the cob. A quick, easy way to grill corn is to:
remove the very outer layer of the husk and rinse off any dirt
place the rinsed corn in a tub of clean water until ready to grill
using a gas grill, cook 15 - 20 minutes (or longer if you prefer) on the top rack at medium low heat
You won't even need any seasonings! This is a great way to cut down on added calories and sodium from butter and salt and enjoy the corn, naturally. If any cobs are left over, place them in the refrigerator overnight (peeled or unpeeled) and enjoy the next day!
Looking for more healthy grilling recipes? Check out our Healthy Summer Grilling Pinterest board!
Rest assured, grilling can be a healthy way to prepare the fresh foods of summer, so enjoy that delicious meal the next time you fire up your grill!