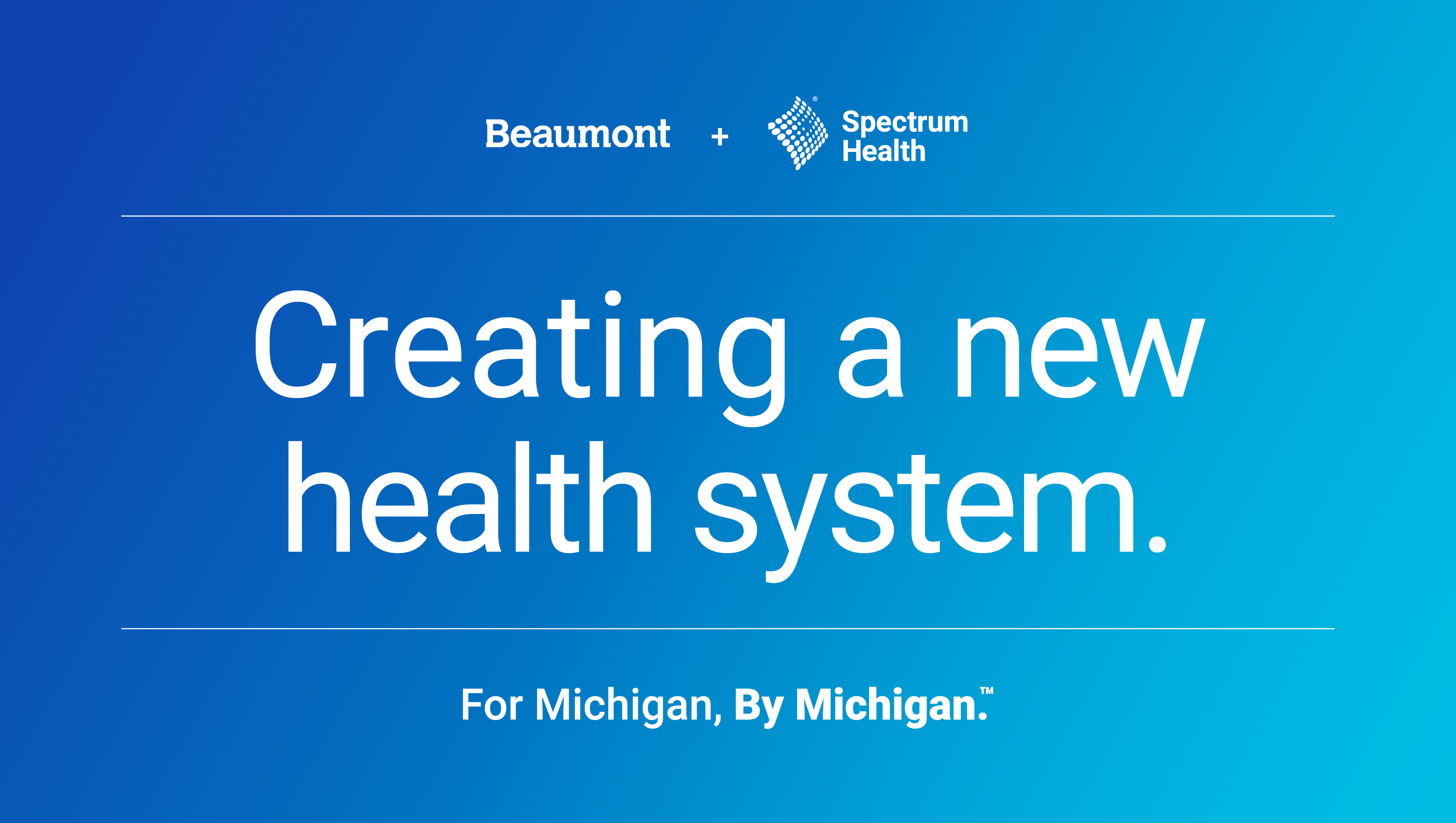 Board members and leadership team named for new organization
Beaumont Health and Spectrum Health are moving forward to create a new health system that is For Michigan, By Michigan™. The new system, which will be temporarily known as BHSH System, will launch Feb. 1, 2022. Both organizations have provided the applicable regulatory agencies with all requested information and may now proceed to launch their new health system.
Both organizations express deep gratitude for the ongoing efforts of physicians, nurses and all of the team members who continue to care for each other and their communities after nearly two years of the pandemic. They have worked tirelessly to provide exemplary health care and coverage, and they continue to do so during this current surge.
"We are grateful for all of our physicians, nurses and team members. Their compassion, expertise and dedication have saved many lives during this pandemic," Tina Freese Decker, President & CEO of Spectrum Health, and future BHSH System President & CEO, said. "As we launch our new health system, we have a bold goal to transform health and are thrilled to unite our two great organizations. Together, we will leverage our complementary strengths to innovate and make a positive impact for our communities and their health. We look forward to working with our physicians, team members, patients, health plan members and partners across our state to provide health care and coverage that is accessible, affordable, equitable and exceptional."
Beaumont Health Board Chair and incoming BHSH System Board Chair Julie Fream added, "Our focus, as we launch our new health system, is to continue to provide excellent health care and coverage in our communities. We look forward to continuing to partner with our patients, team members and health plan members as we build a new organization designed to improve the health of the communities we serve."
Beaumont Health and Spectrum Health also announced the board of directors and system leadership team for the new combined health system.
The BHSH System board of directors includes seven members appointed from Beaumont Health and seven members appointed from Spectrum Health. Tina Freese Decker, incoming President & CEO of BHSH System, will also serve on the board, as well as an additional board member who will be named later this year. Members of the new board include:
Christopher Carpenter, MD
Mark Davidoff
Doug DeVos
Julie Fream, Chair
Tina Freese Decker, President & CEO
Marija Grahovac, MD
Ronald Hall
Angel Hernandez, MD
Philomena Mantella, PhD
Timothy O'Brien
William Payne
Robert Roth
Thomas Saeli
Michael Todman
Sean Welsh, Vice Chair
The new BHSH System leadership team includes:
BHSH System Leadership
Chief Digital and Information Officer – Jason Joseph
Chief Financial Officer – Matthew Cox
Chief Inclusion, Equity, Diversity and Social Impact Officer – Open
Chief Integration Officer – Pamela Ries
Chief Integrity and Risk Officer – Open
Chief Legal Officer – David Leonard
Chief Marketing and Consumer Experience Officer – Jeremy Harper
Chief People Officer – Open
Chief Strategy Officer – Open
President, BHSH Beaumont Health – Open; Interim – Nancy Susick, RN
President, BHSH Spectrum Health Lakeland, and Strategic Advisor, BHSH System – Loren Hamel, MD
President, BHSH Spectrum Health West Michigan – Darryl Elmouchi, MD
President, Priority Health – Praveen Thadani
The new organization will conduct internal and national searches to fill the open and interim roles, including the national search underway for the president of BHSH Beaumont Health. As announced last year, John Fox, Beaumont Health's current president, plans to leave the organization. His last day will be Feb. 4.
"I am very proud of our Beaumont team members for their many accomplishments, and I'm especially proud of the compassionate, extraordinary care they have provided for our patients throughout this long pandemic. I'm confident BHSH System will become one of the best health care systems in the nation," said John Fox, current Beaumont President & CEO.
Sean Welsh, current Spectrum Health System board chair and incoming BHSH System board vice chair, said, "The tremendous talent within these two organizations will be a beacon for others who share this vision for a new health system and the positive change it will create."
While Spectrum Health and Beaumont Health create this new health system, patients and health plan members are encouraged to access care in the same ways they currently do. All patients will continue to have access to their same sites of care, physicians and health providers, and insurance plans.
For more updates and information about the board of directors and leadership teams for each division, visit ForMichiganByMichigan.org.
---
About BHSH System
Forming from two leading health systems in Michigan (Beaumont Health and Spectrum Health), BHSH System will be a not-for-profit health system that provides care and coverage with an exceptional team of 64,000+ dedicated people - including more than 11,500 physicians and advanced practice providers and more than 15,000 nurses offering services in 22 hospitals, 300+ outpatient locations and several post-acute facilities - and Priority Health, a provider-sponsored health plan serving over 1.2 million members across the state of Michigan. Through experience, innovation and collaboration, we will build a system designed to meet the needs of the people we serve through care and coverage that is accessible, affordable, equitable and exceptional.
About Beaumont Health
Beaumont Health is Michigan's largest health care system and is most preferred for health care in Southeast Michigan, according to NRC Health survey data. The not-for-profit organization's more than 33,000 employees share a mission to provide compassionate, extraordinary care every day. The system includes eight hospitals with 3,375 beds, 155 outpatient sites, nearly 5,000 affiliated physicians, 1,800 advanced practice providers, 9,000 nurses and 2,000 volunteers. Beaumont's total annual net patient revenue is $4.6 billion. In 2019, the health system had 179,600 inpatient discharges, 17,600 births and 577,000 emergency visits.
About Spectrum Health
Spectrum Health is a $8.3 billion, not-for-profit health system that provides care and coverage, comprising 31,000+ team members, 14 hospitals (including Helen DeVos Children's Hospital), a robust network of care facilities, teams of nationally recognized doctors and providers, and the nation's third-largest provider-sponsored health plan, Priority Health, currently serving over 1.2 million members across the state of Michigan. Spectrum Health has a legacy of strong community partnerships, philanthropy and transparency. We are reimagining a better, more equitable model of health and wellness.