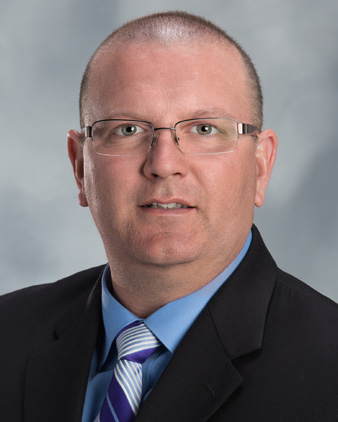 John Fox, president and CEO, and Carolyn Wilson,executive vice president and COO, Beaumont Health, have announced the appointment of local health care executive David Claeys of Shelby Township, as president of Beaumont Hospital, Dearborn.
Claeys, 48, has served as interim president of Beaumont's 632-bed Dearborn hospital since April 2017, after more than 12 years in administrative and clinical roles at Beaumont Hospital, Troy.
"As interim president, Dave proved to be an effective, compassionate leader for the Dearborn team," said Wilson. "Many team members and physicians advocated for his appointment as permanent president, citing his humility, integrity and commitment to our hospital, its team and our patient and families."
Claeys also has an extensive health care background.
After serving in the U.S. Navy, Claeys began his health care career as a patient transporter at Mount Clemens General Hospital in 1993. He later served as a respiratory therapist at other area hospitals, then joined the cardiothoracic surgical staff at Sinai-Grace Hospital in 2003 after graduating from the University of Detroit-Mercy Physician Assistant Program.
Claeys joined Beaumont Hospital, Troy in 2005 as a physician assistant in Diagnostic and Interventional Radiology. He advanced to director of Radiologic Services, administrative director of Ancillary Services, and administrative director and then vice president of Heart and Vascular and Surgical Services. He was later promoted to vice president and chief operating officer of Beaumont, Troy, overseeing operations for the 520-bed Troy hospital, five ambulatory medical centers, 4,900 full-time equivalent employees and an annual operating budget of $600 million.
In addition to his Master of Science degree in physician assistant studies, Claeys has a bachelor's degree in health care administration from U-D Mercy. He is a board-certified member of the American College of Health Care Executives.
Claeys has served as a board member of the Macomb County Chamber of Commerce, Macomb Foundation and Macomb Advocacy for Growth.
About Beaumont Hospital, Dearborn
Part of Beaumont Health, Beaumont Hospital, Dearborn (formerly Oakwood Hospital – Dearborn) is a 632-bed tertiary care hospital serving residents of Southeast Michigan since 1953. Beaumont, Dearborn is a major teaching and research hospital and home to three medical residency programs in partnership with the Wayne State University School of Medicine. The hospital is verified as a Level II trauma center and is accredited by the Joint Commission as a primary stroke center. Beaumont, Dearborn is ranked No. 9 in Metro Detroit by U.S. News and World Report in 2017-18 and is regionally ranked as "high performing" for colon cancer surgery, chronic obstructive pulmonary disease and heart failure.