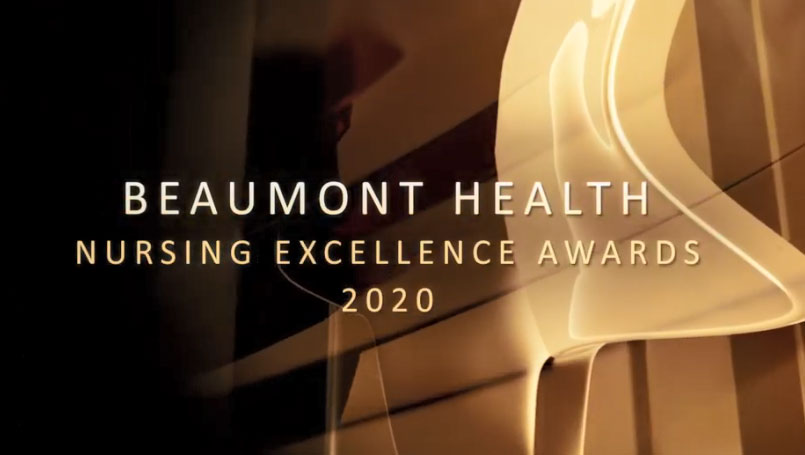 Before the pandemic, the World Health Organization declared 2020 the International Year of the Nurse and Midwife in recognition of the 200th anniversary of Florence Nightingale's birthday.
With nurses throughout the country and world at the forefront of the COVID-19 pandemic, celebration of their strength, grit and sacrifice could not come at a more relevant time.

Already three of Beaumont Health's eight hospitals (Grosse Pointe, Royal Oak and Troy) have achieved the American Nurses Credentialing Center's most distinguished designation: Magnet status. The remaining five hospitals are currently on that journey.

With these things in mind, Beaumont Health is announcing its first ever Nursing Excellence Awards, which recognizes nurses and support staff who represent the best in patient care delivery. More than 800 nominations were submitted.

"Shortly after names started pouring in, Southeastern lower Michigan was hit with the COVID-19 surge most of us never could have imagined," said Susan Grant, Chief Nursing Officer, Beaumont Health. "The courage, determination and leadership of our nurses and support staff helped us get through the surge, stronger than ever. Now it's time to celebrate their accomplishments."
"This video is an opportunity to thank our nurses for everything they do for our patients, their families - and each other," Grant said. "Each one of them is extraordinary. The video is a must-see event that celebrates our amazing colleagues."

This year's Nurse Hero of the Year award winner is Lisa Muma, BSN, RN, nurse navigator at Beaumont Hospital, Royal Oak.

"Lisa checks every box," Susan Grant said. "She is heroic, energetic and collaborative, always seeking creative ways to engage with patients, families, coworkers, and leaders."

Muma is especially dedicated to activities related to childhood cancer awareness month, including personally tying yellow ribbons on trees around campus. Her example has inspired this observation at other Beaumont hospitals. She is a tireless supporter of Beaumont, Royal Oak's "Moonbeams for Sweet Dreams" event which draws hundreds of community members each December to lift the spirits of pediatric patients. Colleagues describe her as a "bright light to those around her, bringing years of experience and 'calm' to what can sometimes feel like chaos."
Muma said she is both humbled and overwhelmed by the recognition and shares it with her colleagues.
"Our patients and their families never cease to motivate and inspire me," Muma said. "It is the courageous battles they fight each day that make me want to keep looking for new ways to offer care and support."
Other award recipients include:
Nurse Transformational Leadership award winner: Kristin Dowling, MSN, AGCNS-BC, RN, clinical nurse manager at Beaumont Hospital, Wayne
Nurse Structural Empowerment award winner: Lisa Leighton MSN, WOCN, CCRN, CMSRN, NE-BC, nurse professional development specialist at Beaumont Hospital, Royal Oak
Nurse Empirical Outcomes award winner: Cathleen Solecki, MSN, RN-BC, CCRN, CNRN, program coordinator at Beaumont Hospital, Grosse Pointe
Nurse Exemplary Professional Practice award winner: Heather Whitt, BSN, RN, nurse navigator, Pulmonary Medicine BMG in Royal Oak
Behind the Scenes RN award winner: Chelsea Young, MSN, BSN, RN, nursing professional development specialist at the Beaumont Service Center
Nurse New Knowledge, Innovations and Improvements award winner: Mary Royse, CMSRN, CDP, NPD-BC, nurse Professional Development Specialist at Beaumont Hospital, Royal Oak
Nurse Rookie of the Year award winner: Brittni Charge, BSN, RN, clinical nurse at Beaumont Hospital, Dearborn
Nurse Preceptor of the Year award winner: Joseph Milewski, RN, clinical nurse at Beaumont Hospital, Dearborn
Advanced Practice Nurse Excellence award winner: Timothy Nicaise, MSN, RN, AGNP-BC, nurse practitioner APP at Beaumont Hospital, Trenton
Nursing Team Award winner: CICU Team award winner at Beaumont Hospital, Troy
Nursing Support Staff Helping Hands Hero award winner: Samuel McCadney, nursing assistant at Beaumont Hospital, Royal Oak
Nursing Support Staff Helping Hands Leader award winner: Terri Smith, emergency tech lead at Beaumont Hospital, Farmington Hills
Nursing Support Staff Helping Hands Collaborator award winner: Celeena Kawar, nursing assistant at Beaumont Hospital, Troy