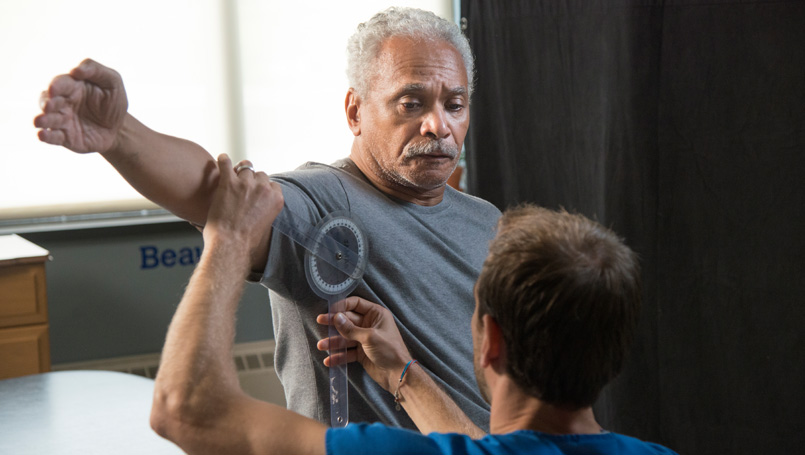 Shoulder pain doesn't get a lot of publicity, but it affects the lives of people all over the United States.
Is your trademark greeting a head nod instead of a wave? Or maybe your son wants to play catch, but the idea of throwing a ball or raising a gloved hand keeps you inside? Have you been wanting to try out some classes at the yoga studio that just opened, but you're not sure if you want to deal with the fallout of a post-down-dog session?
If any of these sound familiar, you may know what it's like to live with shoulder pain. That pain is the result of something going wrong in the bones or soft tissues that make up your shoulder.
The majority of people who have shoulder pain find the diagnosis in one of these four categories:
Rotator cuff tendon problems - These include inflammation caused by tendonitis or bursitis, or a tear. This is a common condition.
Arthritis - Shoulder arthritis is usually degenerative, but can also be due to injury. It causes stiffness and loss of motion.
Instability - It's also known as dislocation. Injury to the joint can result in ligament damage and a ball that slides out of the socket.
Fracture - Severe trauma can lead to a broken bone and the need for fixation.
However, shoulder pain can also be caused by other conditions such as heart disease or gallbladder disease. This is called "referred" pain. The best way to find the source of your pain is with the help of your doctor. But to do a quick check at home, remember this: Referred pain doesn't usually get worse if you move your arm or shoulder.
Treating shoulder pain
According to the American Academy of Orthopaedic Surgeons, there's good news for those with shoulder pain. Up to 90 percent of patients with shoulder pain respond to simple treatments rather than surgery. However, if your pain is intense, get medical attention right away.
Some simple treatments may include:
Rest
Avoid repetitive motions that cause pain and try not to overexert yourself. For exercise, try a brisk walk/jog instead of tennis, racquetball or even cycling.
Medication
Try over-the-counter pain relievers first. If those work—great! If not, talk to your physician for other pain relief methods. You may also benefit from alternating ice and heat when you're sore.
Physical Therapy
Strengthening the muscles around your shoulder joint can do a world of good for relieving pain. In addition to strength, your physical therapist can teach you some stretching and warm-up movements, so when you're back in the game, you have less chance of a repeat injury.
A decade ago, Beaumont pioneered the reverse ball and socket shoulder. Due to the refinements in the procedure and the implant, surgeons across the country now utilize it frequently for many complex shoulder conditions.
At Beaumont, we continue to pursue new and innovative orthopedics - offering a full range of advanced shoulder treatments for patients of all ages with all types of shoulder problems. We are committed to partnering with you to determine the best possible solution for your situation.
---
Information provided by Marc Milia, M.D., Beaumont orthopedic surgeon.