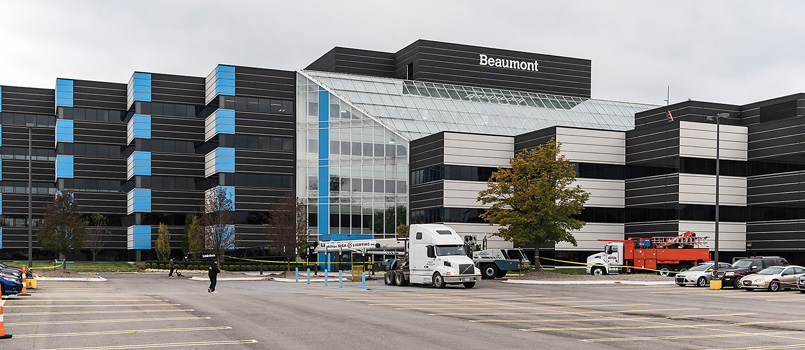 Beaumont Health has purchased the First Center building in Southfield to consolidate shared services employees currently working in 16 owned or leased buildings in three counties across Metro Detroit.
"This consolidation of our business services that support patient care is a major step forward in advancing our commitment to being the employer of choice," said Carolyn Wilson, chief operating officer, Beaumont Health. "It will allow teams in separate locations to work together in an updated, collaborative space with amenities our employees want, promoting teamwork, while enhancing efficiency and reducing cost. It will also help free up much-needed space on our hospital campuses for patient care, by pulling business and administrative professionals out of our inpatient settings."
Beaumont evaluated 45 properties in Metro Detroit before deciding to purchase the First Center building on Northwestern Highway near Lahser Road. The 686,000-square-foot multi-tenant building was built in 1984 and sits on 31 acres of land.
Beaumont will initially occupy 360,000-square-feet in the building. Existing tenant leases will remain and will be evaluated going forward. The building will be renamed and branded as a Beaumont facility along with existing tenant signage.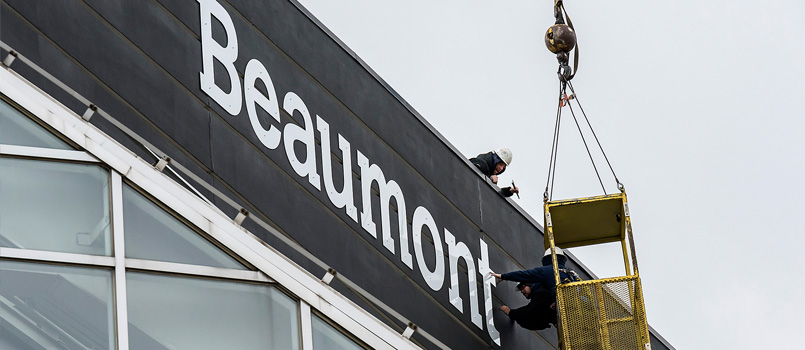 About 2,500-3,000 Beaumont employees will be relocated to the building in phases by the end of 2018. Beaumont's financial services team will lead the way, relocating in early 2018, once building renovations are complete.
Details of what other departments will move and when are still being worked out, but could include functions such as compliance, legal affairs, information technology, human resources and others.
"This is another important step in pulling Beaumont Health together as one high performance organization providing the highest quality patient care and demonstrating best practices in all patient care support areas," said John Fox, CEO, Beaumont Health. "With 38,000 employees and 5,000 physicians, we are in a great position to positively impact the overall health status in Southeast Michigan."
The building's open floor plan office design will include meeting rooms, shared amenity areas and collaborative spaces. Work teams will have input in customizing their work areas. The building will also include a first-floor conference center for large Beaumont business meetings.
"We will be creating an open, collaborative and flexible work environment based on the latest research around workplace design," said Wilson. "This new work environment will optimize employee productivity and outcomes which will ultimately benefit the patients and families we serve."
Neumann/Smith of Southfield is the architectural and design firm working with Beaumont on the design and renovation of office space.
Beaumont began its search for a shared services location in mid-2015 after looking at where its shared services employees live and identifying Southfield as a central location that would minimize additional drive time for many employees affected by the move.
About Beaumont Health
Beaumont Health is Michigan's largest health care system, based on inpatient admissions and net patient revenue. A not-for-profit organization, it was formed in 2014 by Beaumont Health System, Botsford Health Care and Oakwood Healthcare to provide patients with the benefit of greater access to extraordinary, compassionate care, no matter where they live in Southeast Michigan. Beaumont Health has total net revenue of $4.4 billion and consists of eight hospitals with 3,429 beds, 174 outpatient sites, nearly 5,000 physicians, 38,000 employees and 3,500 volunteers. In 2016, Beaumont Health had 177,508 inpatient discharges, 17,536 births and 567,658 emergency visits.