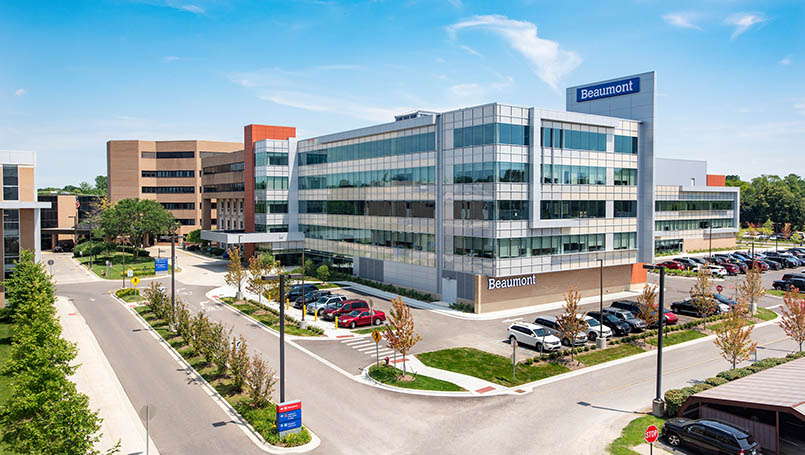 As the only hospital located within the limits of its home city, Beaumont Hospital, Farmington Hills plays an important role in providing the community's residents with the highest level of compassionate care.
In order to continue ensuring excellence for its patients, now and into the future, Beaumont, Farmington Hills has undergone a thorough expansion and renovation over the past several years. This renovation provides patients and staff with access to modernized facilities, leading-edge equipment and convenient amenities. The massive project was accomplished due in part to the support of our philanthropic partners, such as Cis Maisel, the Maibach family, Farmington Emergency Medicine Associates, PLC, and other community members.
In total, the Beaumont, Farmington Hills Capital Campaign Project encompassed 193,000 square feet of new construction and more than 61,500 square feet of renovated space. Renovations include:
A 20-bed critical care unit with large, private patient rooms
An updated surgical services department with nine state-of-the-art operating rooms
A new pre- and post-operating space with private rooms and upgraded equipment
An expanded Level II trauma center with three trauma bays, located closer to the ambulance entrance and connected by an open walkway for more convenient access
40 private patient rooms
An enhanced emergency center with 58 walled, private treatment bays, which nearly tripled the size of the unit and increased annual patient capacity from 65,000 to 88,000.
These improvements have dramatically reduced wait times, enhanced patient comfort and privacy, and provided our dedicated caregivers with a more effective and efficient treatment environment.
"I am so grateful for the support we have received over the past few years," said Derk Pronger, president of Beaumont, Farmington Hills. "These upgrades are significantly improving our ability to provide the best possible care to our community."
Beaumont, Farmington Hills is indeed known for the level of care it provides. In 2022, it was listed as a high performing hospital by U.S. News and World Report, and it is also a Magnet-designated hospital, which is the highest honor for nursing excellence awarded through the Nurses Credentialing Center, a subsidiary of the American Nurses Association.
With the help of additional philanthropic support, more enhancements are on the way. Soon, the Farmington Hills campus will undergo a $13 million effort to modernize the mother and baby area, which has not been substantially renovated in more than 50 years. This new and improved unit will feature:
Eight labor, delivery, recovery and postpartum rooms
Four postpartum rooms for mothers who have undergone a caesarian delivery
Two brand new caesarian delivery rooms (roughly twice the size of the existing rooms)
A new nursery
Hospital leadership also hopes to raise funding for a modernized inpatient rehabilitation center and a new waiting room for surgical services. All of these expansion and renovation efforts represent an important partnership between Beaumont, Farmington Hills and the community, and promise a bright future for top-tier care for thousands of patients in and around the community.